---
2022: A Year In Review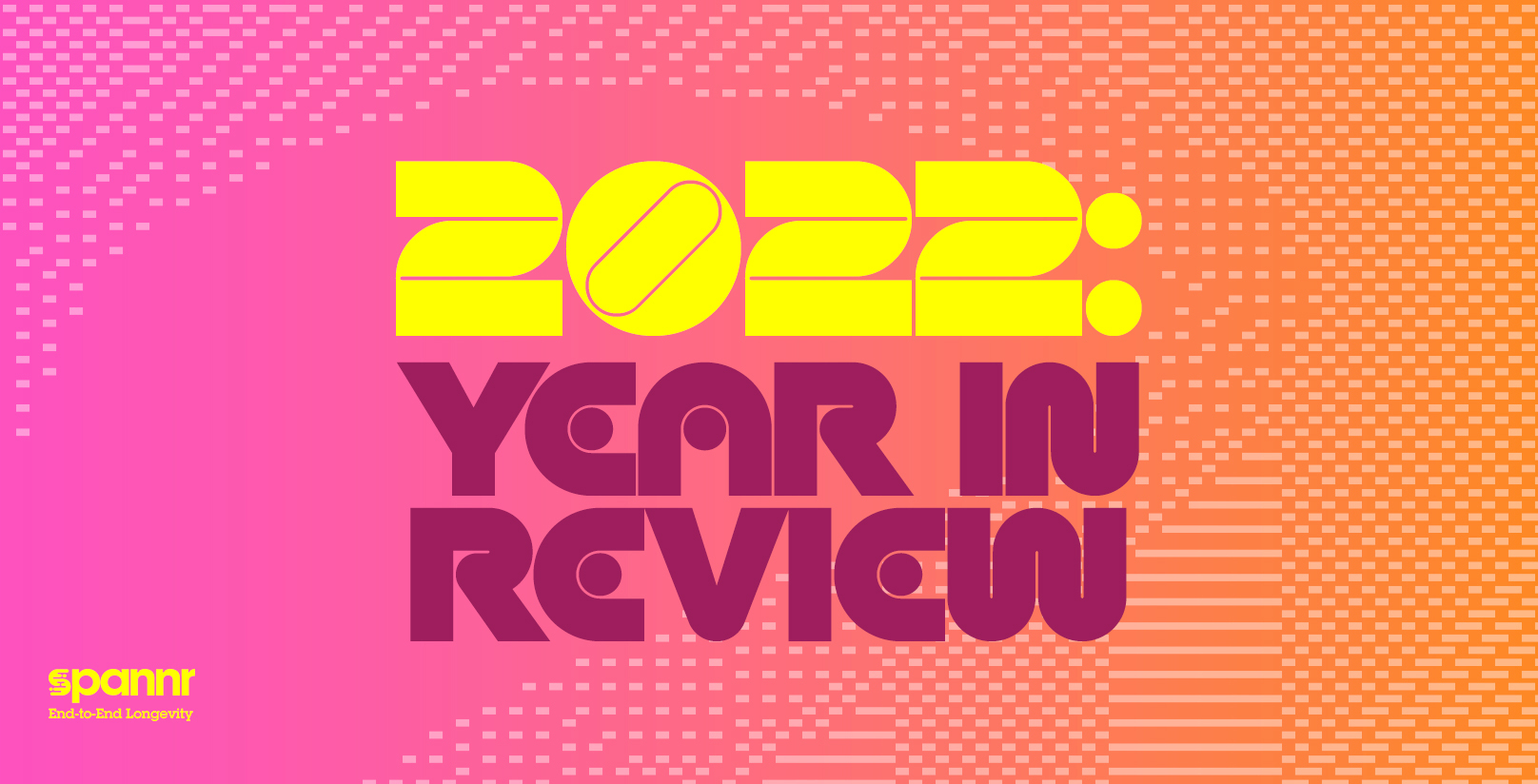 The past year has been pretty epic for us folks interested in defying aging. Aside from Spannr officially launching (we know, big deal), there's been many developments in the space that we can all hang our hats on.
But before we even go there, let's first take a step back…
The Bigger Picture
Longevity… Biotech… Anti-Aging?? Why are we even here?
From a bird's-eye view, one could look at the overall biotech/healthcare sector and be immensely disappointed by the speed of progress.
After all, there is evidence to suggest that scientific discoveries are becoming smaller and less impactful on average. And it's seemingly becoming much harder to make technological leaps compared to previous decades.
There's actually quite a laundry list of inefficiencies and barriers to scientific progress nowadays…
The effectiveness of peer review and grant review processes
Biological/scientific literature being prone to both fraud and the exclusion of negative results
The lengthy and increasingly costly clinical/drug development process
The list can go on and on…
But, with that said, it's actually quite remarkable what the field of biology achieved in 2022 despite existing hurdles. Courtesy of Niko McCarty at Codon, who provided a rundown of breakthroughs in greater detail, here's a quick list of such milestones hit over the past year:
The Human Genome Project, which started in 1990, was finally completed in 2022. Scientists also made progress in understanding and manipulating DNA and CRISPR proteins
AI/ML was used to engineer an enzyme that can break down plastic faster than any known natural enzyme
Base editors, which can fix genetic mutations, entered clinical trials in 2022 and are being tested for the treatment of various diseases
Gene therapies also made significant progress in 2022, with several therapies being approved for use and more in development for various conditions
Inspired by the famous Yamanaka Factors, biologists achieved the first demonstration that chemicals alone can reprogram human cells back into stem cells
Protein engineering made significant strides in 2022, as well, with the development of new tools and techniques for designing and synthesizing proteins with specific properties and functions
And then, how could we forget, a team of surgeons at the University of Maryland successfully transplanted a pig's heart into 57-year-old David Bennett Sr, making dreams of xenotransplantation a reality
Not bad, overall – right?
And to help shave off the Grinch in all of us, we also can't forget that various efforts and initiatives are underway to address many of the inefficiencies and barriers to progress listed above. This includes the use of open science principles, DeSci, the sharing of data and resources, and the development of new technologies and approaches to research.
That brings us to why we are here.
With humankind's incredible ability to innovate, an important question always emerges: what can we do now… that wasn't possible before?
Longevity: The New Wave Of Biotech
Call it extreme biology all you want, but the field of longevity biotech – and the ambitious efforts to extend healthy human lifespans – is making massive strides into scientific relevance.
For those unaware, several new and emerging companies and research groups are now explicitly focusing on human longevity.
Not cancer. Not heart disease. Not Alzheimer's. But aging – the field of study that aims to delay the onset of multiple age-related diseases, not just one.
Although the idea of living longer, healthier, disease-free lives is nothing new, the real possibilities of this happening are no longer just a pipe dream.
And in 2022, the focus on aging and longevity-related initiatives reached new heights.
This has been coupled with a wave of new technology being catered for today's "silver wave" population, an alarming CDC report showing that U.S. life expectancy dropped to its lowest level since 1996, a shifting focus toward preventative medical practices, and a surge in private funding for advocacy and fringe research.
For context on longevity's revolutionary year, here's all that went down:
Leading names in business and media are also driving the rapid evolution of the sector…
It's Only The Beginning
As we continue to make strides in the field of biology, the future of aging and longevity is looking more promising than ever before.
From the commitment to exploration and innovation, to the drive to overcome obstacles and setbacks, humanity is well on its way to creating a disruptive longevity biotech sector that will shape the way we live and age.
The progress we have made in 2022 clearly indicates that this future is not only possible, but imminent.
As 2022 comes to a close, we'd like to show our appreciation not only to our business partners and fellow longevity journeymen who have helped us along the way, but to all the hard-working researchers, scientists, data engineers – and everyone in between – who have been bold enough to take on this new venture outside of the realms of traditional medicine.
2023, like any year, will be full of surprises, setbacks, and breakthroughs – and the team at Spannr is more than excited to help fuel the conversation.
Happy holidays!
---
About the Author
Sign Up For Our Newsletter
Weekly insights into the future of longevity