---
Doctors, Drug Dealers, or AI: Who Will Win the Race to Treat Dementia?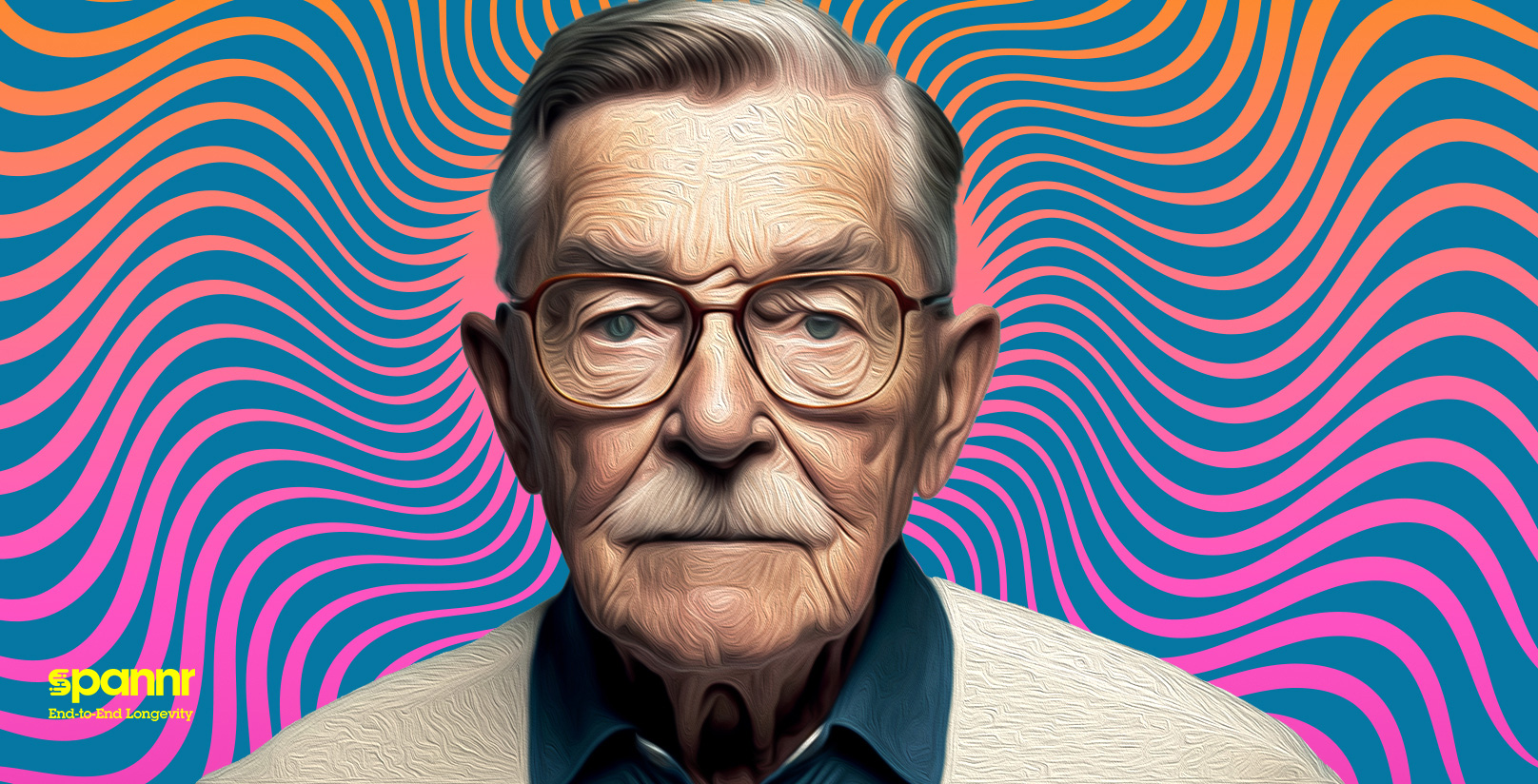 When Adam Tapp heard the strums of guitar coming from his father's hobby room, he stopped in his tracks.
It was a sound he hadn't heard for years.
Adam walked into the hobby room where his father was playing guitar and asked him point-blank, "What are you doing?"
"I don't know," his father responded. "I just had the urge to play guitar."
Four months before that moment, Adam received the news that his dad was formally diagnosed with Alzheimer's.
Formally is the operative word here. By that point, it was no surprise to anyone that his dad's brain health was deteriorating. His cognitive issues had likely started ten years prior.
He stopped playing guitar.
He was no longer able to play cards.
He wasn't able to hold a conversation or function.
He'd ask the same question seemingly 25 times in 20 minutes.
Having been a paramedic for 20 years, Adam was no stranger to victims of dementia.
"I've seen the carnage left by people, basically dwindling cognitively. It's hard on everyone, the family, when they start forgetting who they are. You care for someone as long as you can and then getting them into a long-term care home is not an easy or efficient thing. You watch them slowly die. They eventually lose themselves completely, or if they regress to memories of a better or worse time, they can become violent. It's alarming."
When Adam's father's condition deteriorated to the point where he was no longer functional or able to converse, Adam's mother finally took him to a geriatric psychiatrist. After Adam's father completed his bloodwork and a positron emission tomography (PET) scan, the psychiatrist said it was classic Alzheimer's and that he would most likely need to be in a long-term care facility within six months.
Taking a Step Back: What Alzheimer's Has To Do With Longevity
Alzheimer's falls under the class of neurodegenerative diseases where "nerve cells in the brain or peripheral nervous system lose function over time and ultimately die."
The reason why neurodegenerative diseases, such as Alzheimer's disease, Parkinson's disease, and Huntington's disease, are linked to longevity is because they are age-related. This means that these diseases tend to occur more frequently in people as they get older. Although old age doesn't cause these diseases, it is the greatest known risk factor.
Meanwhile, Adam had already been researching on his own.
For months, Adam pored through research and talked with friends and associates in the cognitive and psychiatry space. From cognitive scientists to doctors and psychiatrists, Adam talked to everyone he knew.
That's when he found a potential solution…
The Role of Psychedelics in Treating Neurodegenerative Diseases
Within healthcare, and more specifically, the industry of neurology, there have been a number of studies that explore psychedelics as a plausible treatment for neurodegenerative diseases.
Although the pathology of neurodegenerative diseases is still being identified, their characteristics revolve around neural cell loss, oligodendrocyte loss, oxidative stress, blood-brain barrier (BBB) disruption, inflammation, and endoplasmic reticulum (ER) damage.
If these are the root disorders that cause neurodegenerative diseases, it would make sense that neural protective mechanisms (e.g., neuroprotection, neurogenesis, neuroplasticity) would help to resolve these disorders.
Upon this discovery, Adam became fixated on the potential of psychedelic therapeutics. So much so, he launched a podcast, Tapped Into Psychedelics, to openly explore this potential with experts.
After all, the studies did show that psychedelics could stimulate neurogenesis, provoke neuroplastic changes and reduce neuroinflammation. These are promising mechanisms that could help treat neurodegenerative diseases.
But, like most therapeutics on the fringes of modern medicine, challenges still need to be addressed.
Challenges of Utilizing Psychedelics to Treat Neurodegenerative Diseases
Alzheimer's, for example, is a disease that is already associated with psychosis and hallucinations; therefore, there are potential concerns of aggravating existing symptoms.
In the early stages of the disease, there's less possibility of psychotic episodes occurring, but it's also difficult to diagnose these diseases at this stage. The double-edged sword with psychotic symptoms is that they are part of what allow doctors to properly diagnose these diseases; however, by this point, it may be too late to treat them with psychedelics, without potentially major side effects.
The challenge is finding the sweet spot where psychedelics could effectively treat these disorders while not catalyzing aggressive behavior or worsening cognitive impairment.
Additionally, clinical trials are still needed to show significant therapeutic efficacy and long-term safety of microdosing. Although there are many anecdotes of people experiencing positive benefits of microdosing, there hasn't been enough research conducted to illustrate its potential harm.
Finally, for individuals looking to use psychedelics to treat dementia, there is a legal concern. Although, for example, 5-MeO-DMT is legal in Canada, this is not the case in all countries, and it's certainly not the case for all forms of psychedelics. For as long as psychedelics are controlled substances, people will be largely deterred from procuring, let alone relying on psychedelics for their potential medical benefits.
For many, these challenges are significantly outweighed by the potential benefits.
Microdosing to Reverse Alzheimer's
Of all the research Adam went through, there was one study in particular that gave him the inspiration to take matters into his own hands.
This study, conducted in Brazil, showed that with a single dose of 5-MeO-DMT in mice, there was neurogenesis in the hippocampal regions responsible for long-term memory formation.
Because mice and humans have a genetic similarity, Adam entertained running his own unofficial clinical trials with his dad out of sheer desperation.
He argued to his mother that by microdosing 5-MeO-DMT (intranasally) and psilocybin, which has been shown to reduce neuroinflammation and increase neuroplasticity, there was a chance they could help his father improve his cognitive health.
After all, what did he have to lose?
In the best-case scenario, Adam would help his father do the impossible: reverse the ravages of Alzheimer's and help him return to his previous self.
Worst-case scenario he believed, he'd get his dad on a microdosing regimen that would provide anti-depressant benefits and put a pep in his step.
Adam's father could also run into some of the above-mentioned challenges regarding tolerance (and potentially the increased chance of psychotic episodes thereafter).
But at that point, it didn't matter much to Adam.
He ultimately only had two choices. He could either help his father by administering a psychedelic regimen or do nothing and wait for his father's admission to a long-term care facility.
In Adam's eyes, the benefits clearly outweighed the risks.
Once Adam's mother agreed to his plan, he began his protocol to microdose his father with 5-MeO-DMT and psilocybin.
Within three to four months of starting the microdosing protocol, Adam noticed an obvious change in his father.
Adam's father wasn't asking the same questions over and over.
He was less depressed.
He started to make jokes again.
He could play cards again.
Overall, he was able to function more effectively.
Amazingly, his cognitive tests shortly after that went from 53, his all-time low, to 84. He's been able to maintain the improvement ever since.
The results were astounding.
In fact, he recently went on a trip to Portugal, he's driving again, and he's spending time with his grandchildren.
Adam says his father hasn't been this functional or cognitively intact for over a decade. He's essentially at the same level of intellect and cognition as ten years prior.
Tackling Dementia Through Biomedical Applications of AI
Amidst the encouraging potential of psychedelics, many companies outside the traditional medical field are exploring ways to treat neurodegenerative diseases.
One of them is April19 Discovery, an artificial intelligence (AI) driven psychedelic drug discovery company based in London, UK, that uses innovative AI and computational chemistry to develop the next generation of psychedelic-inspired compounds.
I interviewed Richard Dallaway and Jáchym Fibír, two founders at April19, to learn more about their role in the neurodegenerative disease space.
"We're generally designing psychedelics with the first focus in [neurodegenerative diseases], and we think that there's a lot of promise," says Jáchym.
"There's very solid evidence that by increasing neuroplasticity and being neuroprotective, [psychedelics] are essentially allowing the brain to regain its function through additional connections within the brain. We will try to find compounds with higher potentiation of neuroplasticity with respect to the first generation of psychedelics, but the compounds will also need to be suitable in their properties for neurodegenerative treatment."
"That sounds all good, but what does using AI to create psychedelic compounds mean?" I asked.
Richard responded:
"We use machine learning in two ways. The most interesting way is to generate novel molecules. You can represent a molecule in a machine, and you can then generate novel molecules which have or are likely to have, the kinds of interesting properties that you want in the same way that ChatGPT will generate words with the right kinds of properties that you want. We're targeting a particular area around longevity and neurodegeneration, but it could be targeted elsewhere."
Essentially, April19 uses AI that relies on the language of molecules (versus the standard natural language that ChatGPT from OpenAI uses) to both generate novel psychedelic compounds and predict their effectiveness.
As previously mentioned, because psychedelics themselves have major limitations, these novel psychedelic compounds could capitalize on the best features of psychedelics without the downsides.
Jáchym explains:
"AI-designed psychedelic compounds optimized for promoting neuroplasticity could be especially useful here because they would ideally overcome the issues inherent in high-dose and low-dose treatments. Specifically, they'd continually provide the benefits of psychedelics with fewer side-effects, making long-term neurodegeneration treatment possible even in more advanced cases."
Where's the Healthcare Industry in All of This?
Psychedelics and AI could potentially outperform the medical field in treating these age-related diseases, despite the massive amounts of funding that have been dedicated to clinical research.
Although multi-billion dollar companies have made efforts to develop drugs to alleviate debilitating symptoms, no solution has been found yet. While some treatments can help manage symptoms, a complete cure seems unlikely.
Alzheimer's disease, which affects over 6.7 million people in the US and more than 55 million worldwide, is also one of the most expensive diseases impacting the healthcare system. It is estimated to cost the United States $345 billion in 2023.
However, progress has been slow because we still do not fully understand the disease's basic mechanisms at the molecular level. In addition, the blood-brain barrier makes it difficult for drug treatments to penetrate effectively.
The misdirection of the entire research community for decades due to fraudulent research tied to potentially hundreds of billions of dollars wasted exacerbates the problem.
Nonetheless, Adam's personal story and companies like April19 highlight the need for the medical industry to explore new avenues for treating neurodegenerative diseases.
Research should encompass all aspects of the natural and synthetic world to alleviate suffering, particularly when addressing a leading cause of aging deaths.
Read more about psychedelics and longevity:
---
About the Author
Sign Up For Our Newsletter
Weekly insights into the future of longevity