Spannr
/
Insights
/
From Family Doctors to Personalized Health Coaches: The Rise of Personalized Medicine
---
From Family Doctors to Personalized Health Coaches: The Rise of Personalized Medicine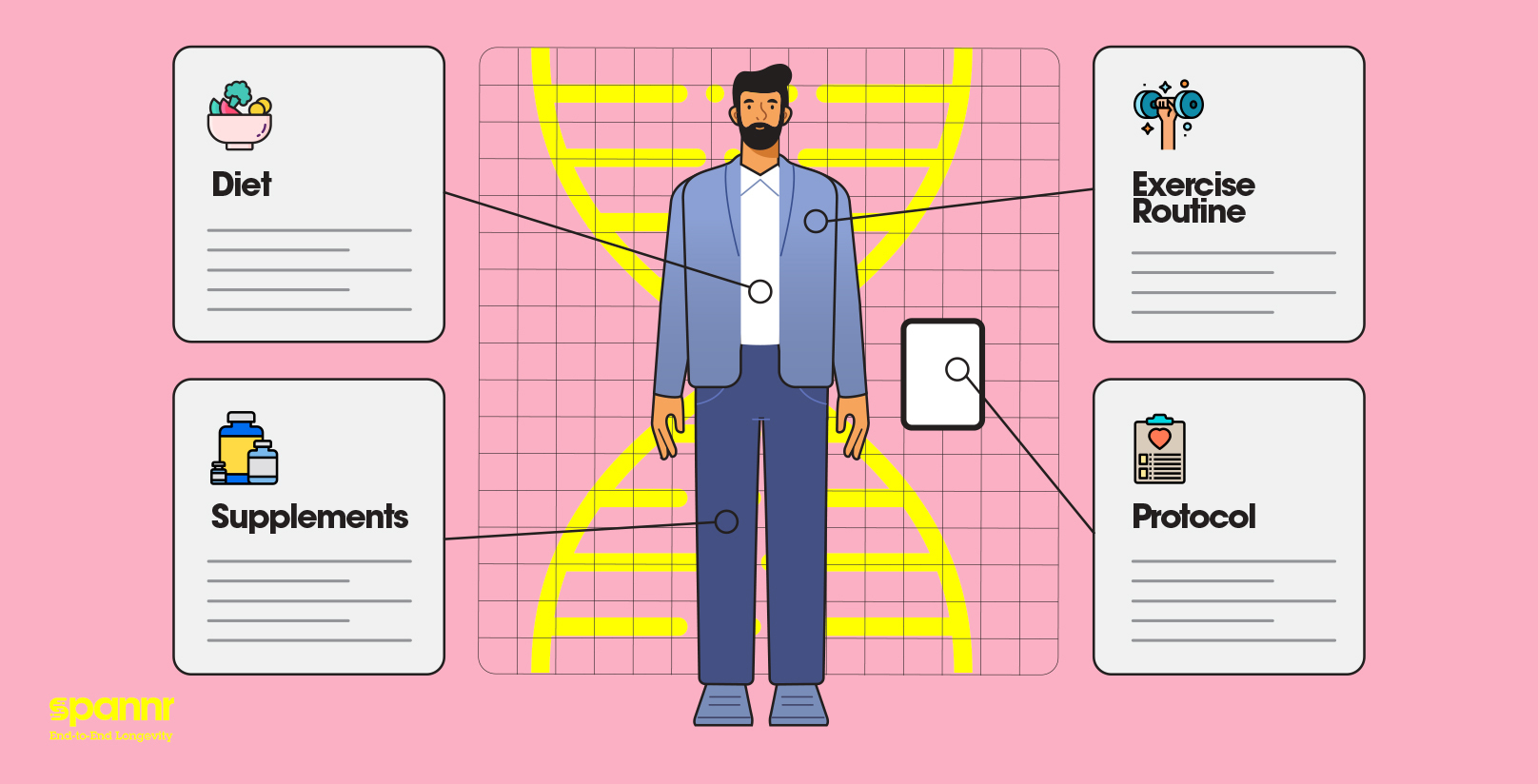 In recent years, there has been a growing interest in personalized health and wellness.
Tied to recent advancements in healthcare diagnostics, many people have started to invest in continuous glucose monitors (CGMs), undergo extensive blood panels, or even enlighten themselves with biological age tests.
While these tools can provide vital information about our bodies and wellbeing, they also generate a vast amount of data that is difficult to interpret and apply in a meaningful way.
After receiving our test results or something along the lines of a daily health report, we may find ourselves looking at various biomarker ranges.
White and red blood cell counts, glycemic variability, HbA1c, platelet count, insulin levels – the list goes on and on.
And while we may have a basic understanding of what each biomarker represents, deciphering what actionable steps one can take from 40-plus biomarkers all at once is near impossible without going down a rabbit hole.
Even then, It's possible that you may have discovered that your LDL cholesterol is outside of the norm and have been told that it is a biomarker for heart health, but you've also heard Peter Attia say ApoB is the true indicator.
You suddenly find yourself looking for answers to a multitude of complex questions of health.
What does it all mean?
If you have found yourself experiencing information overload, you aren't alone.
Trying to intake so much information and distill it down into a health plan for yourself is almost impractical.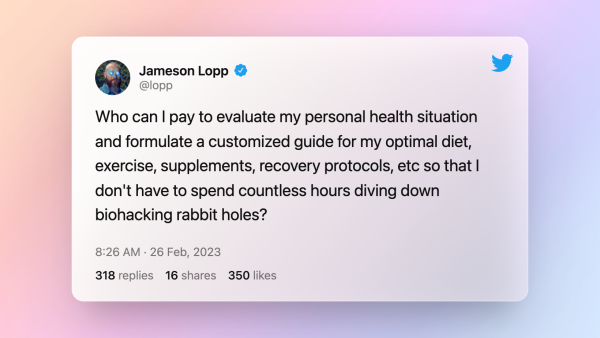 Sure, simple solutions such as stopping drinking or smoking are easy, hence why Andrew Huberman's alcohol podcast was the second most shared episode on Apple Podcasts in 2022.
But pivoting your life based on blood markers or biological age tests – not so easy.
If they were, Lebron James wouldn't have to spend the $1 million+ every year on his body, or Bryan Johnson $2 million per year on his.
We all want to have access to the testing and optimization that these individuals do, but between the time and money needed, it just simply isn't an option.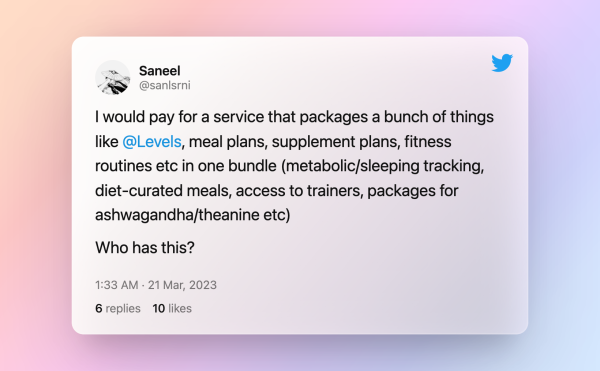 Enter Personalized Medicine
Last week, Fount Bio, a tailored health platform, raised a $12 million Series A round from Elysian Park Ventures, Not Boring Capital, Allen & Co, Champion Hill Ventures, and other angels to bring health performance coaching to everyone.
Fount was founded by Andrew Herr, who ran human performance and biotech strategy efforts for the military. After the military Andrew began an executive health coaching business, being hired by the Miami Heat and USA Soccer (read more of his impressive bio here).
Andrew's experience improving the performance of the US military and professional sports teams provided him with the insights needed to bring personalized health interventions to the masses.
Here's how it works…
When you sign up for Fount, you are immediately sent a "goodie bag" of tools to give you a baseline analysis: Weight scale, Oura Ring, blood pressure monitor, blue light glasses, etc. Fount also schedules you a blood and urine test to understand your baseline. Think of this step as a all-encompassing health assessment.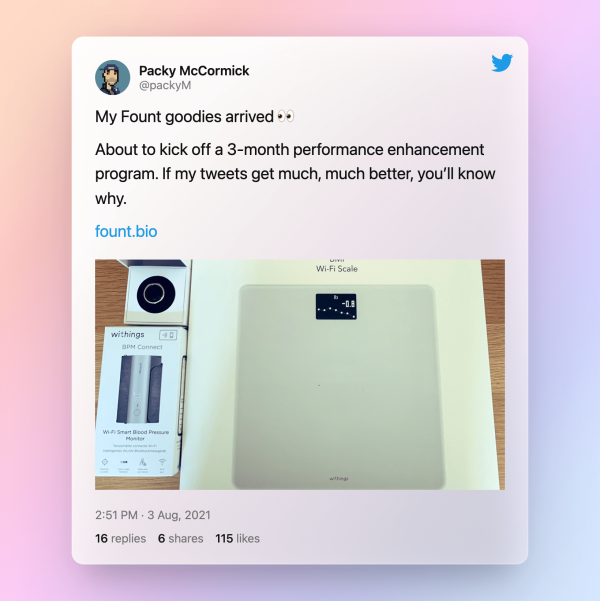 After establishing your health baseline, Fount connects you with your own performance coach to walk you through what was found. They then work with you to build a customized program that is unique to your goals.
This is where the service that Fount is providing breaks through…
Not only are they collecting the data on your behalf, but they are interpreting it and establishing a plan based upon it that is unique to you.
Closing The Gap
To date, there has been a gap in the progression of services provided to individuals looking to increase their healthspan.
For decades, the only option available for individuals were family doctors and specialists who provided general healthcare and reactive medicine.
And that was fine for a while, but since the 1970s, the United States has seen a significant decrease in return on healthcare dollars spent.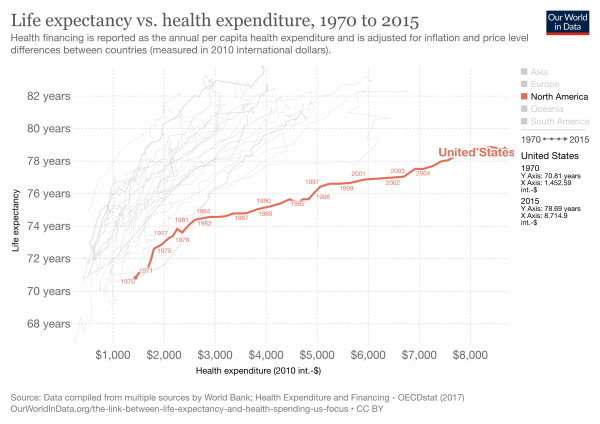 Because of this issue, those with the monetary capability to do so began hiring private, concierge health services.
These providers took a hands-on approach to their clients' health. But, for the majority of individuals, this option is outside of the realm of capability – costing ~$50,000 or more per year.

The jump from general, insurance covered healthcare to advanced, $50,000 per year healthcare services invited disruption. Combine this with individuals wanting to take more personal control of their health and there was plenty of "blue ocean" to dive into.
And companies were more than happy to fill this void.
Over the last few years, we have seen an impressive rise of companies putting the power of health into consumer's hands. Companies providing continuous glucose monitors (CGMs), sleep trackers, biomarker tests, and more have all cropped up direct-to-consumer in the past few years.
And while this is a positive step forward, the problems that we highlighted above still exist. Having to buy individual biomarker trackers can either lead to gaps in the data, or worse, confusion about what to do.
Simply put, there was still a void in the progression of services. Something that combined all the positives of biomarker tracking with the personalized nature of exclusive, concierge services.

This gap is exactly where services like Fount's step in.
By not only sending the customer the exact tests and products to take and use, but also reviewing the data, and working with the individual to iterate on health changes, they fill a much needed void.
As CJ Reim, Managing Partner of Amity Ventures who led the round put it:
"Many companies, protocols, or products offer point solutions delivering the latest diet, sensor, meditation practice, or fitness routine… Fount sits on top of all of these point solutions delivering a personalized, experiment-driven approach to implementing the health and performance interventions that work for you."

And it seems to be working.
Packy MCormick, CEO of Not Boring Capital (and also an investor in Fount), for example, in describing his experience stated:
"I've been on the Fount Pro program for about a year and a half, and it's been a complete game-changer.

They discovered and fixed my anemia; got my B-12, omega-3, testosterone, and fasting blood sugar in line; and gave me my energy back. Since then, I have asked Fount to help me get back in shape. One year and another kid later, I'm 33 pounds lighter, my VO2 max increased from 38 to 53, my HRV hit an all-time high, and I'm running below a 6:30/mile pace consistently."
What's The Catch?
Well, for starters, these services aren't cheap.
A Fount membership, as of today, costs $3,000 for the first four months, with the cost dropping to below $1,000 for continued service. All in, one would expect to pay north of $15,000 per year to utilize Fount.
Fount highlights the fact that you can use $3,000 from an FSA/HSA towards the program, but beyond that, health insurance most likely won't help cover anything.
For the majority of people – even those that are desperate to increase their health – this price point is simply out of reach.
A critic might point out the fact that Fount's customer base to date is "in the low hundreds" – a far cry from Andrew's goal of turning Fount into "the best primary care health system in the world."
But, that's where the next version of Fount steps in.
What's Ahead
Andrew Herr is the first to admit that Fount needs to drive down the price of the program, but reducing the cost of a one-on-one coach is hard to do.
In order for Fount to scale, they need to be able to provide all the intelligence that comes from a personal coach for an order of magnitude lower of the cost.
The team at Fount believes they can do this by taking a two-step approach to the problem.
The first, is by providing the product that already exists – personalized coaching. The goal here isn't just to improve the health of a limited group of individuals, but to also collect millions of data points around how these people responded to interventions.
Today's current clinical trials consist of small data sets and are using animals such as mice. But by using real people and their real health data, Fount will have a data set that will allow them to build an AI coach that can be hyper individualized. The magic number to create this data set, Andrew believes, is right around 5,000 people.
Step two is to take that AI model and introduce a SaaS type product that costs $100 or less per month and that provides all of personalized information to consumers without the need of a physical one-on-one coach.
Putting It All Together
Speak to anyone that is responsible for the health and performance of those with physically demanding jobs – whether athletes, the military, etc – and you will find a laundry list of health solutions that don't include pharmaceuticals or traditional medical interventions.
If those with the most demanding jobs don't treat their bodies traditionally, why should the average individual?
Lifestyle interventions and supplements are most likely more important than any "medicines", but our current establishments don't work this way – they focus on treatment after the fact.
Personalized healthcare services, including InsideTracker, Orreco, Tally Health, and Fount Bio, are pioneering preventative healthcare approaches that transcend generalized healthcare practices.
To add, many are actively pursuing cost-effective and streamlined solutions to the complexities of diagnostics and biohacking.
Direct-to-consumer healthcare is steadily approaching a paradigm shift, where annual visits to a general practitioner will be replaced by continuous data collection from a range of hardware sensors, including CGMs, body scanners, and biomarker tests, coupled with machine learning and AI. This contextual information will empower individuals to optimize their health proactively.
In conclusion, the healthcare industry is set to become highly personalized, revolutionizing the way we approach health and wellness.
---
About the Author
Sign Up For Our Newsletter
Weekly insights into the future of longevity