---
Retirement Riots: Coming To A Country Near You?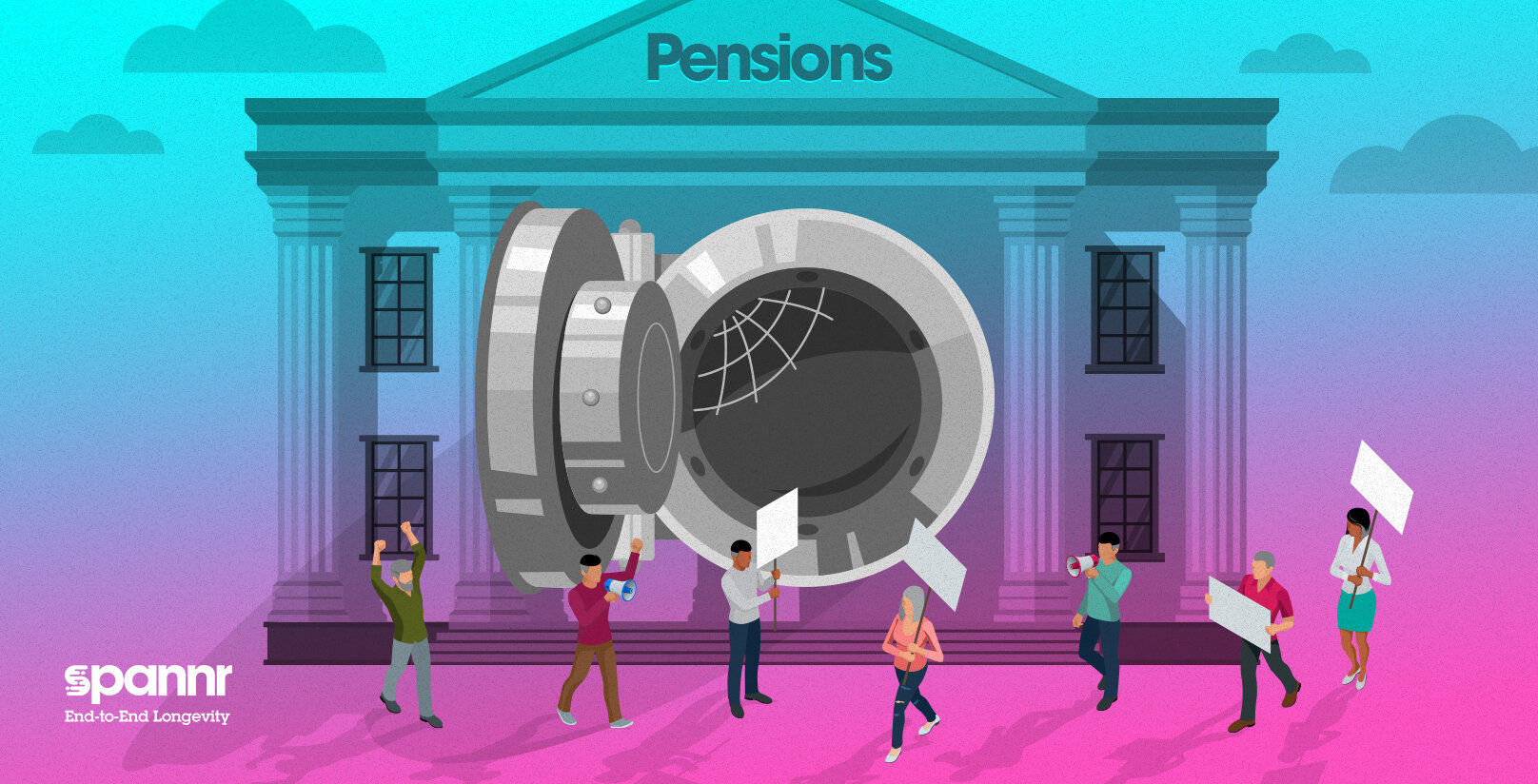 With life expectancy continuing to rise around the world, we are starting to see the impact in unexpected ways.
In France, the government's proposed pension reform bill, which includes raising the legal retirement age from 62 to 64, has sparked widespread protests and strikes.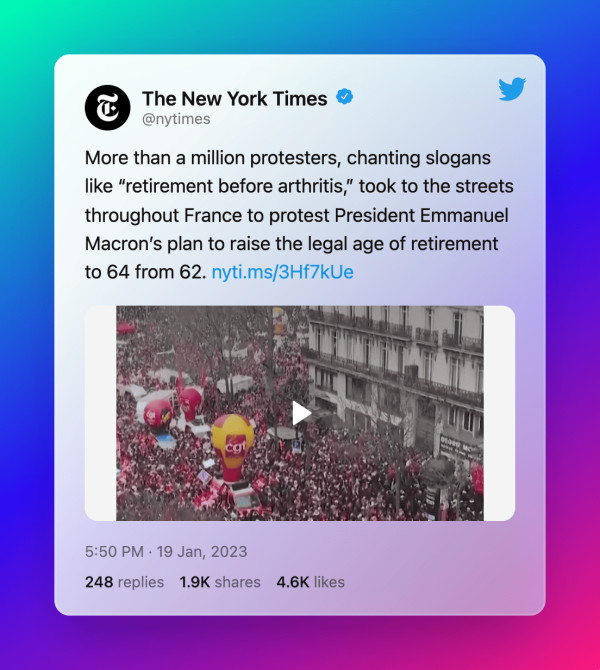 While the government argues that this move is necessary to prevent long-term deficits caused by longer life expectancies and a rise in the number of pensioners, many people are understandably upset about having to work longer.
But this is likely just the beginning.
With the baby boomer generation starting to retire en masse, combined with a steadily declining fertility rate, national pension plans around the world are approaching a crisis.
In other words, it's not just France that's grappling with this issue. China, for example, is already working on raising the retirement age as well. And in the United States, a similar battle might be quietly brewing in Washington.
Of course, many other factors contribute to these pension crises, including government mismanagement and generous retirement plans. But the broader point is that retirement systems – including those in the US – were built decades ago when life expectancy was much shorter.
If people continue to live longer, and the retirement age remains the same alongside outdated pension systems, the age dependency ratio, (or, the ratio of the working-age population to the non-working population) will only continue to rise.
Simply put, the younger generation will not produce enough GDP to help pay for a costly aging population.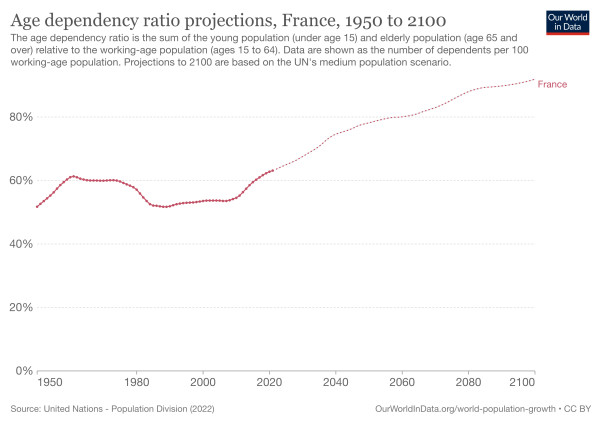 Raising the retirement age is a quick way for governments to propel GDP and, perhaps, relieve some of the pressure pension systems face.

But, as we can see in France's case, it's not a popular option.

Even then, apart from implementing robust economic changes, there are only a couple of ways to directly solve the monetary issues spurred by an aging population.
Perhaps the crudest solution is immigration. That is, if large numbers of young, working-aged people immigrate to a country such as France, it will decrease the proportion of older individuals and, thus, the age dependency ratio.
Another solution is increasing fertility. Currently, low fertility rates in developed countries such as France and the United States are contributing to the aging society.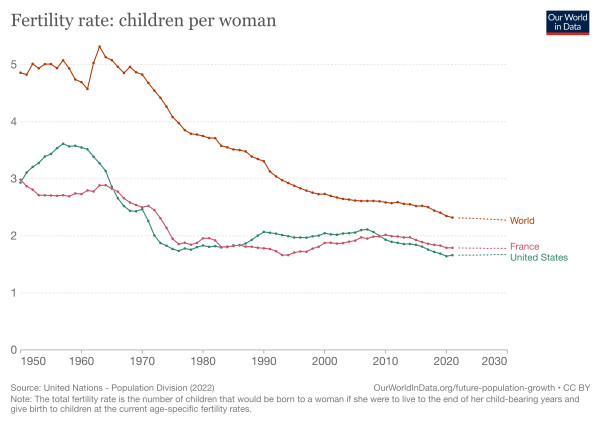 Low fertility rates over the past 30 years have left countries like France unable to support their aging population.
How the Longevity Industry Can Help
If Mr. Macron's goal was perhaps to soften France's age-dependency ratio, he should look to the longevity industry for solutions, and not just rely on moving the needle on retirement age.
The industry can play an important role in addressing the crisis in several ways:
Increasing the population's healthspan, not only lifespan. While populations such as France have gotten significantly older, unfortunately their healthspan, or the number of healthy living years, has not followed suit. This leads to an increase in retirement years that further burdens the economy. As Laura Deming from

The Longevity Fund

has put it: "Our focus should be on how to let people live a healthier life for longer. Our goal is not just to extend life to a big number of years, but also to accompany that with a parallel increase in the number of healthy years someone has."

By extending healthspan, older adults can remain active and productive members of society, reducing the burden of care on younger generations.


Decreasing the burden of aging-related disease. Age-related diseases are some of the most burdensome, economic conditions impacting the healthcare industry. If the longevity biotech industry is able to develop new therapies or drugs that can target age-related diseases such as Alzheimer's, it would significantly reduce the monetary impact on the economy.


Increasing the fertility rate. Companies such as Oviva Therapeutics and Gameto have raised tens of millions of dollars to extend the fertility window. An increase in fertility rate will slowly increase the ratio of working adults to retired adults and thus help reduce the economic burden on countries such as France.
As we continue to live longer, it's clear that we need to start rethinking how we approach retirement and pensions.
What's not so clear, however, is that supporting today's burgeoning aging biology industry would be unequivocally more effective than most pension adjustments.
All of this is to say that the broader longevity trend is starting to show itself in unlikely ways, and we need to be prepared for the changes that are coming.
---
Sign Up For Our Newsletter
Weekly insights into the future of longevity