Spannr
/
Insights
/
10 Best Cold Plunge Options for Longevity: Comparing Tub, Barrel, & Portable Inflatable Ice Baths
---
10 Best Cold Plunge Options for Longevity: Comparing Tub, Barrel, & Portable Inflatable Ice Baths
The best cold plunge options are:
The Plunge
The Cold Stoic 2.0
Sun Home Cold Plunge Pro
Alaskan Cold Plunge Tub
Ice Barrel 300
The Viking
Inergize Hot + Cold Plunge Tub
The Ice Pod
The Chambrr
W&F Extra Large & Durable Portable Ice Bath Tub
Interest in cold plunging has risen substantially since 2021, according to data from Google Trends. With a range of benefits, including pain relief, stress reduction, and improved mental clarity, more and more people are starting to add cold therapy to their routine. Fortunately, there are a range of cold plunge options available to administer this therapy, including cold plunge tubs, barrels, and inflatable portable ice baths. But which should you choose?
Cold plunge tubs tend to be rectangular in shape and enable you to lay down, while cold plunge barrels typically force you to take a seated or squatting position. On the other hand, portable inflatable cold plunges come in a variety of shapes and sizes, while enabling the user to easily transport their cold plunge to whichever location suits them best. In truth, there are many great cold plunges out there, it just depends on your personal preference and budget as to which cold plunge you should choose. In the following article, we compare the 10 best cold plunges currently available and separate them by category of tub, barrel, and portable inflatable designs so that you can choose the option that best suits your particular situation.
Best cold plunge tub options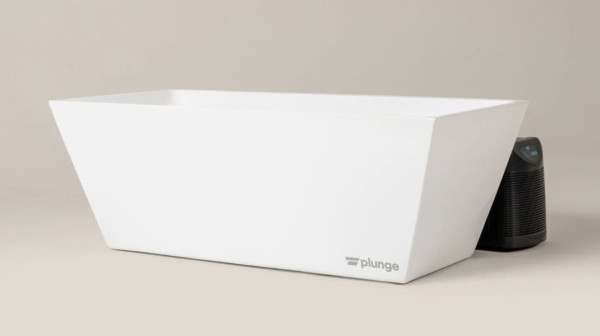 Price: $4,990
Size: 67" x 31.5" x 24"
If you're looking for a premium ice bath experience that enables comfort and convenience, the Plunge may be for you. The Plunge cools, filters, and sanitizes the water to provide you with cold, clean water whenever you plug it in. Suitable for indoor and outdoor use, with the ability to chill water down to 39F, the Plunge is truly one of the best cold therapy choices on the market.
Pros:
FREE home delivery to US lower 48
Financing available
Many upgrades available, including heater and larger tub
Cons:
Some describe it as noisy
A few quality issues reported
Lack of on/off switch (must be unplugged after use)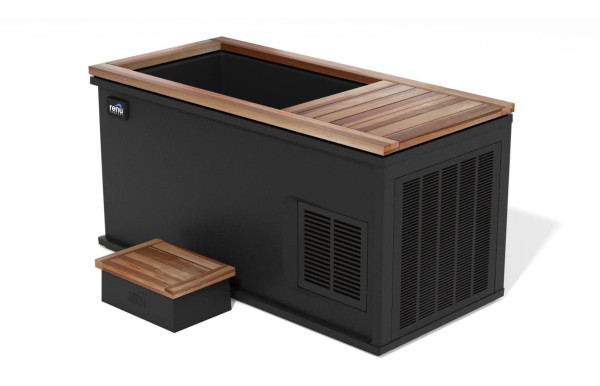 Price: $9,699
Size: 70"x 33"x 35"
The Cold Stoic 2.0 by Renu Therapy pairs advanced filtration and ozone purification with an integrated chiller that can get your water temperature down to 36F. With its large size and simple maintenance, the Cold Stoic 2.0 is a great option for larger people who don't want the hassle of refilling their ice bath daily. Capable of either indoor and outdoor use, those who choose the Cold Stoic 2.0 for their cold therapy needs can enjoy their chill time in the atmosphere that suits them best.
Pros:
Customizable colors and wood decor types
FREE home delivery in continuous US
Quiet and energy efficient
Cons:
High price tag
Extensive lead time of 6 to 10 weeks
Large and hard to maneuver (you're required to install yourself)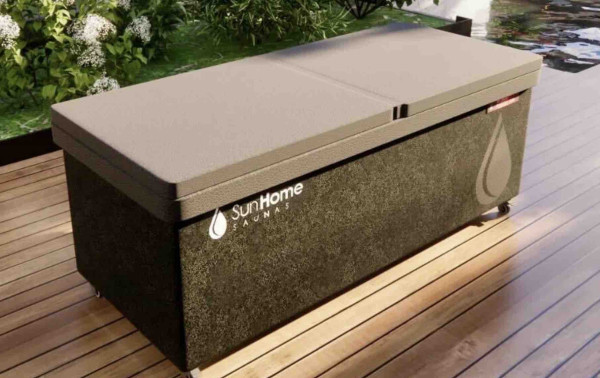 Price: $8,199
Size: 34" x 78" x 33"
Named the best cold plunge system in the world by the New York Post, the Sun Home Cold Plunge Pro is a self-cleaning ice bath actually capable of generating ice. The system gets down to a freezing 32F and its thick, stainless steel build enables it to maintain the freezing water temperature throughout the duration of your plunge. Built with a military-grade exterior, you can also be rest assured that your cold plunge will survive the elements no matter where you decide to place it.
Pros:
Built-in forged wheels allow for mobility
Capable of freezing temperatures
FREE shipping included
Cons:
High price tag
Heavy (tub weighs 345 lbs and chiller weighs 80 lbs)
No customizations
Best cold plunge barrel options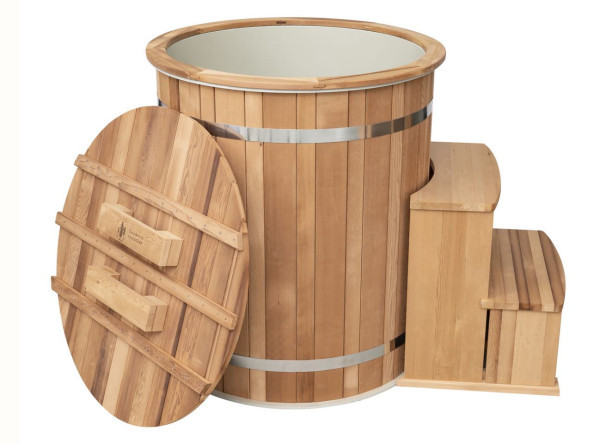 Price: $1,999
Size: 37" diameter and 40.5" tall
The Alaskan Cold Plunge Tub by Redwood Outdoors is a rounded cold plunge suitable for those looking to administer their cold therapy from a seated position. The company calls this product a "tub" even though the design and actual appearance are nearly identical to a barrel (which is why we have listed this product in our "barrel" section). Although The Alaskan Cold Plunge comes as just a basic wooden cold plunge and stepping stool, there are many upgrades available, such as a chilling system, deluxe chiller + heater system, and a wooden tub cover. Therefore, you can choose between manually filling the tub with water and ice, or utilizing an electric chiller.
Pros:
Upgrades allow for customization of experience
Ability to utilize for either cold or heat therapy
Sleek wooden design
Cons:
Upgrades can increase cost substantially
Extensive lead time of 10 to 12 weeks
Rounded design inhibits laying down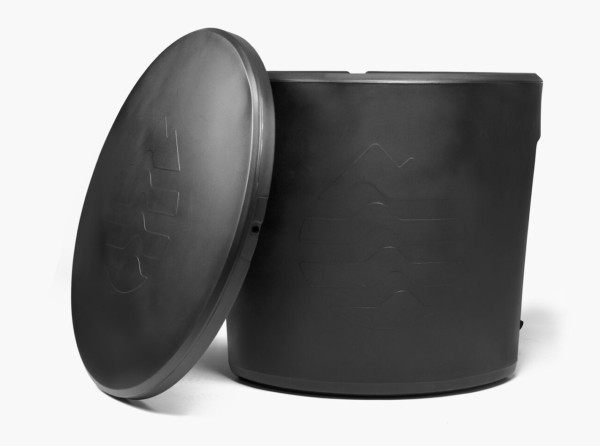 Price: $1,199.99
Size: 35.5" diameter and 30.5" tall
The Ice Barrel 300 by Ice Barrel is a basic cold plunge barrel made from recycled materials. The Ice Barrel 300 setup comes with a fully insulated barrel, an insulated and IV resistant lid, a UV and water resistant barrel cover, and the hardware compatible for a chiller if you elect to incorporate one. Although it doesn't come with a filtration system, maintenance is relatively easy, as it's recommended to change the water on only a monthly basis.
Pros:
Shorter height means stepping stool is typically not required
Ability to choose between manually adding ice or chiller system
Compact and lightweight (just 61 lbs when empty)
Cons:
Larger people may not fit comfortably
Design not too aesthetically pleasing
Longer lead time of 5 to 6 weeks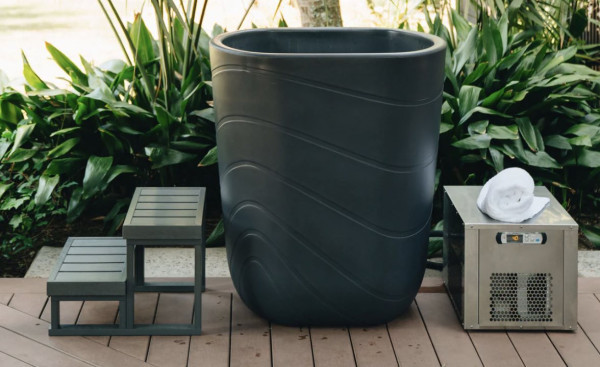 Price: $5,999
Size: 36" x 30" x 41"
The Viking by Nordic Wave is a 95 gallon vertical cold plunge barrel designed for users to experience their cold therapy in a natural squatting position that enables easier breathing and deeper immersion. The Viking comes complete with a chiller that cools the water down to 38F and a filtration system so you don't need to replace the water very often. If you do need to empty your tub, the Viking's slanted floor allows for easy drainage.
Pros:
FREE US shipping to lower 48
Chiller and filtration system included
Compact vertically design that is lightweight (just 60 lbs)
Cons:
Vertical design limits movement
Longer lead time of approximately 6 weeks
No seat inside the tub for resting
Best cold plunge portable inflatable options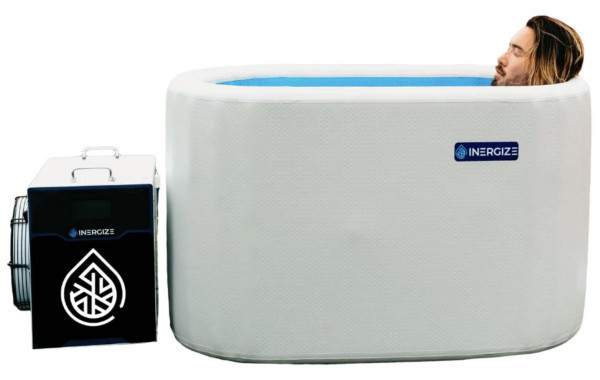 Price: $4,790
Size: 51" x 28" x 30"
The Inergize Cold + Hot Plunge tub combines easy maintenance with extreme portability. The unit is capable of cooling water down to a cool 37F, which it accomplishes through a high quality chiller and filtration system that keeps your water chilled and clean 24/7. This inflatable tub is easily set up in just 15 minutes with a hand pump, so you can have a premium cold plunge experience from wherever your heart desires (as long as there is a 120V/60 HZ power supply on 15A circuit). Perhaps the coolest feature is that the chiller system connects to wifi, enabling you to set the temperature of the tub from your phone.
Pros:
Water replacement just every 3 to 6 months
Lightweight tub (just 25 lbs) and requires only 15 minutes to set up
Ability to control water temperature from mobile app
Cons:
Inflatable design means it's not as durable as other premium priced tubs
Requires manual weekly sanitization and monthly filter change
No weather protection for chiller system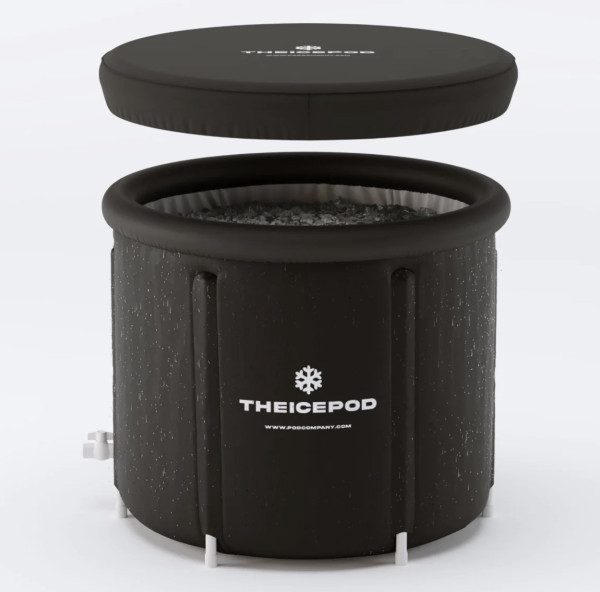 Price: $119
Size: 32" diameter and 29" tall
The Ice Pod by The Pod Company is a portable inflatable ice bath with a very affordable price tag, making it especially suitable for beginners. The standard set comes with the cold plunge tub, a lid, a nano repair patch in case of tears, a hand pump, and a drainage hose. For those who don't want to manually fill the tub with ice at the beginning of each session, there is a chiller system add-on that can be purchased for $999 that is capable of cooling the water down to 41F.
Pros:
Suitable for larger people (height up to 6'5" and 320 lbs)
Lightweight design (just 7 lbs)
FREE shipping to mainland US in just 2 to 6 business days
Cons:
100 day return policy only applies to tubs in unused condition
Water chiller not included with standard tub
Requires more frequent water changes of every 3 to 5 sessions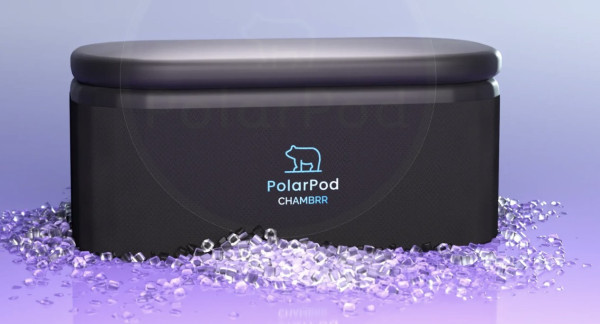 Price: $998 ($3,998 with Chillr)
Size: Unknown
The Chambrr, by Polar Pod, is an inflatable tub that can be used as a cold plunge or as a hot tub. By purchasing their optional "Chillr" for an extra $3,000, you will be able to chill water down to 39F or heat up to 105F. The Chambrr's inflatable construction also doubles as an insulation layer, which helps keep water cool or warm depending on use.
Pros:
Lowest priced tub with an electric chiller
Includes lid for indoor or outdoor use
Accommodates occupants up to 6'9"
Cons:
No information on seller
Some filter issues reported
No warranty
Price: $69.99
Size: 37.5" diameter and 29.5" tall
The Extra Large & Durable Portable Ice Bath Tub for Athlete by WEY&FLY has a 3.7 rating according to over 1,900 global reviews on Amazon. Although this certainly isn't the highest quality tub on the market, it's affordable price tag and high portability make it a suitable option for many.
Pros:
Affordable price tag
4 insulated layers keep water cool during cold therapy sessions
Very portable
Cons:
Not as sturdy as other models
Not built to last longer than a few years, according to Amazon reviews
Draining the water can be a hassle
What is the best time to cold plunge?
The best time to cold plunge is in the morning. This is because cold plunging forces your body to heat up, causing you to feel more awake, according to Andrew Huberman. For those looking to relieve body inflammation after exercise, entering a cold plunge following exercise can be a good idea to alleviate symptoms. However, those that are doing exercise for the purpose of hypertrophy are advised to hold off on cold exposure for at least a few hours because cold therapy has been shown to blunt hypertrophy gains.
What is the best temp for cold plunge?
The best temp for cold plunge is generally suggested at between 50F to 59F. Therefore, most people can realize the extensive benefits of cold therapy for longevity without having to jump into water that is at near freezing temperatures.
Conclusion
Cold plunging has been shown to provide the human body with extensive benefits and many people are starting to incorporate an icy dip here and there to realize those benefits. Whether you opt for a tub, barrel, or portable inflatable design, the key is to find a cold plunge option that aligns with your preferences and lifestyle. Once you do, you can implement a regular cold therapy routine that improves your daily life and overall longevity.
---
About the Author
Sign Up For Our Newsletter
Weekly insights into the future of longevity