---
Cryotherapy: Freeze Your Way to Health, and Increase Your Longevity?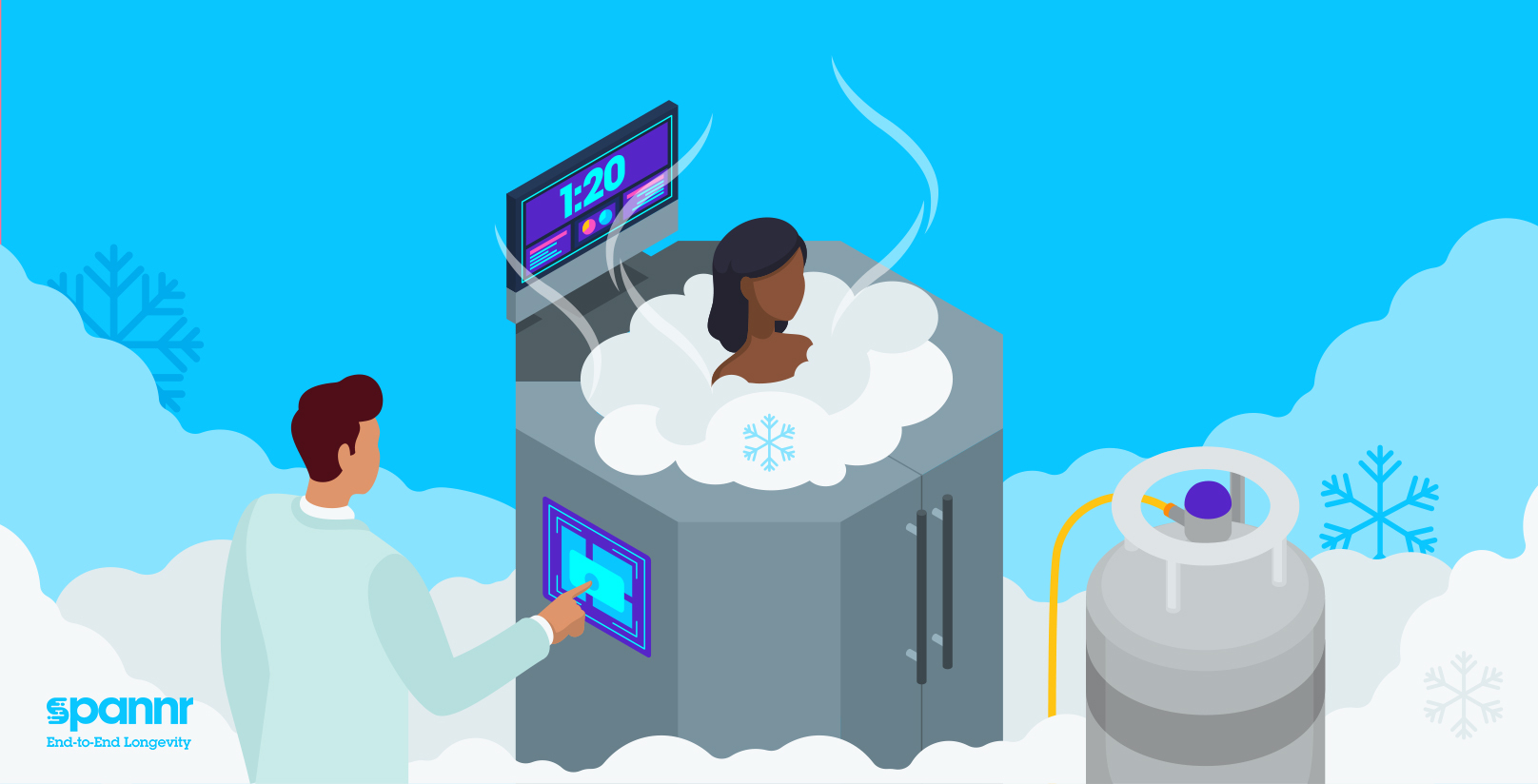 It sounds like something from a sci-fi novel, where you freeze your body for 200 years before you're thawed into a strange, new civilization in 2223: cryotherapy.
In some ways it's a lot less exciting than that, but it's still exciting nonetheless.
From a two to three minute session, you can experience immense physical and mental benefits from cryotherapy.
What
is

cryotherapy?

If you break down the word cryotherapy, "cryo" comes from the Greek word for cold. So, cryotherapy is another term for cold therapy, specifically the use of freezing temperatures for physical or medical purposes. Cryotherapy encompasses cryosurgery, cryoablation, and the use of cryo chambers.

Today, we're going to discuss the use of cryo chambers, specifically, when we refer to cryotherapy.

Cryotherapy is a form of deliberate cold therapy that exposes the body to air cooled to -150°F to -240°F in a chamber. This practice can promote many of the benefits that other types of cold therapy does, including reduced inflammation, increased recovery, improved mood, and dementia prevention.

Whole-body cryotherapy was developed by Dr. Yamaguchi in Japan in 1978 to treat rheumatoid arthritis. However, Polish scientists started to use cryotherapy chambers for physical therapy purposes starting in the 1980s. In fact, the healthcare system in Poland covers cryotherapy sessions for Polish citizens.

As cryotherapy became popular with European rugby and football teams, the therapy itself started to take off in the last couple decades, eventually making its way to the US.
How does cryotherapy work?
Cryotherapy works similarly to other forms of deliberate cold therapy. When the body is exposed to frigid temperatures, the brain sends the body's blood to its core and prompts the release of endorphins. After exiting the cryo chamber, the rush of blood back to the rest of the body helps to rejuvenate it.
There are a number of ways cryotherapy is applied, but typically it's done as whole-body cryotherapy (WBC) or partial-body cryotherapy (PBC) – the difference being whether or not your head is enclosed in the freezing chamber.
Partial-body cryotherapy, also called cryosauna
Whole-Body Cryotherapy
Whole-body cryotherapy involves a person sitting or standing in an enclosed cryo chamber that has been cooled with either liquid nitrogen or electricity. The entire body and head are exposed to the cold. Whole-body cryotherapy has been shown to be more effective at cooling the skin and activating the parasympathetic nervous system because the head is inside.
Partial-Body Cryotherapy (or Cryosauna)
With partial-body cryotherapy, or cryosauna, the chamber is open at the top, leaving room for the person's head, while the person's torso and legs are inside the cryochamber. This is what biohackers typically think of when discussing cryotherapy.
Some argue that whole-body cryotherapy is better for a number of reasons.
There are whole-body cryotherapy chambers that are powered by electricity, which is safer than a liquid nitrogen powered cryo chamber.
As mentioned, whole-body cryotherapy is seen as more effective in achieving a greater autonomic response, and this could be because 70% of the body's cold receptors are on a person's head and neck. As a result, whole-body cryotherapy promotes 300% more cellular function than partial-body cryotherapy.
Lastly, the skin can reach a uniform temperature with whole-body cryotherapy, which creates better results.
Who is cryotherapy for?
Cryotherapy was originally used to help professional athletes recover from taxing workouts.
Brett Frantz, a former strength and conditioning coach for collegiate and professional basketball players, would use cryotherapy for his athletes to promote faster and healthier recovery for his athletes, so they could perform better and longer. From his experience, cryotherapy helped with:
Improved heart rate variability (HRV)
Physical and mental performance (especially when used in contrast with heat therapy)
Better sleep
Although its use originated with professional athletes, even people who don't workout for a living have found it to be useful and beneficial as well. Tony Robbins considers cryotherapy one of his top three biohacks (the other two being red light therapy and compression therapy).
He says, "When I found cryotherapy, it changed the game completely. It shifts your brain, shifts your body."
The link between cryotherapy and longevity
Cold therapy as a whole provides countless physical and mental benefits that can improve health and one's longevity – cryotherapy is one of many forms of cold therapy.
Benefits of cryotherapy
Although the studies on cryotherapy are much less extensive than with other forms of cold therapy (such as cold plunges), cryotherapy has been shown, anecdotally or otherwise, to:
How is cryotherapy different from other forms of cold therapy?
Although there are a number of types of cold therapy, one of the main ones that has been heavily studied is the ice bath, also known as cold plunge, where a person is submerged in cold water for a period of time. This is different from cryotherapy, where you're standing or sitting in a cryo chamber (either full body or up to the neck).
Doing a cold plunge can be more jarring of an experience than being in a cryo chamber. This offers both pros and cons.
Cryotherapy does not build mental resilience the way cold plunges do because of two reasons:
The cryo chamber gets gradually cold, versus the immediate cold of a cold plunge
A cryotherapy session is two to three minutes, versus the optimal length of a cold plunge at 10-15 minutes
Additionally, compared to cryotherapy, ice baths have been shown to better improve mood, balance the immune system, and burn more fat.
That said, both cryotherapy and cold plunges can help speed up physical recovery, alleviate injuries, improve cognition, and boost production of collagen (hello, anti-aging).
Overall, some might consider cryotherapy an easier or lighter version of cold therapy that is more accessible from a comfort and time perspective.
However, cryotherapy is not easy on the wallet. Treatment costs can add up if you do multiple sessions, which any type of ongoing health routine would require for maximum benefits.
What can I expect?
When you first go into a facility for a cryotherapy session, you can expect a staff member to help you through the process and answer any questions you might have.
There's no preparation required, but you will want to avoid wearing any lotion or jewelry below the neck for your session. The staff will even provide you with the socks, slippers, and gloves needed to ensure your extremities are safe during the session.
During your session, you'll experience a rush of cold air for two to three minutes.
In order to get maximum results from cryotherapy, it's recommended to do 2-5 sessions a week for at least two to four weeks, depending on what your goals are. You will see benefits from one session, but as with any new health practice, consistency and routine are key.
Potential risks associated with cryotherapy are frostbite, cold burns, rash, and suffocation; however, many of these are alleviated by the trained technician who will prepare you for your session.
Additionally, there are certain health conditions that prohibit the use of cryotherapy. Although we recommend asking the staff at a cryotherapy facility if you may have any complications, consulting your primary care physician before trying cryotherapy is your best bet.
It's important to note that for as many anecdotal benefits cryotherapy claims, it is not currently FDA approved. Based on the studies it informally reviewed, the FDA decided the scientific evidence supporting cryotherapy is scanty.
How much does cryotherapy cost?
Regarding costs, the price of cryotherapy can range anywhere from $60 to $100 for a single session. However, many cryotherapy studios offer monthly subscription plans that significantly reduce the cost.
Although cryotherapy is less established and researched than other forms of cold therapy such as cold plunges, it can be an easy and convenient way to incorporate cold therapy into your longevity toolkit.
If you can afford to splurge on a few sessions a week (or month) to see and maintain health benefits, consider cryotherapy.
---
About the Author
Sign Up For Our Newsletter
Weekly insights into the future of longevity