---
Longevity Fundraising Roundup: November 2022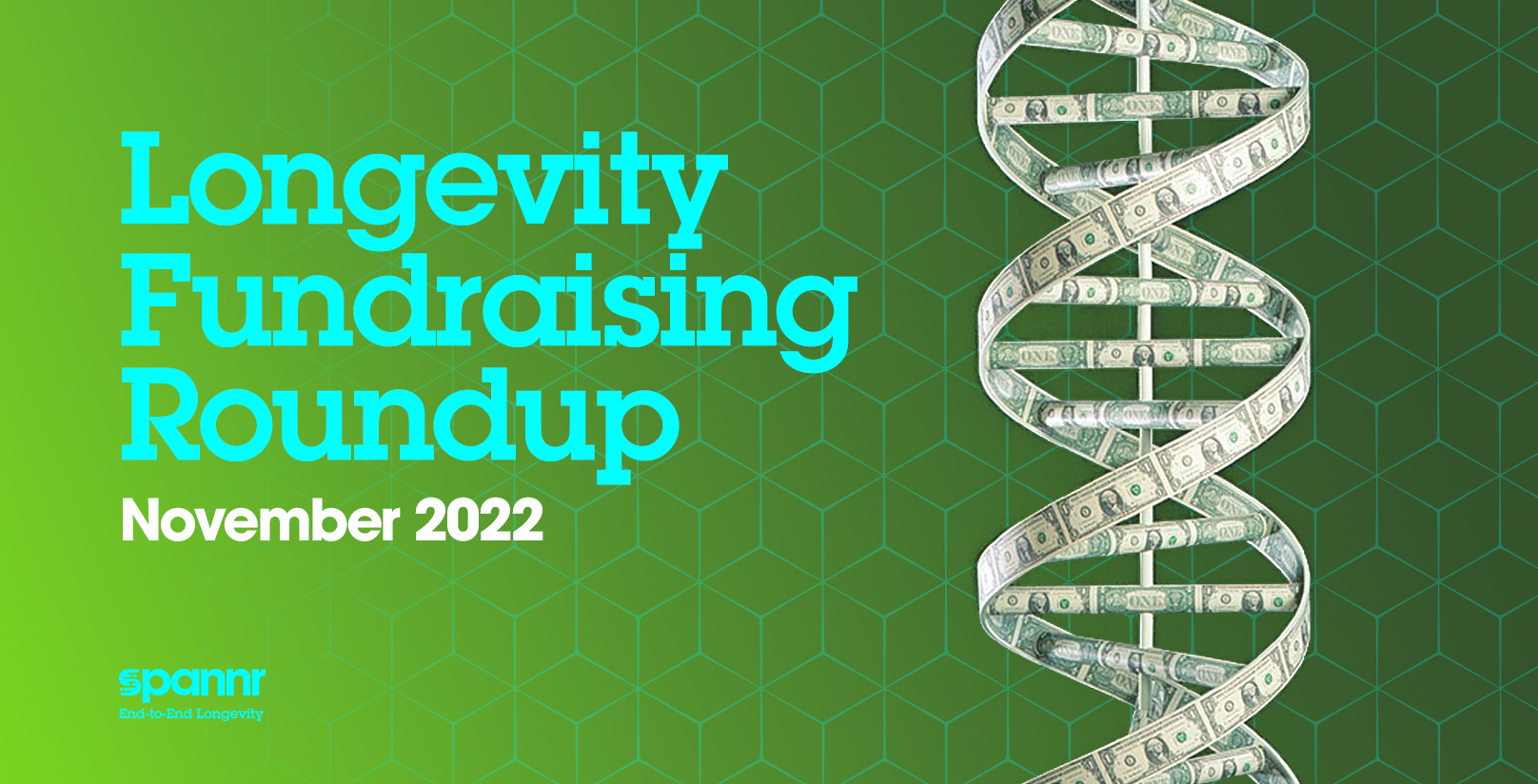 November's Funding Roundup:

$602.5M Raised Across 14 Funding Rounds
Investing Observations:
Boring face, crucial need
While funds and capital groups may be more attracted to the pie-in-sky, next-generation longevity biotech startups, we cannot discount the various companies springing up to assist with basic elderly needs. These often overlooked "basic needs" startups provide a great entry point for institutional support and advancement towards a growing aging population. And unlike many biotech and pharmaceutical startups in the space, these services and/or products have a long list of active users and don't have to rely on a lengthy and/or costly clinical trial roadmap.
Cobalt Ventures' recent investment in Nymble Science is a perfect example. Nymble is providing digital balance training that provides cost savings (for insurance providers), with already ~1 million users in its coffers. Similarly, Exer labs, a company offering at-home motion assessments via AI, successfully raised $6.5 million earlier this month.
We believe these surface-level "boring" businesses will continue to drive fundamental value in today's aging population.
Listen to your gut
Gut health and its importance to our overall health has been well established. We continue to see companies expand their pipeline to include assets or solutions for better gut health and microbiome, as well as, newly established startups focusing solely on this approach.
What's even more interesting is the recent raise by Tiny Health, which focuses on infant testing and monitoring of gut health from conception to 3 years of age, along with parents who are pregnant or trying to get pregnant.
With continued efforts in this area, we expect to see much more information and revelations come to light that will help drive innovation in this crucially important area of longevity and health.
AI-assisted drug development continues to heat up
Amid a slowdown in biotech funding overall, alongside research firms turning back the dial on R&D expenses, the rapidly growing AI-based drug discovery niche has remained largely unfazed by such headwinds.
For context, this week, Juvena Therapeutics raised $41 million to hone in on the potential of secreted proteins. The new funds will be used to, reportedly, expand its AI-enabled drug discovery platform. Ora Biomedical, in another case, is in the midst of a Seed round boasting a proprietary AI-based drug discovery platform dubbed "WormBot". Then there's Insilico Medicine, a company devoted to advancing drug development via its AI platform, which has successfully raised ~$95 million so far this year.
In an era of cutting costs amid economic uncertainties, the AI-assisted drug development trend makes a lot of sense. AI-based drug discovery platforms allow management teams to trim overhead costs and drastically expedite the preclinical drug development process. While AI-driven platforms are still very much unproven and have arguably been an overhyped area (relative to results), it's still a nascent corner of the market. In other words, it will take some time to see all of these new initiatives come to fruition. In the meantime, we expect that AI will continue to attract investors.
Closing Thoughts
While the end of the year is usually a slower time for fundraising, we have continued to see positive activity across the longevity industry from investors.
The overall biotech market continues to regard financing needs as their primary focus as more and more companies drop below 12 months of runway, with the longevity biotech market being in a similar position.
With that being said, pre-B round financing continues to be strong. We expect Series B and later to begin to pick up interest, though, as the valuations companies are looking to raise begin to drop. As these valuations drop, we also expect the public market to begin to take a closer look at M&A opportunities in the larger biotech and, more specifically for our interests, the longevity sector.
With 2023 right around the corner, we expect momentum to remain strong in this industry despite broader market volatility. We also expect private companies to continue attracting investment from more traditional-minded investors looking for better returns in new asset classes, like longevity.
The Spannr team remains extremely enthusiastic to be on the front lines of this emerging industry, and we expect to begin making our own investments very soon.
If you are an accredited investor and have yet to join us at Spannr Ventures, you can do so by filling out the form provided here.
In the meantime, be sure to follow us on social media and check out our weekly newsletter to stay updated on the latest happenings in longevity.
---
About the Author
Sign Up For Our Newsletter
Weekly insights into the future of longevity