---
Ora Biomedical: The Business of WormBots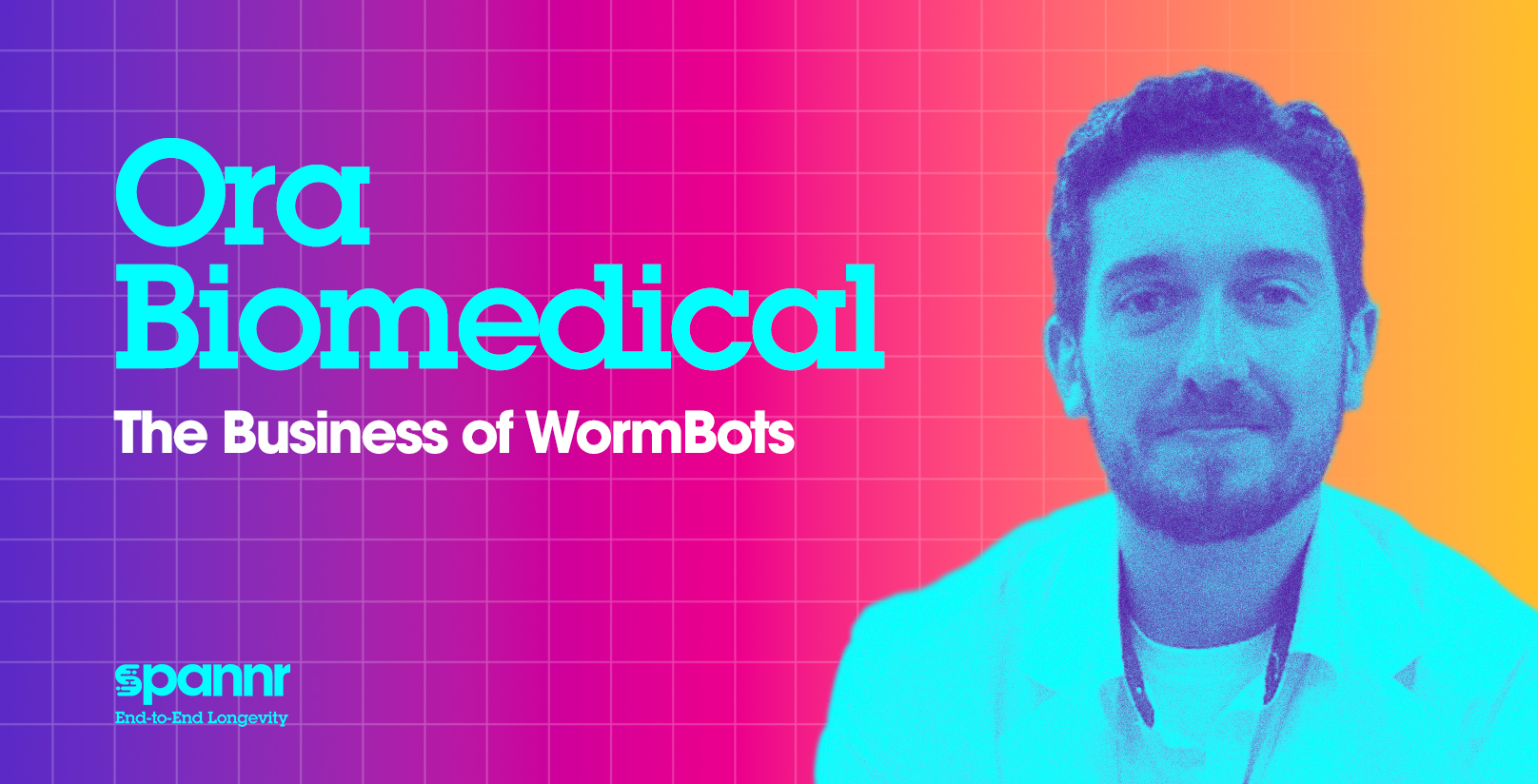 In June of this year, a new company was teased at the 4th Longevity Therapeutics Summit that had researchers and investors alike buzzing.
Presented by none other than Dr. Matt Kaeberlein, this new company – named Ora Biomedical – focused on high-throughput drug screening using robotics and AI.
But although the company sounded interesting and seemed to be focusing on an underserved area of longevity research, the community had many more questions than answers.
So to find out how robotics, AI, and worms could be combined to target aging and drug discovery, we reached out to Ora Biomedical's co-founder and CEO, Mitchell Lee, to find out what the company has been up to since launching earlier this year.
Hello! Tell us about yourself and your company.
My name is Dr. Mitchell Lee, Co-Founder and CEO of Ora Biomedical, Inc.
Ora Biomedical is a longevity biotechnology pharmaceutical company that identifies and develops small molecule longevity therapeutics that fight age-associated disease and extend healthy lifespan.
The most common diseases and chronic conditions that limit human lifespan (heart disease, cancer, neurodegeneration, diabetes, etc.) have biological aging as their single greatest predisposing factor. Small molecule interventions that target the fundamental drivers of aging offer a revolutionary new approach to preventative medicine.
Longevity biotech is just coming online and a major challenge is identifying the most effective healthy aging interventions. To overcome this challenge, we developed the WormBot-AI, a robotics and machine learning platform to perform massively high-throughput drug discovery in live animals.
With robust preclinical discovery at the heart of our approach, we identify novel aging targets and new interventions for known targets. Most importantly, we leverage large-scale discovery to perform drug studies that combine known and novel healthy aging interventions to identify breakthrough therapeutics.
As we like to say, we are raising a robot army to build the future of preventative medicine.
What's your background and how did you come up with Ora Biomedical?
My path to leading Ora Biomedical started during my PhD studies in Dr. Matt Kaeberlein's lab at the University of Washington School of Medicine.
Matt is a pioneer in aging biology and one of the first to identify fundamental nutrient sensing pathways that regulate aging.
You see, when a cell perceives poor growth conditions, like low nutrients, it upregulates a stress response that shuts down things like cell division and turns on mechanisms to protect itself so it can survive until the stress passes. Those protective mechanisms ultimately promote extended lifespan in the organism by improving cell, tissue, and organ health. Once I learned about how nutrient signaling and the associated stress response can act as a kind of rheostat to turn down the rate of aging, I was hooked.
As a PhD student, I was curious about how small molecules and natural products could trigger a pro-longevity stress response. As I was getting started, the field in general was not very interested in intervention discovery. The focus was on mechanism, which is vitally important, but didn't leave much room for basic discovery.
If you tried to write a grant to screen compounds for effects on aging, the grant didn't have a chance and would be labeled a "fishing expedition." Unfortunately, that really hasn't changed, which I still find quite bizarre.
Going on a fishing expedition is only bad if you don't wish to catch fish. As a consequence, the field has lagged finding novel interventions and those interventions that do exist are clustered around the handful of aging mechanisms we already know.
Circling back to my background, I was never the typical scientist. I always saw myself leading and managing scientists and built my training around those goals. As soon as I had the chance, I started growing my own volunteer research teams. I've run research groups as large as some independent labs since I was a grad student. Matt, again, provided the inspiration and playbook to do this kind of team science with the yeast replicative lifespan (RLS) team – a throughput-defining operation that, at its peak, performed around twice the number of yeast lifespan experiments as the rest of the field combined. Among its many successes, that effort performed the first whole-genome analysis of lifespan-regulating genes.
During my Postdoctoral studies though, I started to question my career path as an academic.
I expanded my drug development interests to understand how natural genetic variation influences the effectiveness of longevity intervention (no intervention works outside of the context of individual genotype). This is an area where we know next to nothing, especially in humans.
Frustratingly, I was met with more systemic grant funding challenges. Instead of being accused of going fishing, I was told that studies focused on characterizing drug response across genetically variable organisms were merely descriptive. At this point, I finally had to face facts that agencies like the NIH were fundamentally misaligned to the kind of high-throughput drug discovery and development of which I believed had the greatest opportunity to benefit human health.
At that point, I decided to diversify my skillset with biotechnology project management and leadership training so I could enter the private sector and find a new opportunity.
Finally, I went to break the news to Matt that I was leaving academia. By that time, the WormBot robotics technology was starting to show a lot of promise and longevity biotechnology was starting to emerge, along with a new influx of investor enthusiasm.
Matt mentioned spinning out a drug discovery company based around the WormBot and I jumped at the opportunity to lead.
It was truly one of those right time, right place, right opportunity moments for me.
Take us through the process of researching, designing, prototyping, and manufacturing the WormBot.
To rapidly identify longevity interventions, we utilize the small roundworm C. elegans.
It may seem strange at first glance to look for human interventions using an animal that appears so different from humans, but remember that aging is a cellular phenotype.
Dysfunction in cellular mechanisms reverberates through tissues and organ systems to drive age-associated physiological decline and disease. At the cellular level, the processes that drive aging are highly evolutionarily conserved. A recent study (of which multiple Ora Biomedical Co-Founders are authors) makes this very clear by showing that essential cellular processes are enriched for lifespan-regulating mechanisms.
We leverage both standard aging and age-associated disease models to identify longevity interventions.
The first drug screen we are pursuing focuses on identifying novel drug synergies that extend healthy lifespan in a short-lived disease model. To start, we are testing combinations of FDA-approved drugs, which have established safety profiles and well-characterized mechanisms, to find therapeutics that can be expedited through regulatory and other drug development hurdles.
Hits identified in C. elegans are validated using cell culture and mammalian models. With validated drug synergies, our next steps will be aimed towards clinical trials.
While human therapeutics are the ultimate goal, we are also compelled by the groundbreaking work of the Dog Aging Project to think about translating these therapies first to companion pets.
So, the first beneficiaries of our novel therapeutics may be the dogs and other pets we love.
How are you doing today and what does the future look like?
We are just establishing our independent drug discovery operations. For context, we officially launched out of UW and into our own space in October.
We're moving quickly thanks to Pre-Seed investments from Optispan Geroscience, Sand Hill Angels, and two angel investors.
Our partnership with Optispan has been a game changer; in addition to cash financing, they are providing headquarters space for us to build our WormBot drug discovery facility. We are moving into that facility in the next couple of months.
Currently, we are building robots and optimizing our operations for large-scale, coordinated drug discovery while continuing with our drug screening and partnered mammalian validation. We are poised to accelerate these operations once we raise our Seed round financing, which we expect to complete during Q1 of 2023.
Once our seed financing is secured, we will build our army of WormBot-AI drug discovery robots that will perform continuous drug discovery.
We are constantly finding new ways to improve our throughput, but we estimate that we can test over 100,000 single and combination drug treatments per year. To put that into some context, the largest longevity drug database has entries for a little over 3,200 compounds.
This approach should allow us to identify the very best interventions for mammalian validation leading to clinical development and out-licensing to new and existing longevity biotech companies.
As a first time entrepreneur, was there anything that you learned that was particularly helpful or advantageous to building your company?
As a first-time entrepreneur, I have had to learn a lot quickly! But, I have been lucky to find great programs and advisors along the way.
Early on, we were introduced to Jesse Horwitz, who is now a key business advisor for us. He has been instrumental in helping us develop all parts of our business operations and getting opportunities to talk with individuals from major venture capital funds and other investors.
As the leader of a University of Washington startup, I have taken advantage of the great ecosystem of resources here and around UW.
I received a UW CoMotion Commercialization Fellowship that provided dedicated time and resources to launch Ora Biomedical. This program provided educational training, resources, and a vibrant community of advisors and fellow entrepreneurs from which to receive guidance.
We were also selected to join the Life Sciences Washington WIN Mentorship program. This introduced our team to another great set of mentors and has provided excellent networking opportunities with investors and business leaders around Seattle.
What are the major hurdles or challenges right now for you or Ora Biomedical?
The economic climate for fundraising is shaping up to be a challenge.
Inflation and a looming recession are at the top of investors' minds. How this impacts valuations and overall raises is putting a squeeze on many startups.
As an early-stage company that can meet our milestones cost efficiently, we are still hopeful for a successful Seed round. That said, we are adaptable and thinking about alternative strategies if we need to bootstrap our way through these uncertain times.
Longevity interventions themselves are another type of challenge.
It sounds too good to be true that a single intervention could fight so many major sources of human morbidity all at once.
Additionally, age-targeting preventative therapeutics are a major disruption to existing paradigms in healthcare. In modern medicine, each disease has a unique treatment, and you can't receive care until you already have the disease. The goal of medicine should be to prevent disease, not keep people sick and alive. In our conversations with some investors and pharmaceutical companies (some of whom claim to be leading next generation approaches to health), it's tough for them to wrap their heads around it.
For others who want to get started or are just starting out in longevity do you have any advice?
Engage with scientists and those in longevity biotech. There are some great communities where you can network. On Deck Longevity Biotech has worked hard to grow a community that represents all facets of longevity biotech, from scientists to founders and investors.
I am a long-time member and advocate for the American Aging Association (AGE). In my opinion, AGE is the best scientific society focused on the biology of aging. The AGE Trainee Chapter is actively growing interactions between scientists, longevity biotech, and entrepreneurs. Even if you are not a scientist, consider joining!
Lastly, reach out to those doing the work. When I was finding my path, I had some great informational interviews with people who had the positions I was considering and those who ran different parts of longevity biotech companies. During my scientific training, I was always impressed by the accessibility of most scientists. Before I even entered the field as a grad student, I was able to meet with some great scientists, including Matt Kaeberlein. In fact, that openness to chat with me was a major driver in my decision to work with him.
What is your personal goal in longevity?
Today, age-associated illness starts to emerge in our 50-60s, which is probably around the halfway point of the natural human lifespan. This is unacceptable.
With healthy aging interventions in use, I see a world where chronic illness and disease do not cast a shadow over half of our natural lifespan. For me, it's not about dramatically extending human maximum lifespan (although these interventions may push humans beyond the ~125 or so years documented so far), it's about reclaiming more of our lifespan by fighting off the conditions that rob us of health and undermine our confidence in seeing tomorrow.
Are you hiring? Any specific positions you are looking to fill right now?
We are always seeking highly motivated, passionate people interested in healthy longevity.
Once we complete our Seed financing, we will be hiring for numerous positions. We are also slowly developing our Geroscience Internship Program where we will partner with Optispan Geroscience to provide excited individuals the opportunity to get involved in all levels of our work. Please contact us if you are interested in learning more!
Where can people go to learn more about Ora Biomedical?

---
About the Author
Sign Up For Our Newsletter
Weekly insights into the future of longevity