Spannr
/
Insights
/
FDA Restricts NMN Sales: The Implications, Winners & Losers, & Other Rapid Reactions
---
FDA Restricts NMN Sales: The Implications, Winners & Losers, & Other Rapid Reactions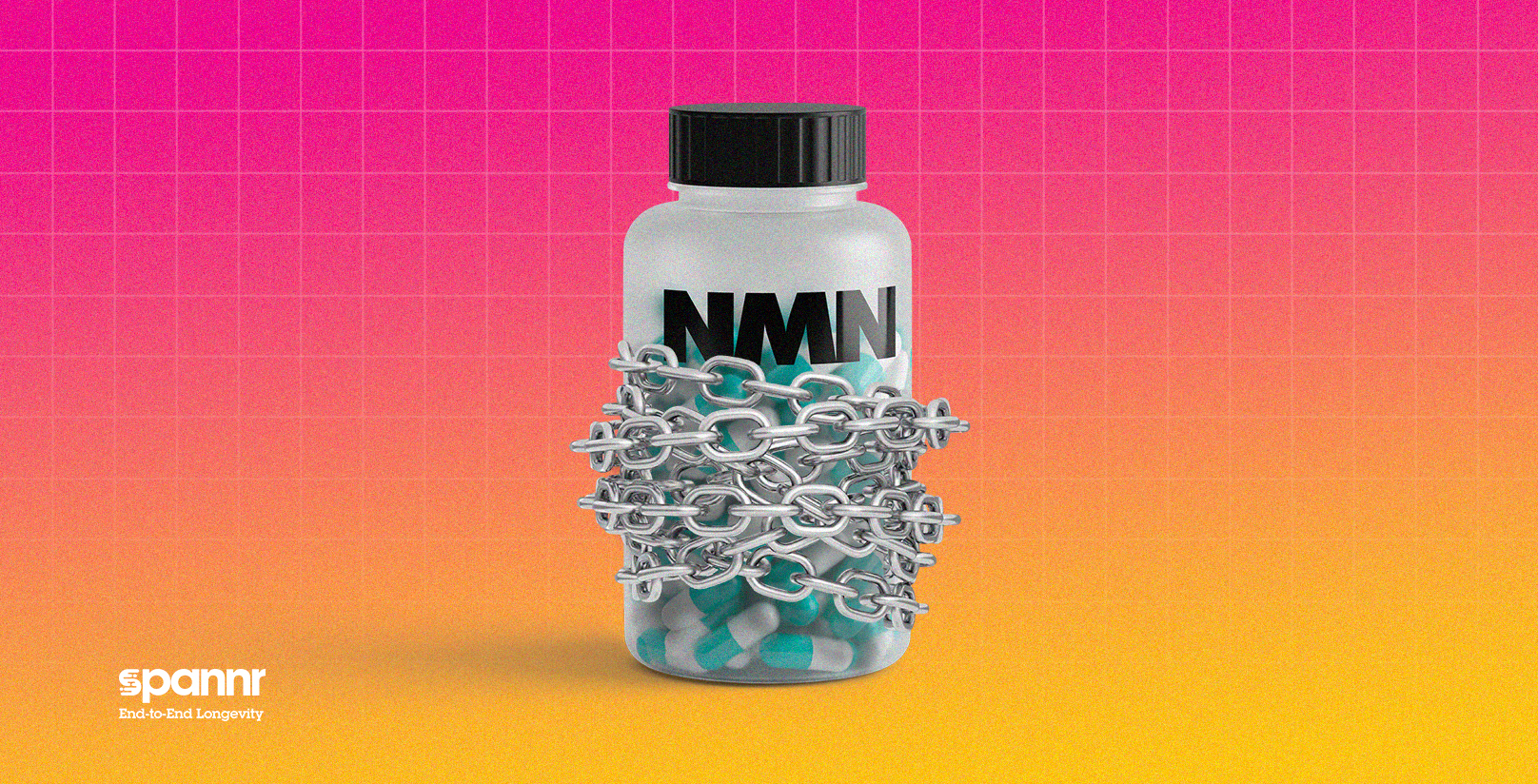 NMN supplements, a market estimated to be worth $280.2 million this year, just got a no-go from the FDA, curbing many "anti-aging" supplement providers and longevity enthusiasts from interacting with one of the most popular longevity supplements on the market.
While the news has stirred up a bit of drama and finger-pointing, which we'll eventually get to, let's back it up a bit…
What is NMN, Anyway?
Nicotinamide mononucleotide (NMN), at its most basic level, is a precursor of Nicotinamide adenine dinucleotide (NAD+), an essential coenzyme found in every cell of the human body. NAD+ is critical for mitochondrial function and cellular energy.
As we age, the body depletes NAD+, with humans losing around half of their NAD+ by middle age. Without going too deep into the science, there is a clear correlation between NAD+ levels and health status in human aging.
The only problem is that NAD+ cannot cross cell membranes to get into cells; therefore, individuals who want to boost their NAD+ levels must do so by other means.
Although there are three main approaches to increasing NAD+, supplementation with precursors (such as NMN) are actively being studied in humans.
Simply put, if one is looking to combat aging, supplementing NMN may be a useful way to do it.
Now that we know what NMN is and its impact on building NAD+, let's look at the implications of this FDA announcement, why it happened, and take a stab at what happens next.
FDA's Decision on NMN Supplements
On November 4, the first sign of the FDA reversing its course on NMN appeared in a letter sent to NMN manufacturer Inner Mongolia Kingdomway Pharmaceutical. The letter stated that "NMN is excluded from the dietary supplement definition under 21 U.S.C. § 321(ff)(3)(B)(ii) and may not be marketed as or in a dietary supplement."
FDA official R. Phillip Yeager, Ph.D., added to this by stating:
"Based on new information that came to light when we were reviewing another notification, FDA initiated a review of past notification responses for NMN and concluded that NMN is excluded from the definition of a dietary supplement."
In other words, in what appeared to be a harsh pivot from previous NMN reviews, a blanket ban on marketing and selling NMN as a dietary supplement to US customers is upon us.
And according to the same letter, several companies have already been advised that NMN is excluded from the definition of a dietary supplement.
As you may have guessed, the FDA's decision left many in the space searching for answers.
Why is the FDA doing this? And why now, years after NMN became widely available? 
Well, this is where it gets interesting.
Who's To Blame?
From what we could gather, the reasoning behind the decision to ban NMN as a supplement is that it is now being investigated as a pharmaceutical drug.
But as they say – the devil is in the details.
According to a Supplemental Response Letter that sought to explain such "new information that came to light," an FDA spokesman replied:
"When the FDA initially reviewed New Dietary Ingredient (NDI) notifications relating to NMN, NMN was not clearly identified as an article that was authorized for investigation, i.e. MIB-626. Once the FDA was made aware of the connection between NMN and MIB-626, we concluded NMN is, in fact, excluded from the definition of a dietary supplement under section 201(ff)(3)(B)(ii) of the FD&C Act."
The key point is "MIB-626" – a proprietary form of NMN developed by a company named Metro International Biotech LLC, co-founded by the one and only, wait for it… David Sinclair.
Fueled by Dr. Brad Stanfield, who publicly investigated the FDA's statements on social media (watch it here), David Sinclair and company quickly became an easy target to blame.
Stanfield stated that the FDA's decision was in response to David Sinclair's company "lobbying the FDA to ban NMN so that they can sell their own proprietary blend of NMN called MIB-626," suggesting that this was just another drug company playing a political game to monopolize the NMN supplement market.
After all, Metro Biotech has been devoted to pursuing a pharmaceutical development pathway of NMN since the company's inception.
And as Dr. Charles Brenner puts it:
"As I understand it, when metro biotech proposed NMN drug trials, that killed NMN as a supplement, per FDA rules. A supplement can be tested as a drug but a drug candidate can no longer be sold as a supplement."
Dr. Brenner also stated in response to Stanfield's videos that the reasoning is "not so that David's company could sell [NMN, but so] that David's company would be able to say they have a clinical stage company that could be invested in or sold."
While we'll let readers make their own judgment, such news and all the finger-pointing that ensued shouldn't come as a surprise. Rather, it's something that the field of longevity biotech – and all of those testing the limits on "anti-aging" supplements – should get used to.
In one camp, you have supplement providers fighting for their right to sell high-margined products that are sometimes questionably effective or safe for consumption.
In the other camp, you have drug developers asking the FDA to protect the rights of companies that have spent significant time and research to develop drug products. These products sometimes compete with dietary supplement providers who market to the masses prior to the institution of substantial clinical trials.
Something we all have to ask ourselves: What's the safest and/or most effective for consumers?
However you want to look at it, one thing is for certain: The drug industry is far from perfect.
To get a little bit more clarity on the situation, we reached out to our friends at Decode Age – one of the leading international supplement providers in the space.
Having a flagship NMN product, LongeVit, in his coffers, Darshit Patel, the CEO and co-founder of Decode Age, provided us with some thought-provoking points:
"Honestly, the FDA decision doesn't surprise us, as companies previously have tried utilizing absolutely natural nutraceuticals for drugs to claim their patents/monopolies.

However, we can't deny that this is a setback for the Longevity Nutraceuticals industry worldwide, as FDA regulations are often held as a benchmark in multiple countries. If the FDA's decision was limited to beta-NMN, it would be a fair deal, but now linking and bringing NMN itself into the radar is quite disappointing.

If we follow the same logic, Niacin, NR, and Nicotinamide are not far off from NMN, which are all vitamin B3 derivatives. Vitamins on a broad range should be a talk amongst the nutraceutical industry. Giving them pharmaceutical status might only motivate other companies to follow the same route of turning vitamins and natural compounds into drug compounds, eventually allowing pharmaceutical companies to shadow the nutraceutical companies."
There are clearly ample arguments on both sides of the table, but nonetheless, news like this can spark massive implications…
The Aftermath
As of today, with the NMN ban supposedly intact, there are several takeaways we can make. That said, let's take a brief moment to look at the winners and losers of this brewing situation:
The Losers:
NMN-Dependant Supplement Providers


As one can imagine, supplement providers, specifically marketing NMN dietary supplements to US-based customers, just got hit with a massive operational headwind. It's hard to tell just how much the FDA will enforce this new NMN ruling, but for now, it's on everyone's radar.

US-based Longevity Enthusiasts
If NMN suppliers and manufacturers pull the rug on NMN, US-based users will potentially have to find an alternative method for purchasing their supplements. Companies such as Renue have already begun reporting selling out of their NMN supplements as concerned consumers rush to fill up.
The Winners:
Metro Biotech
How could we forget? If rumors are true, Metro Biotech just succeeded in "lobbying" the FDA to restrict NMN dietary supplements. More importantly, the company managed to checkmark another roadmap goal by establishing a pharmaceutical development pathway for NMN. Is a new funding round around the corner? Time will tell.
NR supplement providers
As we previously explained, NMN is a precursor to NAD+. But it's not the only path for consumers wanting to boost their levels of NAD+. NR, short for nicotinamide riboside, is an effective alternative. Meaning companies like ChromaDex, Elysium Health, and a multitude of others that have proprietary blends of NR may foresee an uptick in sales and interest.
Ongoing developments
Although the announcement to restrict NMN is still fresh, the FDA's decision will likely disrupt the NMN marketplace in one way or another. But considering there are opposing parties with skin in the game, including several suppliers that have been affected, litigation between the supplement industry and the drug industry is certainly possible.
For example, the Council for Responsible Nutrition (CRN), a US trade association for the dietary supplement and food industry, recently responded to the news indicating that this story is far from over.
In the response, Steve Mister, CRN's President and CEO, stated that the CRN was "evaluating its options in response."
Mister later added:
"Much of the innovation for dietary supplements comes from the introduction of new ingredients. But the FDA's actions demonstrate a disregard for consumers who benefit from the innovation and investments of dietary supplement companies."
There is also a possibility that industry trade associations could prompt the passage of an FDA enforcement discretion, which would essentially grant dietary supplement marketers a legal avenue to market NMN in the US. We saw this happen earlier this year when, similarly, the FDA suddenly restricted NAC (N-acetyl-L-cysteine) products in 2020.
Will NMN products still be in stores months or years from now?
It's anyone's guess at this point.
At the time of writing, NMN supplement providers such as Novos Labs, Do Not Age, and even suppliers on Amazon all continue to sell NMN in online storefronts.
---
Sign Up For Our Newsletter
Weekly insights into the future of longevity