---
Decode Age: Bringing Longevity To The Untapped International Market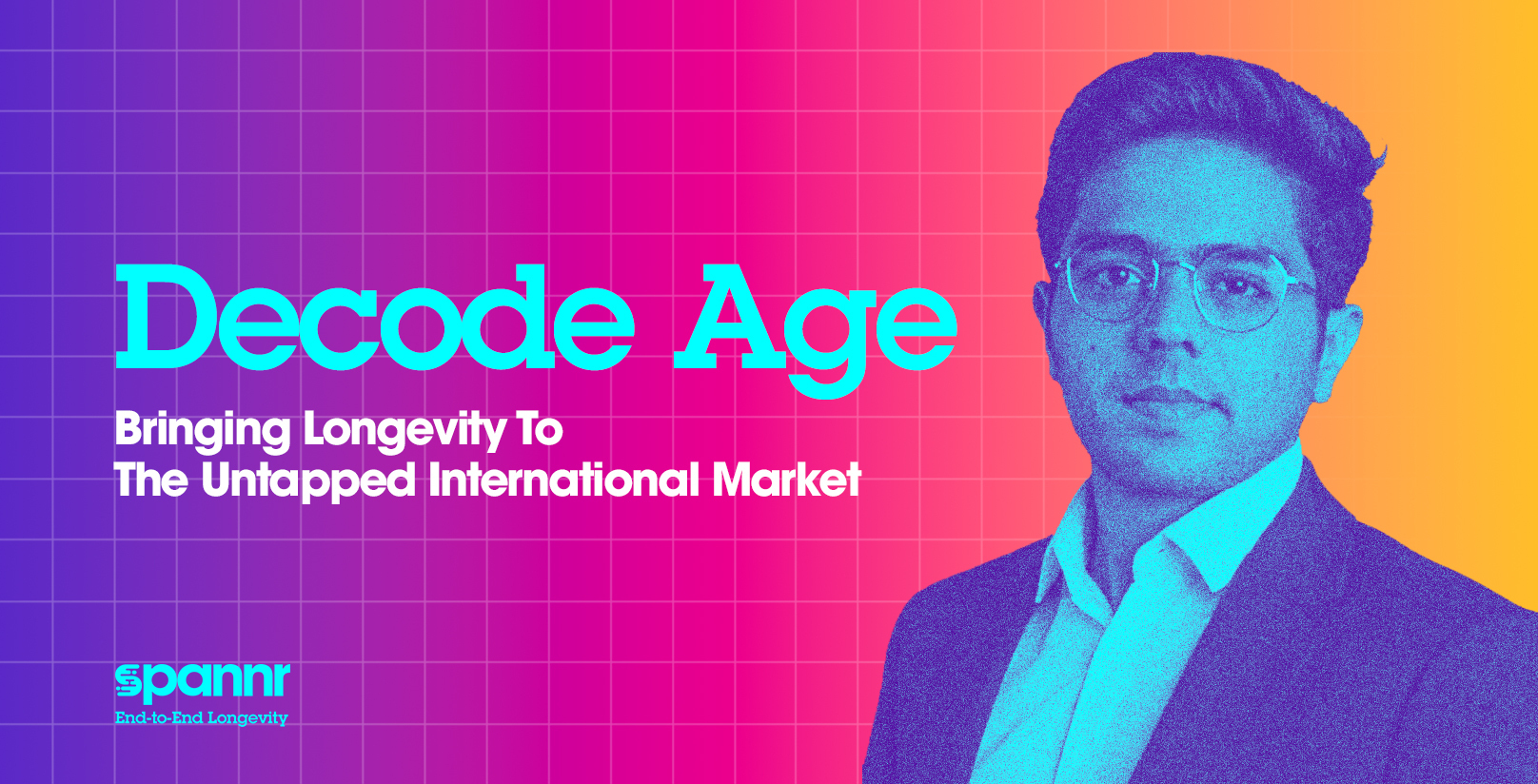 The field of longevity only continues to grow. With funding rounds and research efforts ramping up, slowly but surely, the industry is beginning to detach itself from the broad world of biotech.
What's not so obvious, however, is which companies and founders are blazing the path forward.
To help bridge this gap, Spannr will be occasionally interviewing founders in the space. Through these deep dives, we intend to help readers better understand the business models, the uphill battles – and even the science – behind some of today's most ambitious longevity companies.
In our inaugural interview, we had the pleasure of speaking with Darshit Patel from Decode Age – an India-based longevity supplement, research, and testing company reporting 30% sales growth MoM.
How'd they get started? And what was their trick to such early success?
Continue reading to learn more.
Tell us about yourself and your company.
Hello, I am Darshit Patel, Founder and Chief Science Officer at Decode Age.
Decode Age is the first longevity-focused company dedicated to bringing science-based supplements and predictive tests to improve both healthspan and lifespan for the people of India.
We are integrating one "P" at a time in what we call the "P4 Approach" to battling aging in India. We started with Preventive solutions (P1), and are now building a community platform to spur Participation (P2), will soon launch Predictive tests (P3) and finally look for Personalized solutions (P4) for every individual to assist in their longevity journey.
Currently, our flagship products are longevity-focused supplements (NMN, Senolytics, AKG, amongst others), which we are uniquely offering in the country. We are also on the track to launch a Gut Microbiome predictory test that breaks the shackles of existing commercial technology (existing in India) by going a notch higher on the testing methodology.
Our current customers are typically in the age group of 35 to 60, facing early signs of aging, that are looking for novel solutions to extend their healthspan.
While we're just getting started, with roughly only one year in the Indian market, we've had great traction converting people to Decode Age who previously depended on international companies selling supplements in India. That said, we are quite excited to launch our first research-based service through long-read and shotgun-based Gut Microbiome tests.
The cherry on top is that we were recognized by the Indian President's Office early on and have been serving them our products ever since.
What's your background, and what led you to develop Decode Age?
As an ardent and lifelong pursuer of biological sciences, I quickly learned that aging was the biggest problem in biology.
I arrived at this conclusion when I realized that aging is the only detrimental process experienced by every human being on the planet (unless it is Benjamin Button, we are talking about). That was it: a simple realization, followed by the book "The Telomere Effect", and finally, a deep dive into the trajectory of existing research.
However, the question for myself was, what can I do, and how can I add value to the work already done by all the star scientists and entrepreneurs working in this field?
The answer to this question brought me back to my roots – India.
It was the start of the pandemic when I came back to India and got the perfect "hibernation" period during lockdowns to see what was happening in the country and what could be done. Luckily, to my surprise, India was completely unexposed to the latest science of aging research. Even the solutions available for people in other countries to help manage aging and related chronic ailments were virtually nonexistent in our country.
The scope was huge, the possibilities were endless, and I could already see the change this could bring to the nation's demographics, economics, and healthcare (of course). To add to my luck was the fact that I found two people: Parth and Rakesh, who had the same versions of a similar vision, and it all aligned to introduce "Decode Age" to the world.
Honestly, if it weren't for Parth and Rakesh, I would have stuck to academics and would have never moved to entrepreneurship. I loved the science, but I practically had no business exposure except for one fact – category creation in the market needs experience.

Parth and Rakesh are both experienced serial entrepreneurs who have single-handedly made multi-million dollar businesses, and I was glad to have them in my network. To add, each of them shared an interest in living long, healthy lives. Parth, for example, was formerly a Yoga teacher, and Rakesh was an Ironman Triathlete.
Personally, I had worked on drug design in my projects before Decode Age. But my past experience with metagenomics is what really gave me the confidence to pursue the field. I knew the future of biomarkers was OMIC technologies – the detection of genes (genomics), mRNA (transcriptomics), proteins (proteomics), and metabolites (metabolomics) in a specific biological sample. I also knew about this tech's potential to build patient-accessible and interpretable tests.
This vision of the gut microbiome's involvement in aging constantly motivated us throughout the building phase, and the entire team shared a mutual feeling of satisfaction when the first results for our gut samples came in during the "validation" period.
Then, it only got better as we added and deleted features with every test sample on which the pipeline performed. Now, we are all literally counting the days to finally launch our tests for commercial use.
Elaborate on the process of researching, designing, and/or manufacturing your product.
Launching in 2020 was probably the most uncertain, but also the most exciting, time for us.
At the time, we were absolutely clueless about how to introduce such a niche and complicated science to the lay-people in India. So, we did what scientists do: experiment… The only difference being, we experimented with products.
Our initial thought was that introducing longevity supplements would be the easiest way to get into the market to then slowly build novel research programs on the back end.
We decided to start with NAD+ boosters, but sourcing the raw materials and importing them to India was in itself a time-consuming and regulatory challenge. Fortunately, though, the costs of starting a business are not very high because the Indian Government supports the new wave of startups.
While waiting four months for the NAD+ raw materials, we developed some generalized supplements to kick-start our online presence.
After reiterating the product packaging multiple times, we finally launched in November 2021 with our cornerstone products: LongeVit (for hallmarks of aging) and ResVit (for age-related damage control).
We were still struggling with the pricing, though, as the process of acquiring (raw materials and customers) was an expensive affair. Our website got way too technical in communication, and most sales were driven purely through Amazon or one-to-one conversations with customers.
But, by January, we became the Pied Pipers of Hamelin to people becoming aware of longevity supplements, and the upward trajectory of sales started building.
At the time, our company was called "Life Elements," which was a bad decision, as it led to the reputation of being "just another supplement company." So, in a night of revelation, we decided to scrap that identity, close the "Life Elements" brand name down, and came out as "Decode Age," as we really were working to decode aging.
This move helped us! Our brand got stronger, and people began looking at Decode Age as a distinct and unique brand.
Furthermore, there was another key move that helped us. This time though, it wasn't a strategic one but a physical one. We shifted our base from Surat (a Tier-2 city in India) to the tech and startup capital of India, Bengaluru, for greater exposure to talent and technology.
Another mountain of challenges posed itself in our gut microbiome test development. We worked on one technology after the other but were never satisfied. We wanted to build a gut microbiome test that a user can understand, is easy to use, and can bring value for their money.
We had a team with strong bioinformatics backgrounds, but outsourcing sequencing was becoming a problem due to a lack of quality data and unacceptable time frames for processing. We weren't willing to make a compromise, so we decided to build up some capital to start our own lab while committing to building the data analysis pipelines to achieve as much accuracy as possible.
We are now ready with both our own sequencing lab and an absolutely unique pipeline to analyze gut microbiome and its implication on health and age-related affairs.
We are also looking into the challenges around IP, as we have just finished documenting and validating our models and pipelines of analysis.
Let's talk about performance. How is Decode Age doing today, and what does the future hold?
It has been almost a year since we began offering our longevity supplements, and we have successfully captured a good bit of market share.
Our sales are growing nearly 30% MoM purely on organic growth and without much investment at all into marketing. We decided not to market aggressively as we wanted to attract an organic community that associates more with the brand than just the product. This has been a successful strategy as we have developed a deeper connection with our first customers and are now providing them with a community platform (with doctors, researchers, and fellow longevity enthusiasts) to add further value to their life. We would enjoy the 'profitable' status if we only considered the supplement side of the business, but because we invest a lot of capital into test development and associated research, we have yet to cross into profitability. Quality R&D, though, has been an investment we are willing to make.
Our focus on community, as mentioned above, is an important move for us. We have initiated a lot of data collection for a Real World Evidence (RWE) study for people pursuing a longevity lifestyle. Our goal is to eventually start using this data to design and initiate clinical studies in the upcoming year, as we believe this to be one of the most important global demands for the longevity industry.
Decode Age's gut microbiome research arm is also gaining some attention, and we are preparing to present two important ongoing studies at international conferences in the coming months. This will include a Gut Microbiome and T2D study at the World Gastro Conference in October, and a Centenarian Gut Microbiome study at the International Conference on Golden Zone Wellness, in Thailand in December.
Each of Decode Age's founders come from traditional business families, so the mindset has always been to invest, build, grow, and invest. We started with a bootstrap investment of around $120,000 USD, which we used to build the supplement range and the tests on the back end.
This led to us having recently completed a seed round of $150,000 USD for scaling and R&D.
As of today, we offer an entire range of longevity supplements, knowing that our Gut Microbiome test is still reserved for a launch in Fall 2022. We also have a few more tests in the pipeline, with planned launches for 2023. Simultaneously, we would like to spread our supplements arm to the Gulf Cooperation Council (GCC) region and potentially explore USA markets as well.
Our immediate goal is to scale our business and provide affordable solutions for longevity-related tests and preventive supplements while continuously building our data bank.
Through this, we want to build a foundation for a stronger research platform and commit ourselves to a global moonshot of working on longevity biomarker panels, clinical trials, and building population-specific aging clocks.
What have you learned through starting Decode Age that you found helpful or advantageous?
Building out Decode Age has certainly taught us a lot. That said, I took the liberty to "sub-interview" my cofounders to detail what we've learned across three major sectors: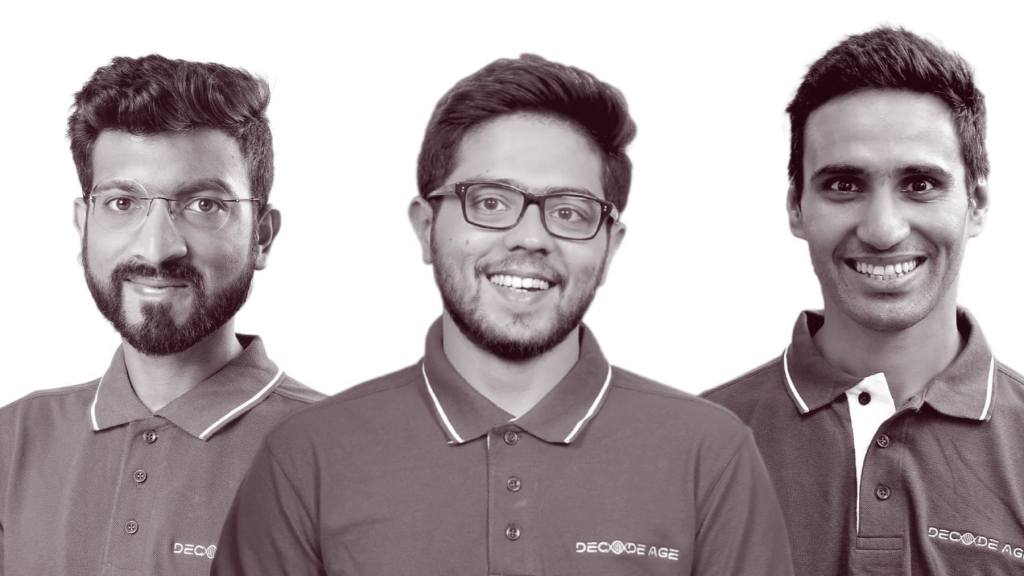 Market (as defined by Parth):
Category creation in a market with customers having absolutely no background in longevity sciences was a trial for the Gods: a ruthless one where experimentation was our only accessible weapon.
The biggest learning curve was analyzing what would and wouldn't work in the untapped market. We tried multiple product packaging, scrapped almost three sets of designs, then moved on to experimenting with multiple communication styles on our social media and website to eventually settle at where we are today. But this is not a permanent settlement as we keep discovering new metrics and data points to improve. Change is the only constant, and we are changing every minute to positively impact our customers' lives.
Funding (as defined by Rakesh):
Indian markets are flooding with food/grocery delivery, tech, EV, telemedicine, and diseases-reversal/prevention startups. Decode Age, however, is a project for the future of healthcare, with a vision of playing the long-term game and betting on the rather unknown domain of Longevity in India. But we essentially came out far too forward-looking in an ecosystem focused on the present. In our seed round, we did at least 10 revamps for our pitch and still found it very difficult to click with the investors until only very recently.
In this rather tedious process, we learned one very important thing:
"Don't bend and twist your vision and goals to the market and investor demand if you want to create a category. Hold your ground, trust your vision, stick to your narrative and back the science that you have invested in."
Science (as defined by me, Darshit):
Imagine a new swimmer put into the English channel. You will see him struggle, but eventually, he will catch up with the currents of the Atlantic because survival is the greatest force of all.
Longevity sciences and even the sub-niche of the gut microbiome was overwhelming initially, but my passion allowed me to dig deeper and learn a big deal of science (something I live for).
Not just that, but only having worked in academia before this project, my biggest learnings were in terms of managing time between domain knowledge and business building, building a "hero team," and, most importantly, using efficient communication to deliver complex ideas in simple forms for lay-people.
Are there any major obstacles or challenges right now for you or your company?
As readers may have already guessed, we faced several regulatory challenges. But most of these challenges revolved around bringing in raw materials to India. It took us time, but it also allowed us to probe into the regulatory policies to find answers. We connected with many government agencies, effectively coordinated with them, and eventually got them to support our purpose.
The funding challenge was mostly what Rakesh explained in his learnings. We had a tough time cracking the seed round. Investors often found it too difficult to understand our concept or took us for another huckster for the "fountain of youth." We had to revamp our pitch deck a number of times to suit investors' cause, and it often got chaotic until we finally decided to hold our ground, trust our vision, stick to our narrative, and back the science we invested in. Persistence on the vision eventually cracked the code for us.
Another challenge was awareness and education. To date, we are consumed by this challenge, despite significant progress. We have done offline and online webinars, found ourselves in medical conferences, revamped social, web, and email copy, and are now preparing to launch our podcast to continue educating the market about the benefits and core science of longevity and how it can benefit them.
What kind of advice can you offer for others who want to get started or are just starting out in longevity?
Our collective tip to everyone is to sell the science and evidence rather than your product itself. Post-pandemic, people have become more educated in terms of taking decisions for their health. If you can successfully communicate a novel scientific concept and its positive effects, you can develop an instant connection with the user. Once you do that, don't just stick to information about your products, educate them about all that is happening in this domain, and their education will eventually reflect in your growth.
Specifically for people looking to get into Longevity, I have but one tip: Don't get carried away by the 2-3 main names that are making longevity science the talk of the town, and go so far as to use their names in direct promotion of your brand
As promising as this field is, ethics must overpower all sensations. Maintain your critique, and every once in a while, step back and watch it all from a neutral perspective and learn to draw lines between science and pseudoscience.
This is human life we are dealing with here, and we can't afford to hurt that just for revenue growth.
What is your personal goal in longevity?
Life is a gift, so why not extend it and keep it optimized?
I have often pondered the diminishing probability of my existence on Earth, and I have reached just one conclusion – that life is a gift of nature, and there isn't a greater cause than protecting it for as long as possible.
My personal goal in life is to make the most of this small probability and help others do the same. These are my thoughts about life, and my thoughts are my existence (Sorry, but I had to quote Rene Descartes in one way or another).
Are you looking to hire for certain positions right now?
We are constantly looking for:
Scientists in the domains of Bioinformatics and OMICs technologies to help build our longevity focused tests, with a special focus on Gut Microbiome.
Communicators that have a domain knowledge in longevity sciences that can understand and help bridge the gap of market education
Data Analysts to track business metrics and evaluate potential market expansions and targets.
Clinical Research Scientists who can design and execute processes for RWE studies and clinical trials.
Where can people go to learn more?
---
About the Author
Sign Up For Our Newsletter
Weekly insights into the future of longevity