---
Longevity Fundraising Roundup: October 2022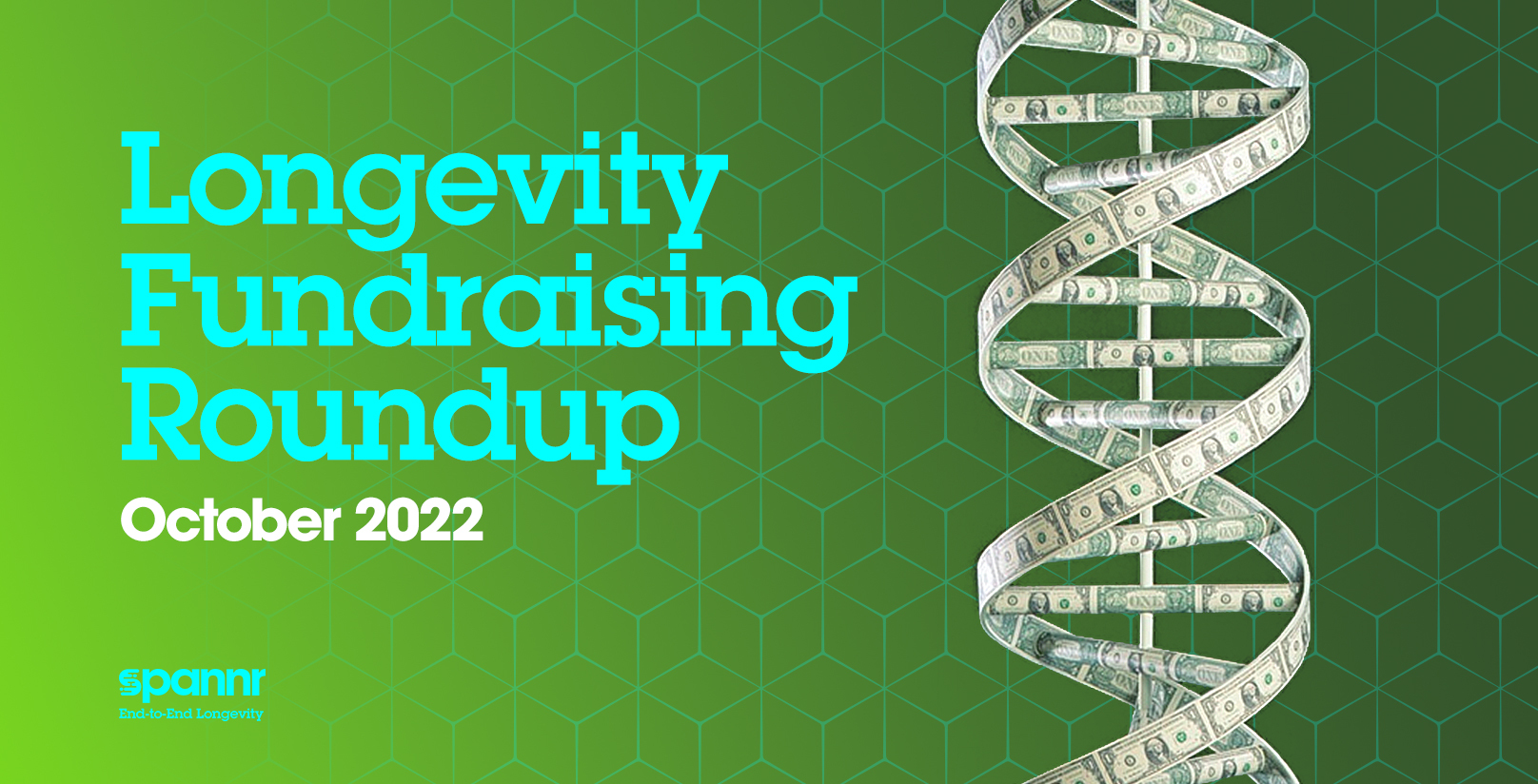 October's Longevity Funding Roundup:

$446M Raised Across 10 Funding Rounds
Investing Observations:
Investors Are Still Chomping At The Bit
Public companies Denali Therapeutics and Recursion both announced oversubscribed funding rounds in the month of October.
Denali raised $316 million in an underwritten public round, while Recursion grabbed $150 million in a private placement. Both of these oversubscribed rounds indicate that investors are still willing and able to back companies in the longevity market, despite today's bearish macroeconomic climate.
Knowing that companies working on longtail projects are still getting the dollars and attention from investors they need is an extremely positive sign for the broader longevity market.
Denali is currently focused on developing a broad portfolio of product candidates engineered to cross the blood-brain barrier (BBB) for neurodegenerative diseases. Recursion, on the other hand, is more focused on automation, machine learning, and engineering to industrialize drug discovery.
Capstan Therapeutics Building Off A Hot Market
Capstan Therapeutics launched two months ago, boasting $165 million in combined seed and Series A financings, and the market is beginning to take notice.
Capstan is betting on the recent mRNA research and developments that have really taken off in the last few years. To keep it simple, the company is saying it will attempt to provide precise cell-specific therapy for multiple disease categories.
If the company only wanted to target "cancer" cells in living organisms, for example, it would be able to identify and eliminate the targeted disease much faster. The company also mentions disease-specific mRNA payloads (the dosage of the medicine you would be delivering to the cell), optimizing its ability to heal/eliminate nefarious pathogens.
As a bit of background, our bodies have trillions of cells of all different types. Every disease itself has certain cell types and not all cells are created equally or function the same. So, if the team behind Capstan can figure out how to identify and properly dose targeted cells, one can only imagine the positive implications that could have.
While it's an exciting development, we're clearly not the only ones paying attention to these scientific efforts. Several large pharmaceutical companies participated in Capstan's recent $102 million Series A, including Bayer, Pfizer, Eli Lilly, and Bristol Myers Squibb.
As a side note, Capstan uses a targeted lipid nanoparticles (tLNP) technology to help with delivery and storage. These nanoparticles safely and effectively deliver nucleic acids, overcoming a major barrier preventing the development and use of genetic medicines. Without these lipid shells, controlled drug delivery –  including the delivery of mRNA vaccines for COVID-19 – would be near impossible.
While this technology is deemed revolutionary, pure-play longevity companies such as Oisín Bio and Turn Biotechnologies are utilizing the same or similar tLNP technology to deliver medicines in a more effective way. In other words, we shouldn't be surprised if this becomes more of a trend going forward.
Closing Thoughts
The longevity biotech landscape remains in its infancy, with many opportunities for consumers and investors emerging. While valuations may have dipped over the past few quarters, it is a great sign for the industry that existing companies continue to meet their fundraising goals with larger, more advanced Series B and C rounds.
Combine all that with publicly traded companies raising public/private funds and strategic investments from well-funded pharma and biotech companies, and you have an industry that continues to drive excitement and innovation.
The Spannr team remains extremely enthusiastic to be on the front lines of this emerging industry, and we expect to begin making our own investments very soon.
If you are an accredited investor and have yet to join us at Spannr Ventures, you can do so by filling out the form provided here.
In the meantime, be sure to follow us on social media and check out our weekly newsletter to stay updated on the latest happenings in longevity.
---
About the Author
Sign Up For Our Newsletter
Weekly insights into the future of longevity