---
Longevity Stocks to Watch in 2023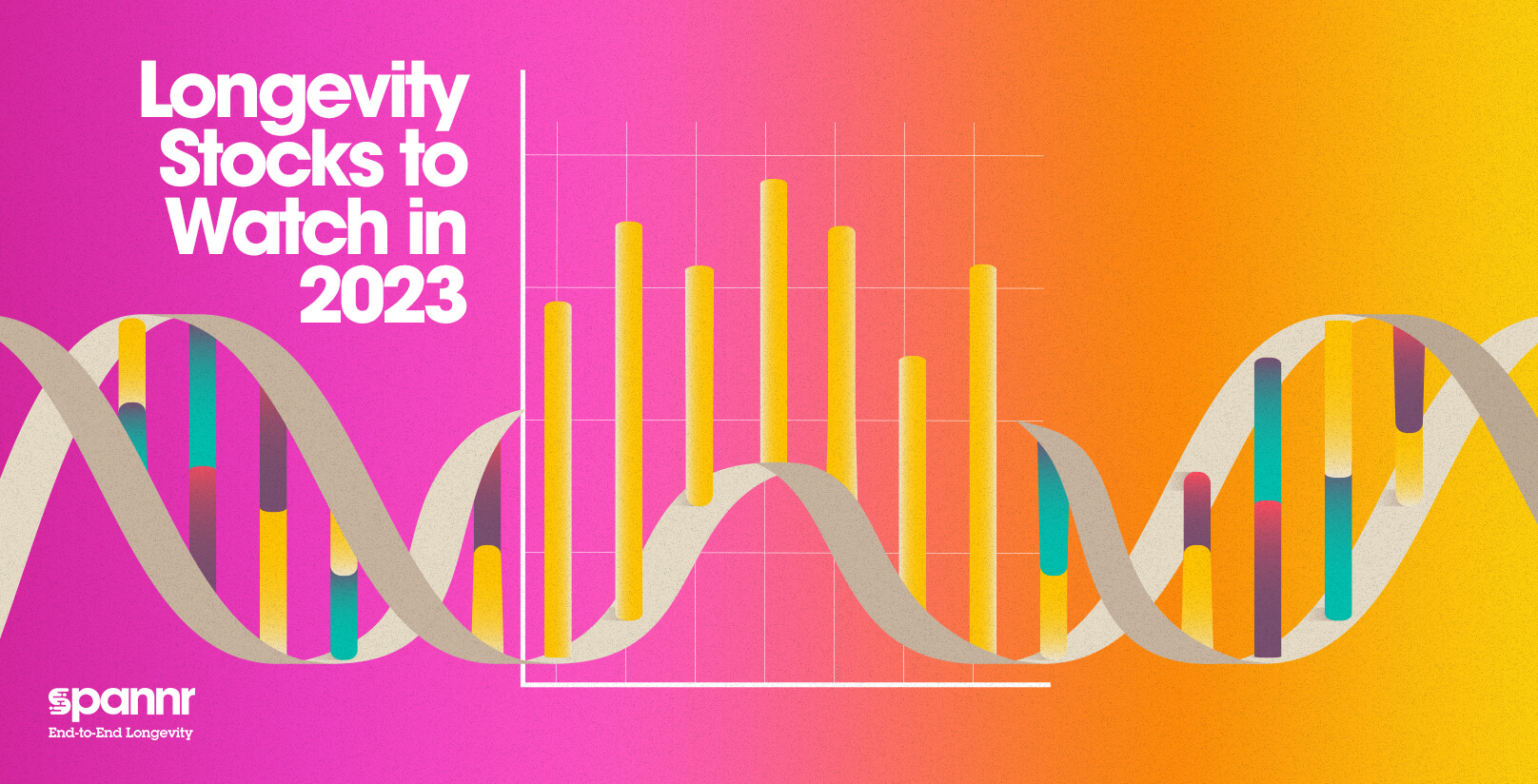 In an era of unprecedented advancements in biotechnology and medical research, investors are continually searching for the next "big thing" in the market.
One such area of interest is "longevity stocks" – companies that are committed to developing therapies and treatments aimed at extending human lifespans and improving the quality of life as we age.
As the global population continues to age and the demand for novel medical solutions grows, these companies are strategically positioned for potential long-term success.
While most longevity companies are blazing their way to relevance in the private sector, there's a growing of public companies in the space that allow everyday investors to gain exposure to this nascent market.
In this article, we take a stab at identifying the top longevity stocks to watch in 2023. Each company offers a unique approach to tackling age-related disease. Read on to learn about the innovative work being done, as well as the pros, cons, and verdicts on investing in each of these promising companies.
1. Geron Corporation (GERN)
Geron Corporation is a biotechnology focused on treating blood cancers by developing and commercializing imetelstat, an inhibitor of the telomerase enzyme. Telomerase activity in cancer cells allows the cells to bypass the body's usual prevention mechanisms and proliferate, which is why Geron is targeting it. The company is testing imetelstat in multiple late-stage clinical trials, of which its IMerge phase 3 trial for the treatment of Myelodysplastic Syndromes (MDS) is most notable. As of early January 2023, Geron is on track to submit a New Drug Application (NDA) in the United States in the first half of 2023 to treat lower-risk MDS with imetelstat. The company is also on pace to submit a marketing authorization application (MAA) in Europe for the same in the second half of 2023.
Pros:
Multiple late-stage trials with solid potential
US and European patent coverage for treatment of MF and MDS with imetelstat until 2033
No obligations owed to third parties for imetelstat commercialization
Cons:
Geron's accumulated deficit is substantial at nearly $1.4B
Probable stock dilution to fund operations and advance imetelstat
Lack of any current revenue-generating activities
Verdict: Geron's imetelstat is on the brink of regulatory approval and could hit the market as soon as early next year. Now is an excellent opportunity to invest in the company ahead of the likely stock price boost that imetelstat commercialization would induce.
2. Alector Inc. (ALEC)
Alector Inc. is a biopharmaceutical company pioneering a new therapeutic approach for the treatment of neurodegeneration by targeting immune dysfunction to treat degenerative brain disorders, termed immuno-neurology. Immune system dysfunction has been identified as a key driver of multiple neurodegenerative disorders. Alector's product candidates target neurodegeneration by influencing the primary immune cells of the brain, called microglia. The company currently has four late-stage product candidates in its pipeline, which it is developing in collaboration with major industry partners. Alector is coordinating with GSK on three therapeutic programs to treat frontotemporal dementia (FTD) and amyotrophic lateral sclerosis (ALS), and the company is also partnered with AbbVie on one program to treat Alzheimer's.
Pros:
Substantial cash and investments to fund operations through at least 2024
Developing leading clinical programs in partnership with major industry players
Massive commercialization potential in multiple markets with unmet medical needs
Cons:
No chance of submitting NDA to FDA in the short-term
Licensing and co-development agreements may dilute commercialization profit potential
Potential termination of collaboration agreements by GSK or AbbVie would negatively impact Alector's ability to progress therapeutic programs
Verdict: Alector's innovative approach to tackling neurodegeneration could positively impact tens of millions of afflicted patients globally. The collaboration agreements with AbbVie and GSK are structured to benefit Alector, as the company can simultaneously receive billions in development milestones while also sharing in potential commercialization profits. 2023 could be the year to scoop up some Alector stock while it's at a relatively low point before its programs get nearer to regulatory approval.
3. Mesoblast Limited (MESO)
Mesoblast Limited is a biotechnology company that develops cellular medicines for inflammatory diseases. Mesoblast is headquartered in Australia and is dual-listed on both the Australian Securities Exchange (ASX) and the NASDAQ. The company has two product candidates being tested across five areas of therapeutic need in late-stage clinical trials. These programs include cellular therapies for acute graft-versus-host disease (GVHD), inflammatory bowel disease (IBD), acute respiratory distress syndrome (ARDS), chronic low back pain (CLBP), and chronic heart failure reduced ejection fraction (HFrEF). Mesoblast submitted a biologics license application (BLA) to the FDA to get commercialization approval for its lead product candidate, remestemcel-L, but received a complete response letter (CRL) requesting additional data be submitted. In October 2022, Mesoblast resubmitted its BLA and has been granted Fast Track Designation and BLA Priority Review by the FDA.
Pros:
Increased capital access and share liquidity benefits of dual exchange listing
Two therapeutic products developed and commercialized by Mesoblast licenses are already approved in both Japan and Europe, with Mesoblast receiving royalty payments
Product catalog and technology platform are protected by 1,037 patents across 58 patent families
Cons:
Reliant on third parties for clinical testing and manufacturing capabilities
Business operations susceptible to foreign currency fluctuations
Manufacturing potential depends on accessibility to fetal bovine serum (FBS), which has limited sources and can be expensive
Verdict: Mesoblast has produced multiple late-stage product candidates from two high-potential technology platforms. With the FDA currently reviewing Mesoblast's updated BLA materials for remestemcel-L on the fast track, commercialization could be right around the corner.
4. Humacyte (HUMA)
Humacyte, Inc. is a biotechnology company that develops and manufactures universally implantable, bio-engineered human tissues that are ready for off-the-shelf application, called Humacyte Human Acellular Vessels (HAVs). The company's initial focus on this technology is geared toward vascular repair, reconstruction, and replacement. Humacyte HAVs are currently being tested in three late-stage clinical trials, whose medical indications include vascular trauma, arteriovenous access for hemodialysis, and peripheral arterial disease (PAD). Humacyte anticipates a BLA filing for an indication in vascular trauma with the FDA in mid-2023. The company also plans to open a Clinical Trial Application in Ukraine and allow the enrollment of additional patients into its vascular trauma clinical trials, allowing Ukrainian soldiers increased access to its HAV technology to treat battlefield wounds.
Pros:
A strong relationship with the US Department of Defence (DoD) allows for expedited timelines and additional funding in advancing HAV technology
In-house manufacturing to improve quality control and efficient production timelines
Humacyte HAVs are the first product to receive the FDA's Regenerative Medicine Advanced Therapy (RMAT) expedited review designation
Cons:
Strategic partnership formed with leading kidney care services Fresenius Medical Care, allowing them the exclusive rights to Humacyte's 6 millimeter x 42cm HAV outside the US and EU, diminishing potential commercialization revenues from that product
Potential competition from other emerging technologies like 3D printed tubular conduits or bioabsorbable polymetric implants
Patient enrollment into clinical programs is slow and hinders progress toward regulatory approval
Verdict: Humacyte HAVs have already undergone 9 years of clinical testing in around 500 patients, with zero indications of clinical rejection. With the FDA already showing positive inclinations towards this technology, it seems it's only a matter of time before Humacyte HAVs serve patients in a real-world setting. Considering how affordable the stock is priced to start 2023, now is a great opportunity to get exposure to this HAV technology.
5. Longeveron (LGVN)
Longeveron Inc. is a biotechnology company that develops cellular therapies from medical signaling cells (MSCs) to treat age-related and life-threatening medical conditions. The company's therapies are geared towards enhancing healthspan, or improving life quality alongside extended life expectancy. Longeveron currently has three phase 3 clinical trials in progress for its leading product candidate, Lomecel-B, to treat aging frailty, Alzheimer's disease, and hypoplastic left heart syndrome (HLHS). Although aging frailty affects 10% of people aged 65 and over, Longeveron currently has little to no direct competition in combating this medical indication. With numerous countries like the United States, Japan, and China experiencing aging populations, the growing prevalence of aging frailty is unavoidable.
Pros:
State and federal partners are on board for all clinical programs like the National Institutes of Health (NIH) and the Alzheimer's Association
Sufficient cash position through the second half of 2024
In-house manufacturing capacity allows for efficient production scaling and cost reduction
Cons:
No opportunity for regulatory approval in the short-term
A relatively small company operating in an extremely competitive industry
Key aspects of technology are unpatented and only maintained by the company as trade secrets
Verdict: Having received approval from the Japanese Pharmaceuticals and Medical Devices Agency (PMDA), Longeveron is kicking off 2023 by enrolling the first patients of its aging frailty phase 2 clinical trials in Japan. For those interested in capitalizing on the upward global trajectory of aging frailty, Longeveron is a good opportunity.
---
About the Author
Sign Up For Our Newsletter
Weekly insights into the future of longevity