---
Spannr Longevity Stock Index Review: Q4 2022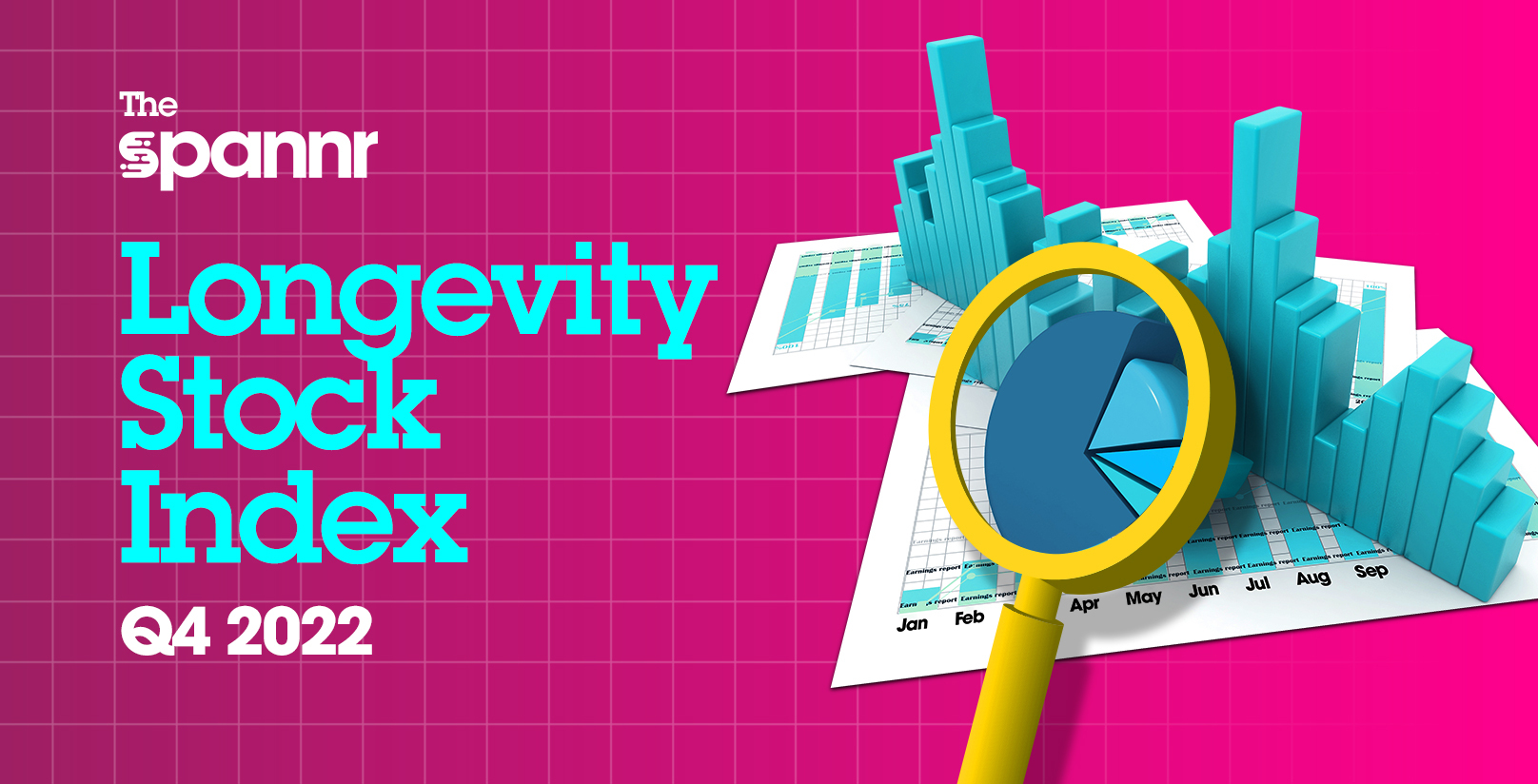 The Spannr Longevity Stock Index was introduced in 2022 as the first index of its kind to provide real-time tracking of the entire public longevity market.
The index was launched in May 2022 and the previous quarter, Q4, marks only the second full quarter of the index being live and operational.
In this report, we will review the index's performance over the past few months and compare it to the overall market and relevant biotech ETFs. Additionally, we will discuss the best and worst performers from Q4 2022 and introduce the newly added index constituents following our quarterly rebalance, which occurred on January 2, 2022.
2022 Longevity Stock Index Performance
On Friday, December 30, 2022, the Spannr Longevity Stock Index closed at a price of $113.64, representing an 8.49% loss from the end of Q3.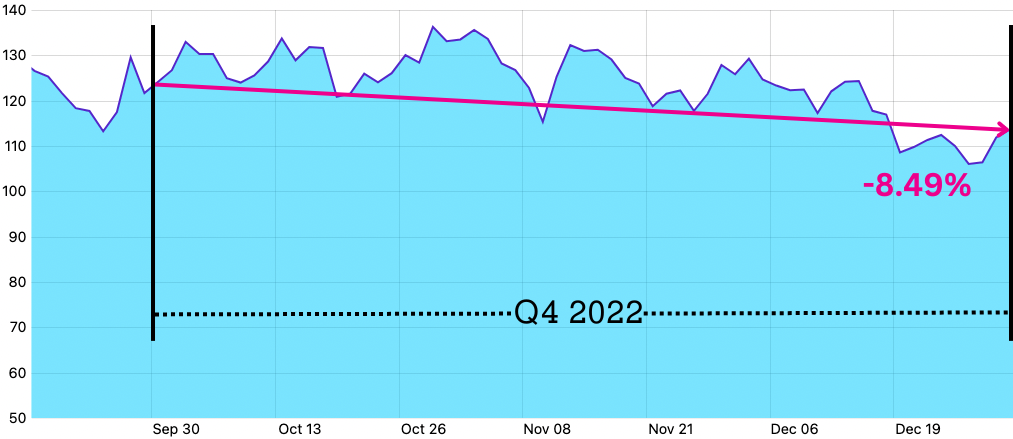 However, since our launch in May 2022, the index has still maintained a positive gain of 13.64%, given its basis price of $100.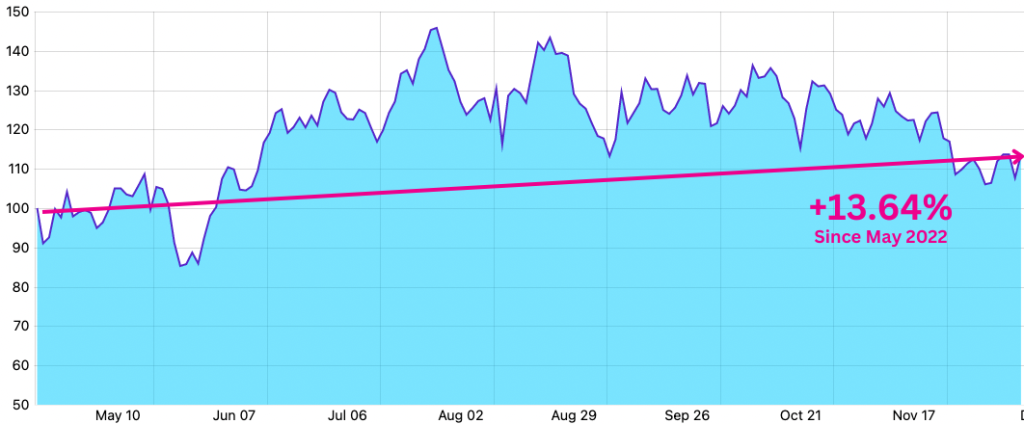 Considering today's ugly macroeconomic backdrop coupled with inflation, rising interest rates, and substantial cutbacks in valuations, a 13.64% return to close out 2022 is an impressive feat. For context, the S&P500 and NASDAQ fell -7.08% and -15.15%, respectively, over the same time period.
Taking it one step further, now let's compare the performances of some of the more relatable biotech ETFs in the market, including SPDR S&P Biotech ETF (XBI), NASDAQ Biotechnology Index (NBI), ARK Genomic Revolution ETF (ARKG).
Since the inception of Spannr's Longevity Index (May 1, 2022), only the NASDAQ Biotechnology Index (NBI) and SPDR's S&P Biotech ETF (XBI) have shown comparable results, with respective returns of 12.02% and 12.42%.

Putting it all together, while Q4 was somewhat of a disappointment, the total gains throughout 2022 for our index do show promise that longevity stocks can indeed compete with the performance of the broader biotech sector.
Q4 Best Performers:
Q4 Worst Performers:
Spannr Drops Three and Adds Six New Companies to Index
Effective January 2, 2023, Spannr has removed three and added six new companies to the Spannr Longevity Stock Index. The index now boasts a total of 32 publicly traded longevity organizations.
Continue reading to learn a bit more about our latest additions to the index:
Ticker: CLNN
IPO Date: Dec 30, 2020
Headquartered: Salt Lake City, UT
About: Clene Nanomedicine is a clinical-stage biopharmaceutical company that aims to develop unique therapeutics for neurodegenerative diseases to restore and protect neuronal health and function.
Ticker: CAPR
IPO Date: May 23, 2008
Headquartered: Beverly Hills, CA
About: Capricor Therapeutics is a clinical-stage biotechnology company focused on the discovery, development, and commercialization of cell and exosome-based therapeutics for the treatment and prevention of diseases.
Ticker: TNYA
IPO Date: Jul 29, 2021
Headquartered: San Francisco, CA
About: Tenaya is using gene therapy, cellular regeneration and precision medicine to uncover novel therapies for various forms of heart disease.
Ticker: VAXX
IPO Date: Nov 11, 2021
Headquartered: Dallas, TX
About: Vaxxinity is a clinical stage biotech company that aims to bring the efficiency of vaccines to chronic diseases. The company has a proprietary technology platform that has enabled the innovation of synthetic peptide vaccines designed to treat and prevent chronic diseases, including Alzheimer's, Parkinson's, and hypercholesterolemia.
Ticker: NVTA
IPO Date: Feb 12, 2015
Headquartered: San Francisco, CA
About: Invitae aggregates genetic tests into a single service to improve healthcare for billions of people. By aggregating the world's medical genetic tests into a single service, Invatae is able to provide tests with higher quality, faster turnaround time, and lower prices.
Ticker: SLGC
IPO Date: Sep 1, 2021
Headquartered: Boulder, CO
About: SomaLogic is a protein biomarker discovery and clinical diagnostics company that aims to revolutionize precision medicine to to help address unmet clinical needs.
---
This quarter, we also have three companies being removed from the index.
Cohbar
Ticker: CWBR
Reason: Dropped below $10 million market cap requirement
Yumanity
Ticker: KA
Reason: Reverse merger with Kineta (KA). Dropped below $10 million market cap requirement
Biophytis
Ticker: BPTS
Reason: Dropped below $10 million market cap requirement
---
About the Author
Sign Up For Our Newsletter
Weekly insights into the future of longevity