---
AI is Knocking on Longevity's Door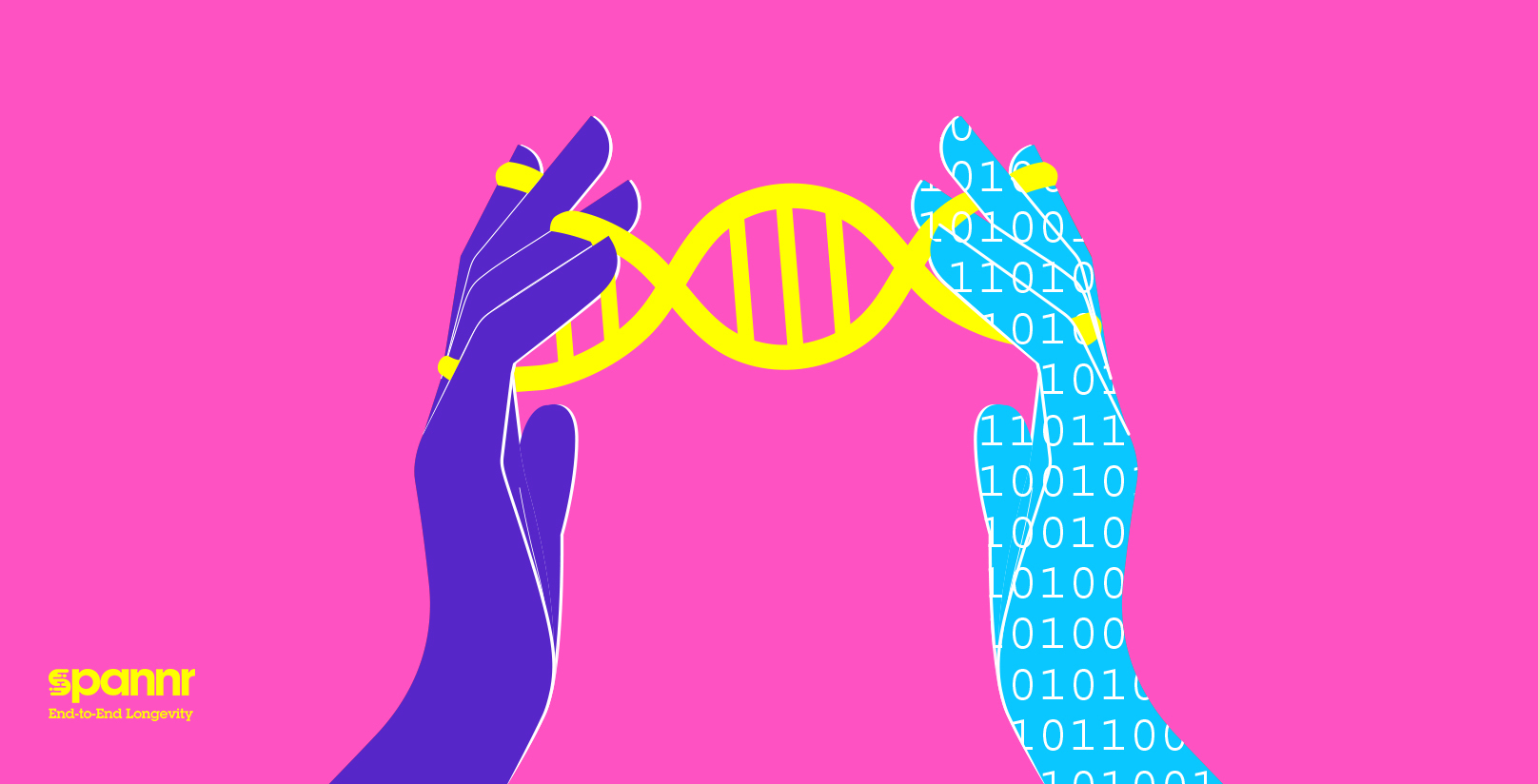 As a lifelong computing enthusiast and co-founder of an artificial intelligence (AI)-driven longevity biotech company, I knew I had to attend the Imagination In Action (IIA) conference.
The IIA conference was held on April 13th at the Samberg Conference Center at Massachusetts Institute of Technology (MIT) in order to "educate and motivate startups, founders, and entrepreneurs on building successful AI-focused companies."
John Werner and the team at Link Ventures had an audacious goal: to bring together the greatest minds in AI today to share ideas, gain groundbreaking insights, and capitalize on the burgeoning wave of AI innovation.
Included headlining luminaries were Stephen Wolfram, Sam Altman, and an impressive collection of enterprise leaders from various industry sectors.
The conference held so much promise and the team certainly delivered. However, if I had any complaints, it was that there should have been a greater presence from the longevity industry.
I'll dive more into that shortly.
Why Everyone is Talking About AI
First, let's talk about AI. What is AI, and why is it so crucial to the direction of the future?
AI refers to machines that simulate human intelligence.
Using computers and applied statistical models, AI is able to identify patterns and match or exceed human skill in complex decision making, such as identifying cancer from images or generating text and images that look like they might have been created by a human.
By helping humans automate complex tasks, AI can operate in an intelligent and adaptive manner, freeing up human beings to be even more productive and creative, with the potential to revolutionize all industries.
AI is reaching critical mass today because its adoption is happening faster than ever.
With the proliferation of unprecedented amounts of data, and the strides made in cloud processing and computer power, the potential for AI is limitless.
Meeting of the AI Minds
This is why I needed to go to the IIA conference, along with a few hundred attendees who are at the forefront of AI debates, development, and implementation.
Could the next significant innovation arise from someone in the room? Or had it already, via Sam Altman and OpenAI?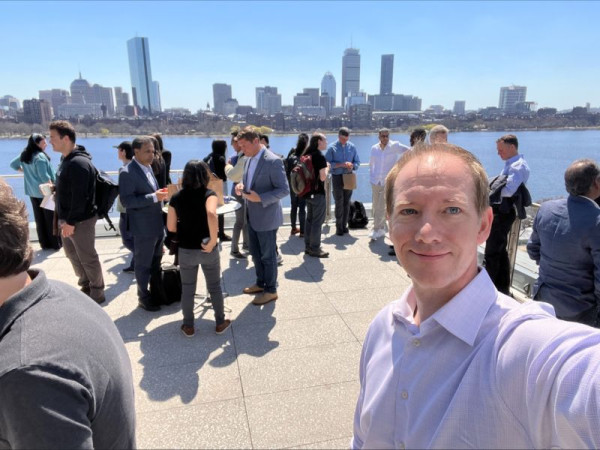 It remains to be seen. Although AI undeniably shows promise, it wasn't entirely clear where the best opportunities lie.
Many companies have already launched to leverage the power of ChatGPT, only to have their dreams crushed by an OpenAI update or plugin.
Privacy is also an issue. It's clear that language models and chat interfaces are powerful, but enterprise Risk Officers understand that they can't be used with private data.
So what's the way forward?
Sam Altman, founder and CEO of OpenAI (which created ChatGPT), shared that he really only has one strategy, and that's to build solutions to really hard problems with a really long time horizon - a strategy with little competition.
OpenAI is just getting started and actively pushing the boundaries of what is possible toward the future of Artificial General Intelligence (AGI). A key point of advice Sam offered for times of uncertainty like this is to let tactics become strategy: just build, share, see what the market likes, respond fast, and iterate.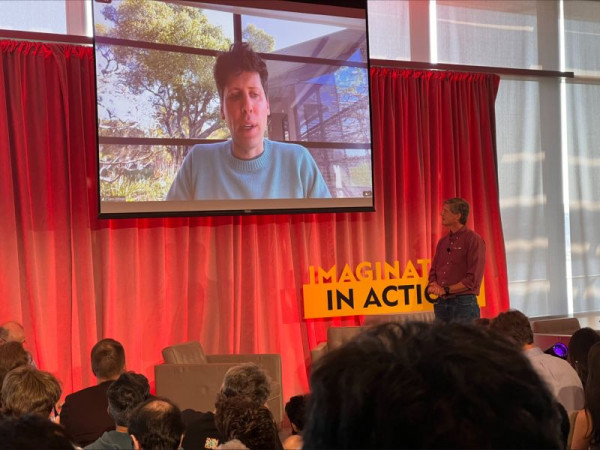 Stephen Wolfram was undoubtedly the star of the event, captivating the audience during his Q&A session with scientist and podcaster, Lex Fridman. John likened this to a matchup between Mohammad Ali and Rocky - a fitting description of the raw unrefined hard-hitting questions from Lex balanced against the poised and unshakeable Wolfram, who has been building autonomous computing systems longer than most of the room have been alive.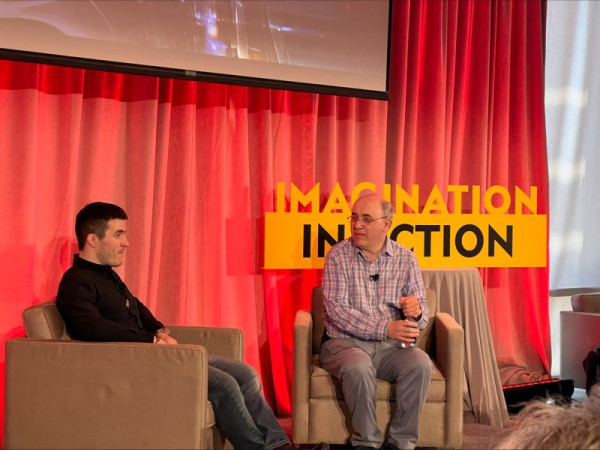 Wolfram shared insights about the foundations of intelligence, which he characterized as alignment to that which humans care about (arguably an answer only a human would give) and lamented that ChatGPT's tokenization and characterization of the rules of language and logic are something humans should have been able to pull off thousands of years ago. Maybe the AIs are smarter than we think?
But, for all of the groundbreaking discussions occurring, there was a clear lack of life science representation. This could be explained by the organizer's goal of tapping into the zeitgeist of this uncertain moment in AI. However, I believe it also highlights the need for those of us in the biotech space to improve our branding and storytelling efforts.
While there were few healthcare companies present, Loamy stood out with their memorable tagline of "fertility, vitality, longevity." Rebecca Curry, Shauny Ullman, and Belen Gallego effectively showcased their AI platform, which empowers women to take control of their reproductive goals.
Noted longevity voice, Rainy Romanni, was also able to contribute to the event during a short pitch session, expressing that aging is our century's most pressing socio-economic problem, and we have a moral imperative to learn how to treat and eventually reverse it.
Leveraging AI for Longevity
I mentioned at the beginning that more longevity companies should have been in attendance, but why?
AI shows immense promise in contributing to longevity efforts.
An AI can learn from existing data to understand complex biological processes, including aging. AI biomarkers of aging can identify important features and biological targets, and new AI techniques can assist in drug discovery, drug screening, data collection, and predictive modeling. It can also be used to parse clinical trial data and scientific literature.
At Vincere Biosciences, we're on a mission to conquer age-related decline, and we're doing it with the help of AI. We believe that human data is key to solving human diseases and AI is an essential tool to help us achieve that goal.
From target identification to patient segmentation, we've incorporated AI into every aspect of our workflow. By partnering with groups like the Michael J. Fox Foundation, we've gained access to 50TB of longitudinal multi-omic data from the Parkinson's Progression Marker Initiative.
Using this data, we've created models to sub-segment the heterogeneous Parkinson's disease patient population, allowing doctors to match therapeutics to the patient subgroup most likely to see a positive effect. Our approach has opened the door for precision medicines in neurodegenerative diseases and improved clinical trial success.
But our mission doesn't stop there. We're racing against the clock to translate our discoveries into real-world solutions that can help people live healthier, longer lives.
With the power of AI advancing in leaps and bounds, we're confident that we can achieve our goal. By embracing these tools and amplifying productivity, we can turn what was once impossible into a reality.
Longevity Absent from AI Conference
It's clear that John Werner's vision of bringing techies and business people together was a great success at the Boston AI conference. With a split of 60% entrepreneurs and 40% investors, there's no doubt that deals were made and collaborations formed that will propel the future of AI in Boston.
That said, as someone who is passionate about AI-enabled longevity, I'm particularly excited to see the emergence of more companies in this space making real progress and developing sustainable business models.
Although money is flowing into the longevity and anti-aging private sector, it still isn't gathering the traction it should. This is likely because the public values tackling the diseases of aging significantly more than slowing or reversing aging entirely.
The public narrative needs to shift in order for us to see the longevity industry have a greater presence at the forefront of thought and research, including at the IIA conference. Maybe the onus for that change lies with longevity companies developing more viable business models that can generate near-term cashflow. Giant moonshot projects like Altos Labs and Calico are getting massive funding, while traditional VC who require near-term returns remain largely on the sidelines.
With the power of AI advancing rapidly, I believe we're on the cusp of some truly transformative breakthroughs that will revolutionize the way we think about aging and disease.
I'm excited that Vincere can be a part of inventing a future free of age-related decline!
---
About the Author
Sign Up For Our Newsletter
Weekly insights into the future of longevity