---
Metformin
Metformin has recently become a drug proposed to have 'anti-aging' benefits. Metformin is a common diabetes drug that has been shown to extend lifespan in animals, and lower rates of several diseases in humans.
In the past few years, several high-profile scientists have openly discussed taking metformin in the hopes of living healthier for longer. However, it is still too early to conclude whether metformin is truly 'anti-aging' based on the available evidence.
Research into metformin is ongoing, and planned clinical trials in the United States are aimed at determining whether or not metformin is indeed a longevity drug. Until then, metformin should generally not be taken unless prescribed by a healthcare practitioner.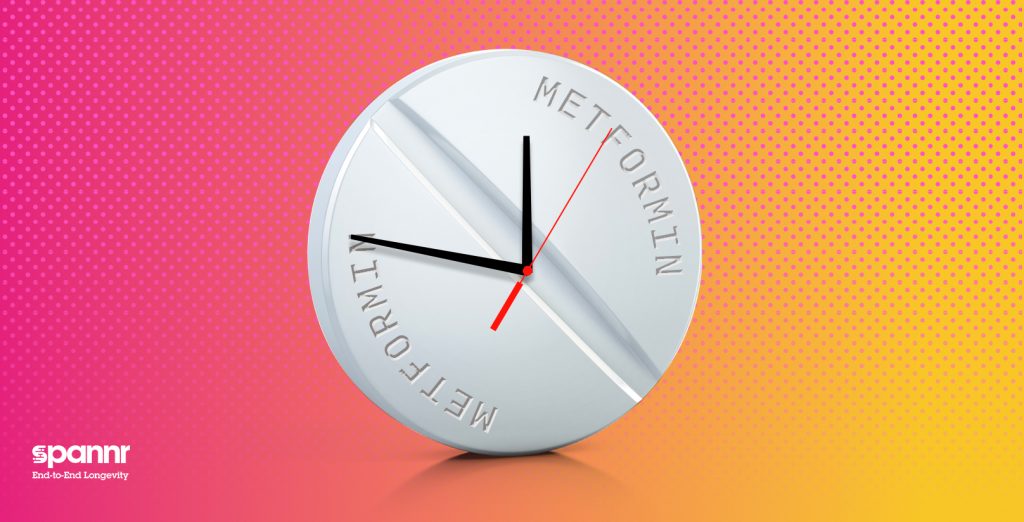 What is Metformin?
Metformin is a prescription drug used as a first-line treatment for people with type 2 diabetes. The drug works by improving how the body responds to insulin, a hormone that signals glucose in the blood to be converted to energy. This is important in people with type 2 diabetes, who have impaired insulin sensitivity.
In addition to stabilizing blood glucose levels, metformin may also slow the aging of the body. By reducing the damage that accumulates in the body due to aging, metformin may lower the risk of developing diseases of old age.
That said, metformin is currently only approved by the Food and Drug Administration (FDA) in the U.S. for type 2 diabetes, and not aging.
Where Did Metformin Come From?
Metformin is not a new drug and has been around for over 100 years. Metformin was first synthesized in 1922, based on the folk knowledge that the active ingredient of French lilac (Galega officinalis) could treat 'sweet urine'.
The drug was first used to treat diabetes in a medical setting in 1957. In the past 60 years, metformin has become one of the most popular anti-diabetic drugs in the clinic due to its effectiveness and low cost.
In 1995, metformin was approved by the FDA, and it is currently prescribed to over 120 million people worldwide.
What is Metformin Prescribed For?
Metformin is used to treat patients with type 2 diabetes and is sometimes prescribed in tandem with a healthy diet and exercise to control blood sugar levels.
In addition, metformin is prescribed off-label to treat symptoms of other conditions such as:
Metformin and Age-Related Diseases
While no evidence conclusively shows that metformin slows aging in humans, a range of clinical studies has demonstrated the protective effects of metformin in people with diseases of aging.
One review of 53 studies showed metformin was associated with a decreased risk of all-cause mortality from a range of age-related diseases such as cancer and heart disease.
Some of the benefits of metformin for age-related diseases are discussed below:
Diabetes
Studies have shown that diabetics who take metformin may live longer than healthy individuals who do not take metformin, according to data collected from the UK Clinical Practice Research Datalink from 2000. According to the research, healthy individuals who did not take metformin had a 15% lower rate of survival than diabetics who took metformin, suggesting a potential longevity benefit of the drug.
Cognitive Decline and Dementia
Metformin has also been shown to improve memory and cognition in people with diabetes and reduce the risk of cognitive decline and dementia. One study of over 2000 patients with diabetes in Singapore showed that metformin was associated with reduced cognitive decline.
A small controlled study showed metformin improved cognitive ability in patients with depression and diabetes. In addition, a large observational study of over 65,000 people in Taiwan showed that metformin reduced the risk of dementia.
Cancer
Metformin is associated with decreased rates of pancreatic cancer, and increased rates of survival in patients with colorectal cancer. In addition, people with both type 2 diabetes and cancer who take metformin live longer than those who don't.
Cardiovascular disease
The potential cardiovascular benefits of metformin were demonstrated in a 20-year, randomized trial called the United Kingdom Prospective Diabetes Study (UKPDS). Metformin was shown to reduce the rate of mortality and age-related decline in the cardiovascular system in this study. Therefore, metformin may assist in extending human lifespan by preventing heart attacks.
Metformin and Markers of Aging
In addition to reducing the risk of diseases, metformin has been shown to improve a range of biological markers of health in humans, such as:
The broad benefit of metformin use suggests the drug may target underlying features of the aging process and may be associated with longevity.
Life Extension in Animal Models
In addition to lowering rates of diseases in humans, metformin has also been shown to extend the lifespan of several model organisms, such as worms and mice. Like caloric restriction, metformin can induce significant lifespan extension:
In a species of roundworm called C. elegans, metformin increases average lifespan by up to 40%, although no increase in maximum lifespan was observed.
In mice, metformin has been shown to increase average lifespan by 38%, and maximum lifespan by 10%. Metformin also demonstrates anti-cancer effects, and has been shown to increase average lifespan by 8% and maximum lifespan by 9% in cancer-prone strains of mice.
In older mice, metformin has demonstrated a life extension benefit to mice when given at 3 months or 9 months of age, equivalent to roughly 20 years and 35 human years. These results in old animals suggest that metformin may extend lifespan in humans even when delivery begins in late life.
Interestingly, metformin was shown not to cause lifespan extension in male or female flies, and the drug is toxic to this species.
What is the Mechanism of Action of Metformin?
Metformin is a 'dirty drug', meaning it binds to many different receptors in the body, and the exact mechanism through which metformin may slow the aging process is not known.
However, researchers have proposed several mechanisms by which metformin may promote longevity, such as:
While the mechanism of action is unclear, ongoing research is underway to clarify how metformin may promote longevity in humans.
Does Metformin Have Side Effects?
Despite potentially slowing aging, metformin is a powerful drug that is sometimes associated with side effects. As a prescription drug, metformin should only be taken when prescribed by a medical professional. The side effects of metformin include:
Abdominal pain
Nausea
Diarrhea
Fatigue
Headache
Lactic acidosis, in rare cases
Weight loss
In general, most of the negative effects of metformin subside after a few weeks. However, you should inform your healthcare provider if you experience any side effects while taking metformin.
Long-term Risks of Metformin
Taking metformin over a long period may be associated with certain risks, such as those listed below:
Reduced B12 Uptake
Metformin may reduce the body's ability to uptake vitamin B12. This may lead to a B12 deficiency, which is associated with symptoms of anemia such as weakness, fatigue and light-headedness. Therefore, it is often recommended that you take a vitamin B12 supplement when taking metformin.
Birth Defects in Boys
Metformin may cause birth defects in boys. A study from 2022 showed that boys whose fathers took metformin during the 3 months prior to conception were more likely to have genital birth defects. The study tracked over 1 million births in Denmark, and suggested metformin may affect men's reproductive health in a way that can harm their sons.
Blunting the Benefit of Exercise
Research has shown that metformin may blunt the positive effects of exercise. One 12-week study showed that metformin reduced the benefits of aerobic exercise. In another study, exercise blunted the benefit of resistance training in older adults. Therefore, the potential benefits of metformin for longevity may not be additive with exercise and may diminish the health benefits of exercise.
Clinical Trials of Metformin for Aging
Given the lack of evidence of anti-aging effects of metformin in humans, new clinical trials are being established to test the drug over a long-term period.
The Targeting Aging with Metformin (TAME) trial, led by professor Nir Barzilai of the Albert Einstein College of Medicine, is the first-ever clinical study approved by the FDA to study the effect of a drug on aging. The premise behind TAME is that aging is a 'disease' that can be treated similarly to ordinary diseases.
The TAME trial will span 14 research centers around the U.S. and enroll 3000 older adults aged between 65 to 80 who are disease-free and will receive metformin on a daily basis for six years. The idea behind the study is that metformin is an 'anti-aging' drug, it should be associated with lower rates of age-related diseases.
Conclusion
Metformin is a common drug that is used to treat people with type 2 diabetes mellitus, and based on its 60-year clinical use, it is relatively safe. The benefits of metformin for people with heart disease, dementia, and obesity could justify the use of metformin for healthy individuals as an 'anti-aging drug'.
Some studies in animals and humans support the idea that metformin is a promising candidate for slowing the aging process. However, there is a clear need for more research to confirm whether metformin can extend lifespan in humans. New clinical trials such as TAME will hopefully shed light on whether metformin is effective for longevity.
---
References
Deng M, Su D, Xu S, Little PJ, Feng X, Tang L, Shen A. Metformin and Vascular Diseases: A Focused Review on Smooth Muscle Cell Function. Front Pharmacol. 2020 May 8;11:635. doi: 10.3389/fphar.2020.00635. PMID: 32457625; PMCID: PMC7227439. https://www.ncbi.nlm.nih.gov/pmc/articles/PMC7227439/
Cameron AR, Morrison VL, Levin D, Mohan M, Forteath C, Beall C, McNeilly AD, Balfour DJ, Savinko T, Wong AK, Viollet B, Sakamoto K, Fagerholm SC, Foretz M, Lang CC, Rena G. Anti-Inflammatory Effects of Metformin Irrespective of Diabetes Status. Circ Res. 2016 Aug 19;119(5):652-65. doi: 10.1161/CIRCRESAHA.116.308445. Epub 2016 Jul 14. PMID: 27418629; PMCID: PMC4990459. https://www.ncbi.nlm.nih.gov/pmc/articles/PMC4990459
Esteghamati A, Eskandari D, Mirmiranpour H, Noshad S, Mousavizadeh M, Hedayati M, Nakhjavani M. Effects of metformin on markers of oxidative stress and antioxidant reserve in patients with newly diagnosed type 2 diabetes: a randomized clinical trial. Clin Nutr. 2013 Apr;32(2):179-85. doi: 10.1016/j.clnu.2012.08.006. Epub 2012 Aug 21. PMID: 22963881.https://pubmed.ncbi.nlm.nih.gov/22963881/
Sign Up For Our Newsletter
Weekly insights into the future of longevity