---
Lymphatic System and Longevity - Fluid Dynamics of Living Longer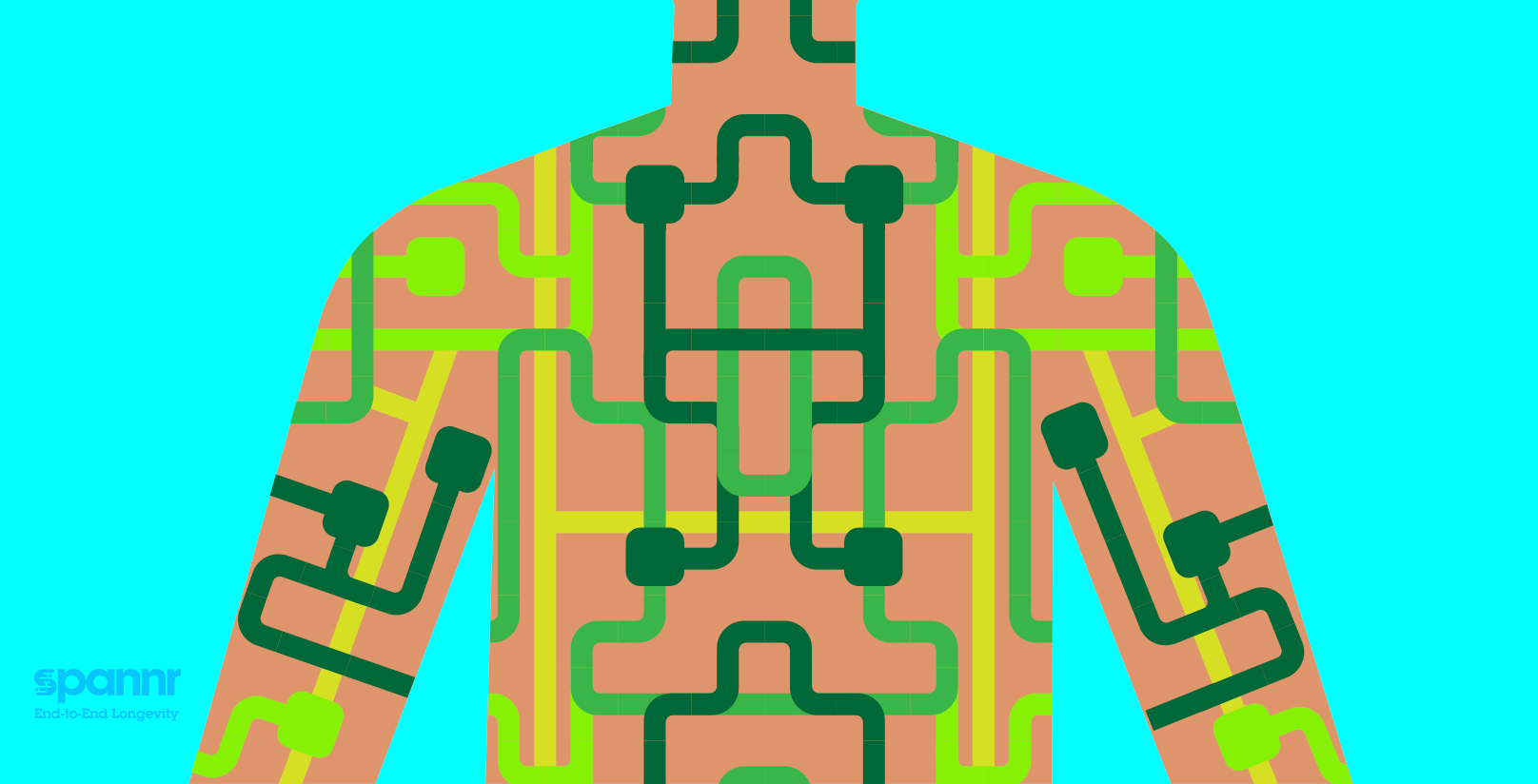 When it comes to living a healthier, longer life, have you ever thought about the lymphatic system?
Neither did we.
Most would say something along the lines of, "Eat right, exercise regularly, and spend time with loved ones."
And they're not wrong. But in a society where our mindset typically revolves around what more we can do and consume, what often goes ignored is how we can simply encourage our bodies to work optimally, as is.
There's an entire structure within the body that acts as an internal sewage system, which flushes out waste and defends the body against infections.
This system is called the lymphatic system.
Also known as the "Cinderella of medicine" for being underappreciated but doing all the work, the lymphatic system is an unnoticed but very important part of our health and longevity.
In Western medicine, we tend to focus on individual parts of the body versus how they work in concert, or as a whole.
Heart health!
Brain health!
Gut health!
However, in focusing so narrowly on individual systems, we forget the holistic processes that help to make everything run smoothly.
This is where the lymphatic system comes into play.
What is the lymphatic system?
The lymphatic system keeps many of our internal body systems working properly and optimally. It's comprised of nodes, vessels, and fluids (lymph), which all work together to protect organs, blood vessels, and systems from cellular waste and other things that threaten the body's ability to operate efficiently.
The lymphatic system is responsible for three key functions:
Keeps fluids in balance. It collects fluids from your body's tissues and returns them to the bloodstream. It also filters out waste from these fluids.
Helps your body absorb fats. It collects fluid from your intestines with fat molecules and transports it back to your bloodstream, which helps to keep the gut clean and the lymphatic system clear of blockages.
Defends the body against invaders. It produces white blood cells that actively fight off bacteria, viruses, and other invaders.
How is the lymphatic system connected to longevity?
When your lymphatic system isn't running smoothly, the risk of developing degenerative diseases increases. This can decrease your quality of life, increase healthcare costs, and increase your chances of premature death.
It's clear based on the functions of the lymphatic system, with its ability to rid the body of waste and protect it from disease, that the lymphatic system is undeniably linked to longevity.
A lymphatic system that's running well is like a "fountain-of-youth fluid scrubbing your whole body."
As board-certified cardiothoracic surgeon and integrative physician Dr. Gerald Lemole says in his book Lymph & Longevity: The Untapped Secret to Health, "Have a strong lymphatic flow and live healthier. Have a stagnant or slow flow, and you're at higher risk for disease and dysfunction."
One of the traits of disease is chronic inflammation. The lymphatic system helps the immune system destroy or neutralize harmful substances that contribute to inflammation, it carries them away, and it aids in the cleanup process to rebuild molecules in the area.
Without proper lymphatic flow, these processes are compromised, which puts you at greater risk of inflammation and, in turn, chronic degenerative diseases.
Simply put, the "secret river of health" that is the lymphatic system gets the message out about invaders, destroys them, and cleans the area.
What are signs of a dysfunctional lymphatic system?
Unfortunately, a lot of the lifestyle habits common to Western culture perpetuate issues with the lymphatic system. Nutrient deficiencies, processed foods, and our sedentary lifestyles all weigh down the lymphatic system's ability to operate optimally.
Here are some signs of a dysfunctional lymphatic system:
Swelling. Swelling in various parts of the body can indicate an issue with the lymphatic system. Swelling is caused by retention of fluid that would normally be drained by the body's lymphatic system. It commonly affects the extremities but can also occur in the torso, neck, and genitals. Persistent swelling can lead to aching, heaviness, difficulty moving, skin infections, unusual skin texture, skin folds, and pitting.
Inexplicable soreness or stiffness. Persistent soreness or stiffness can indicate a congested lymphatic system, especially if it's a soreness or stiffness you can't easily explain. These symptoms can be related to swelling occurring in the body.
Skin conditions. Changes in your skin can indicate poor lymphatic health. Examples of skin conditions are dry or itchy skin, loss of elasticity, premature aging, acne, rashes, and others. Because the majority of our lymphatic system resides right underneath the skin, skin health is closely tied to lymphatic health.
Bloating and digestive disorders. The abdominal area has a lot of lymphatic vessels, as the vessels and nodes help transport nutrients, absorb fats, and eliminate harmful bacteria. Bloating and other digestive issues, such as constipation, food sensitivities, and irregular bowel movements, are common symptoms of congested lymph.
Frequent headaches. If the lymphatic system and sinuses aren't draining properly, this can create inflammation and pressure, which causes headaches. The lymphatic system is also responsible for draining cerebrospinal fluid from the brain with other waste byproducts. A study done at Harvard University found that right before a migraine, glymphatic flow (body's waste system) significantly decreases. Faulty clearance of waste from the brain can trigger inflammation, causing painful migraines.
Sinus infections or allergies. Sinus infections, worsening allergies, and frequent head colds can imply that lymphatic fluid isn't moving throughout your body. When inflammation builds up around the sinuses, the areas become partially blocked and it doesn't drain well. If you're experiencing a stuffy nose, congestion, and a lot of mucus, this could indicate a backed up lymphatic system.
Excess weight. The lymphatic system assists in weight management by absorbing dietary fats from the small intestine and transporting them through the bloodstream, where they are used as an energy source or eliminated as waste. If the lymphatic system malfunctions, this fat absorption process becomes less efficient, leading to fat buildup. This accumulation may lead to observable weight gain and difficulty losing weight.
Chronic fatigue and stress. Chronic fatigue or stress, persisting for over six months, is correlated to inflammation and hormonal imbalances. This can compromise the lymphatic system, which can cause toxins to accumulate in the body. Additionally, cortisol, the hormone that's released when the body is stressed, can cause a breakdown of lymphoid tissue and block lymphatic flow due to its acidic nature.
Brain fog. A block in lymphatic flow can lead to toxins accumulating in the cerebrospinal fluid. This blockage can result in exhaustion, mental fogginess, sluggishness, and mood disorders such as depression and anxiety.
You can see that a lot of these symptoms tend to be more mysterious symptoms that make it difficult to pin down exactly what the issue is.
Interestingly, what inspired my personal interest in the lymphatic system was experiencing a lot of these symptoms myself – completely unexplainable and unrelated issues that came out of nowhere. For someone who works out regularly and eats well, I was surprised to deal with these issues and confused about why they were occurring and what I could do to resolve them.
However, the good news is that there are things you can do to improve your lymphatic system, particularly if you're struggling with any of the ailments listed.
What can we do to improve our lymphatic system?
Going back to what makes a lymphatic system healthy, we want to make sure our lymphatic systems have a strong flow.
The lymphatic system doesn't have its own pump to keep it flowing, so it relies on the body's movement, breathing, intestinal activity, and muscle action to create that flow and push waste out of the body.
So when we ask what we can do to improve our lymphatic system, what we're really asking is: how can we strengthen the flow of our lymphatic system?
According to Lymph & Longevity: The Untapped Secret to Health, "Improving your lymphatic flow relates to the foods you eat, how you exercise and relax, saunas, laughter, and even spirituality. We'll give you ideas and action steps to get your lymphatic system in working order using three basic methods: feeding your flow with good nutrition, creating fast flow with intense exercise, and maintaining smooth and unobstructed flow with meditation and relaxation."
Here are 10 things you can do to increase the flow of your lymphatic system and improve your health:

1. Exercise. Whereas the heart pumps blood throughout our body, our vessels squeeze lymph fluid throughout our body during physical activity. Exercise allows lymph fluid to move through our systems.
Pro tip: Jumping (like on a trampoline or jump roping) is the most stimulating activity for the lymphatic system.
2. Breathing deeply. Breathwork is a very underestimated healing modality because it's something we are always doing. Our bodies have three times more lymph than blood, but because there is no organ dedicated to pumping it through the body, breathing can greatly assist with this. When we intentionally practice deep breathing exercises, moving the diaphragm muscle helps fluids circulate throughout our bodies.
3. Hydration. Hydrating with water keeps fluids flowing throughout our systems and also filters out toxins. If you become dehydrated, fluid won't flow through your tissues and processes can become stagnant. If you're not sure where to start, aim for half your bodyweight in ounces of water per day to help cleanse your system of toxins.
4. Lymphatic treatments. There are many types of lymphatic treatments available, such as lymphatic drainage massages, compression therapy, electro-lymphatic therapy, acupuncture, body scraping, dry brushing, cupping, gua sha, and face rolling. These therapies can help to drain stagnant lymph throughout the body and encourage flow.
5. Contrast therapy. Whether you choose to sauna, cold plunge, or simply take hot and cold showers, the contrast between hot water and cold water promotes lymphatic flow. Hot water dilates the blood vessels and cold water shrinks them. Alternating between the two mechanisms creates a "pump" action that dispels toxins from the body.
6. Sauna bathing. Using a sauna can promote lymphatic health because you sweat out toxins, which limits the stress on your lymphatic system. Infrared saunas may be especially good for increasing lymphatic flow as infrared saunas heat your body from the inside out. Increasing your body's core temperature can increase your heart rate, encourage you to breathe deeper, and promote detoxifying sweat.
7. Loose clothes with natural fibers. Although compression therapy assists with lymphatic health, excessively tight clothes can restrict lymph circulation. This blockage can lead to an accumulation of toxins. Additionally, the petrochemicals in synthetic materials are absorbed into the skin and contribute to toxin buildup in the body. Opt for loose clothing with natural fibers such as cotton, wool, and linen.
8. Flow-promoting foods & avoiding "blocking" foods. There are foods that help to promote flow and foods that can create stagnation in the body or slow lymphatic flow.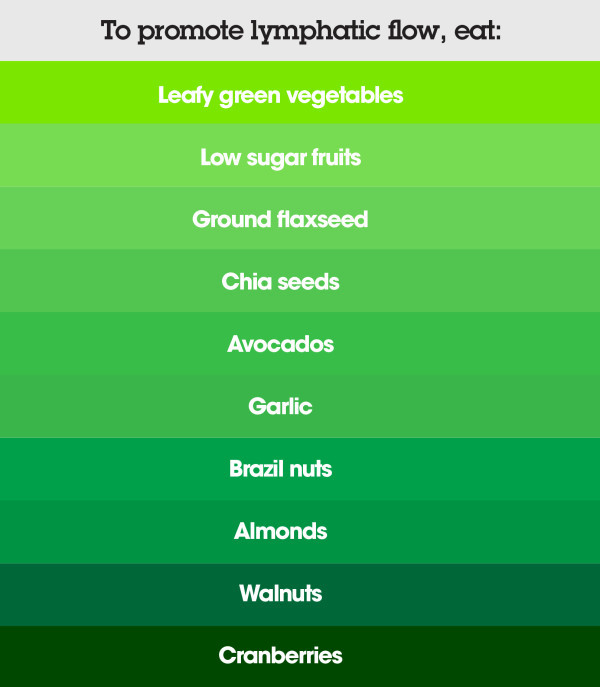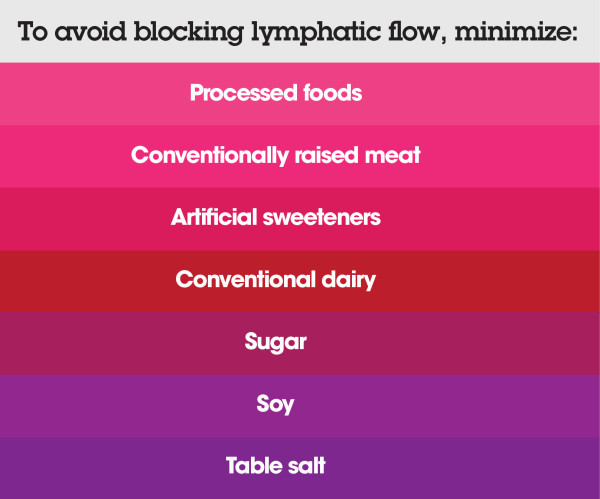 9. Herbal tea. Certain herbs can stimulate the lymphatic system and help clear congestion. Here are some herbs you can prepare as teas to promote lymph health:
Echinacea
Astragalus
Wild indigo root
Goldenseal
Cilantro
Poke root
Parsley
Cleavers
Red clover
Calendula
10. Spirituality. Spirituality in our lives allows us to surrender and find more flow in life. This is true spiritually and emotionally, but physically as well. Because of the mind-body connection, holding onto things of the past can create blocks or stagnation in the body. Similarly, spirituality can encourage us to let go of things that are not serving us, encouraging overall flow and health.
And for a fun bonus: Singing.
Singing promotes lymphatic flow by using your diaphragm. Similar to how deep breathing exercises move the diaphragm and, in turn, circulate lymph, singing works the same way.
Making the Secret River of Health Less Secret
Although a somewhat well-kept secret, research shows that the lymphatic system is key in longevity, disease prevention, and living a healthy and vibrant life.
As Lemole says in his book, "the lymphatics are where our daily biological battles are won and lost."
Research increasingly shows that a healthy lymphatic system can help prevent and decrease cancer, heart disease, brain problems, gastrointestinal issues, and much more.
The better lymph flows through your body, the better your body runs.
Health doesn't always require a big price tag. Incorporate the practices above to maintain your lymphatic health and increase your longevity today.
---
About the Author
Sign Up For Our Newsletter
Weekly insights into the future of longevity