---
Longevity Fundraising Roundup: September 2022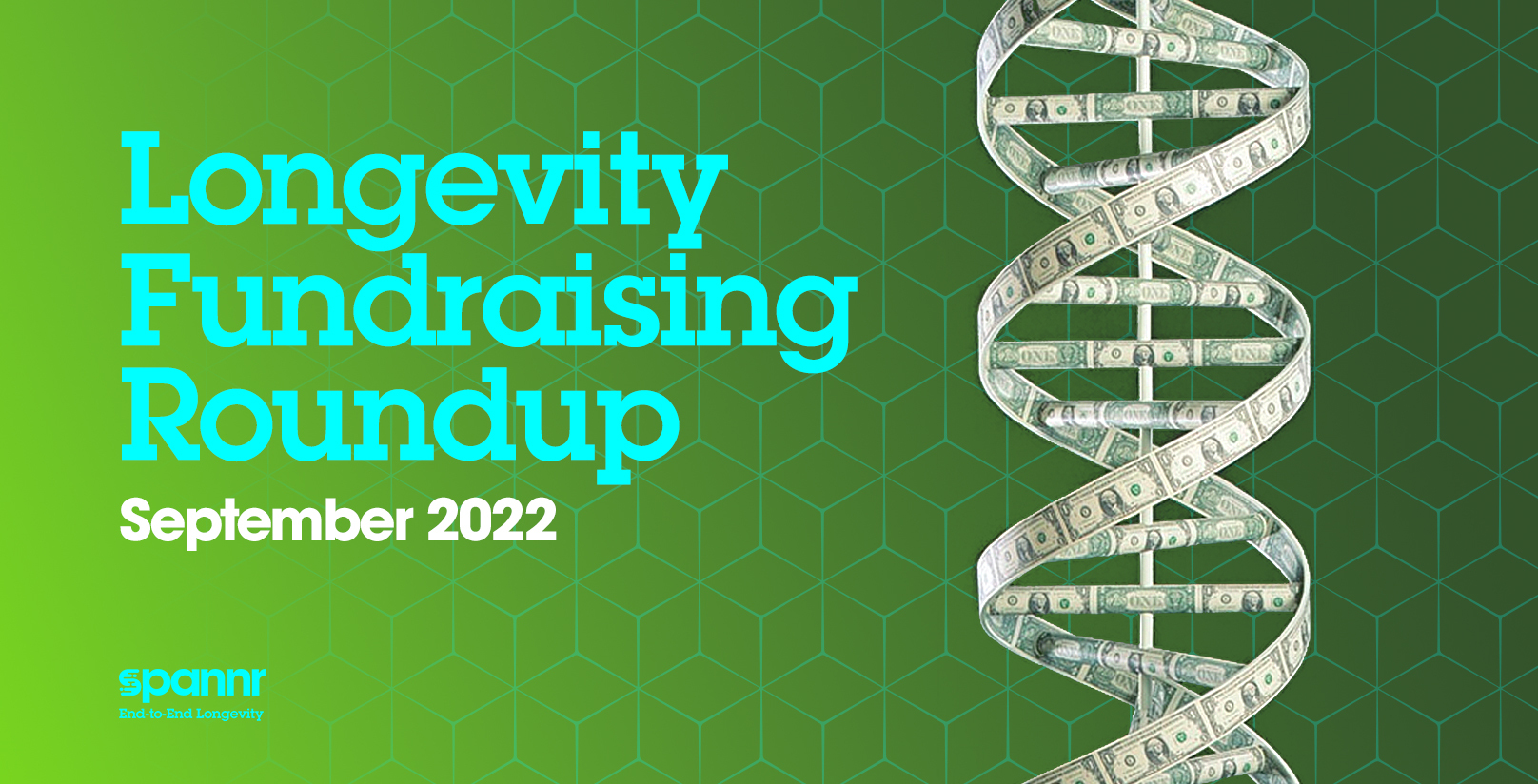 $408M Raised Across 14 Funding Rounds
The month of September has proven to be full of activity, with many exciting companies emerging and/or raising capital in the longevity space.
In the following post, we'll highlight each longevity-related funding announcement from the month of September and will follow up with some notable observations surrounding today's investment landscape.
September's Funding Roundup:
Key Observations:
VC's Are Waking Up To The Longevity Industry
It is always great to see broader media coverage for the longevity industry. We can attest to the statement as we have noticed an increase in our conversations with dedicated VC funds that are broadening their pipeline to include longevity. Additionally, brand new groups like Life Extension Ventures, who are peripherally fueling the industry by backing entrepreneurs and startups leveraging software and data engineering, will be critical for the ecosystem's continued progress.
DisCo Companies Remain Popular
Last month, we predicted that DisCo's would continue to emerge. This month our prediction came true as a new and notable DisCo, Matter Bio, quietly launched.
There's More To Longevity Than Just Preclinical Biotech Companies
While the therapeutics and drug development side of the industry remains critically important, it seems that many of the companies supporting the industry outside of drug development are continuing to pick up momentum. This month we saw InsideTracker, which is using its AI platform for personalized nutrition and healthspan, raise a $15M Series B round of funding. Rootine also raised a $10M Series A round to advance their precision nutrition to optimize health and human performance.
Fertility Efforts Are On The Rise
There is also a lot of work happening in the reproductive health and fertility sector of the industry. This has traditionally been an overlooked sector that is now getting more attention and recognition. Gameto announced this month they raised a fresh new round of investment to the tune of $17 million from some notable investors. 
Closing Thoughts
The Spannr Ventures team remains in multiple conversations with both new and existing companies that we are looking forward to sharing directly with our group of investors soon.
If you are an accredited investor and have yet to join us at Spannr Ventures, you can do so by filling out the form provided here.
In the meantime, be sure to follow us on social media and check out our weekly newsletter to stay updated on the latest happenings in longevity.
---
About the Author
Sign Up For Our Newsletter
Weekly insights into the future of longevity