---
Introducing The Spannr Longevity Stock Index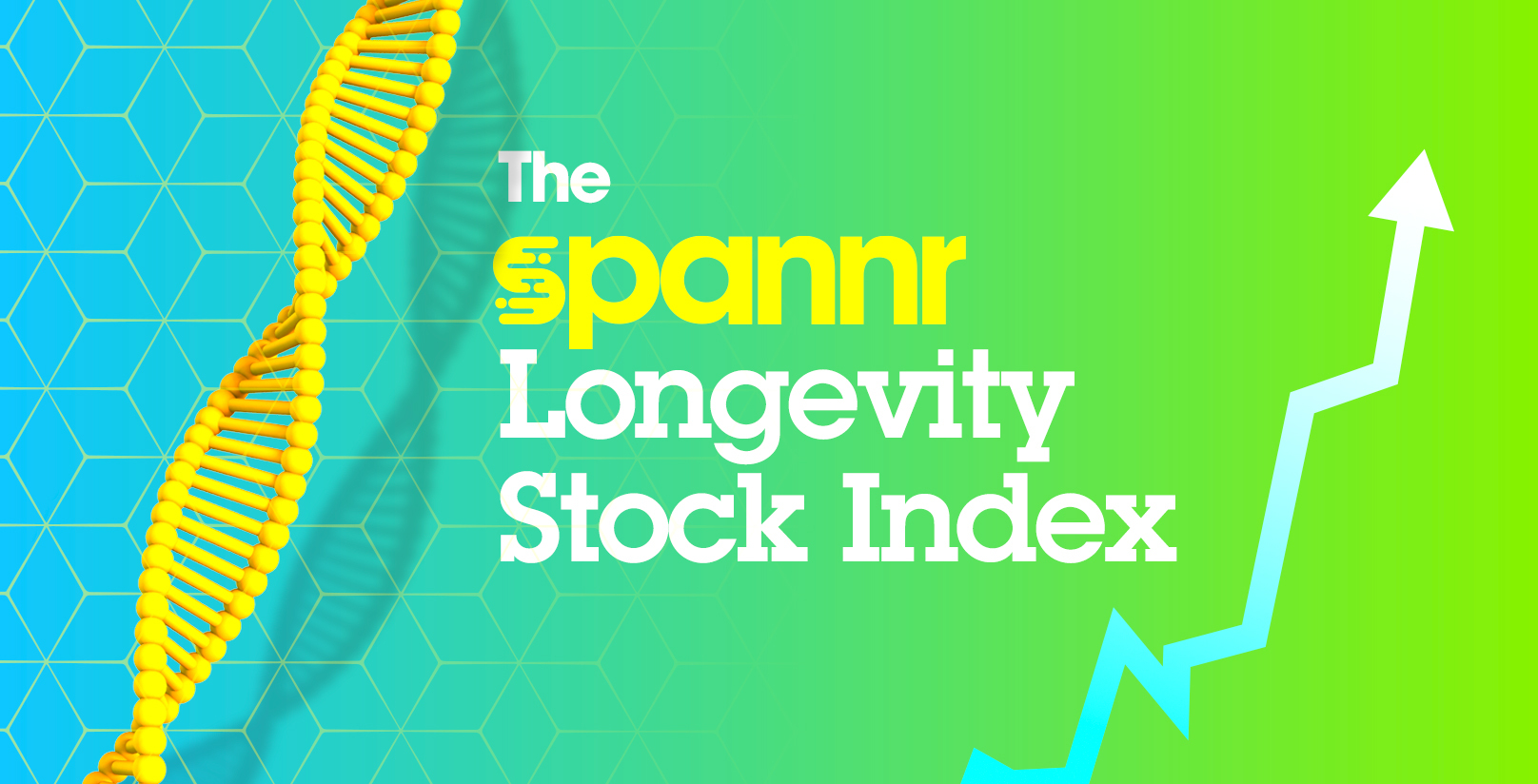 The longevity industry is on track to be worth trillions of dollars in the coming years. But what if you wanted to invest? Do you know where and how to spot the opportunities?
If you've been looking for these answers, don't fret – we're here to help.
That's why today, we're excited to announce the launch of the Spannr Longevity Stock Index.
What Is The Spannr Longevity Stock Index?
Spannr's Longevity Stock Index has been designed to simplify and clarify the public longevity sector. Our index consists of US-listed, publicly-traded companies that are explicitly focused on aging or aim to extend healthy human lifespans.
Until now, understanding the investment ecosystem that focuses on longevity has been a very confusing process. Many companies within longevity are targeting highly technical and scientific work. This creates challenges for both retail and professional investors alike.
To help solve these problems, we've set specific parameters for index inclusion criteria and weighting. You can read more details about our Spannr Longevity Stock Index Methodology here.
So, Why Is This Important?
Humans are living longer today than ever before. Breakthroughs in biotechnology are pushing lifespans even further. Investors now have the opportunity to get in on the ground floor of an emerging market while, at the same time, helping fund a life-changing industry.
Life extension is also arguably the largest Total Addressable Market (TAM) ever.
How many people in the world do you think want to live longer, healthier lives? 
And how much would they pay to do that?
Today's leading longevity biotech and geroscience companies – many of which are included in our index – have the potential to impact every single human on this planet. When you consider that the space is still in its infancy, the opportunity for early investors is second to none.
However, there are endless approaches companies are currently taking to tackle longevity. This creates significant confusion and uncertainty for investors looking to back companies that will have the most success.
Furthermore, as the industry evolves, new market participants are entering the field seemingly every day. These companies bring new technologies to the world of longevity, further complicating the broader industry.
By creating an index of pure-play longevity companies, investors can track the industry as a whole. This enables a broader view of how the industry is trending.
Market Intelligence
Now that we've built an index tracking stock prices across the board, it's worth exploring what we can do with this new data.
So, without further ado, let's take a step back and look at the overall market from a daily technical perspective…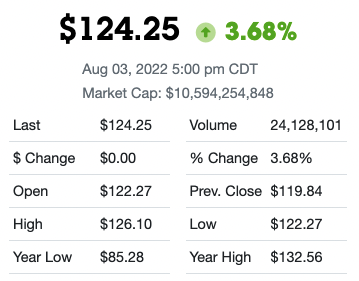 …As well as visually in the form of a realtime updated chart.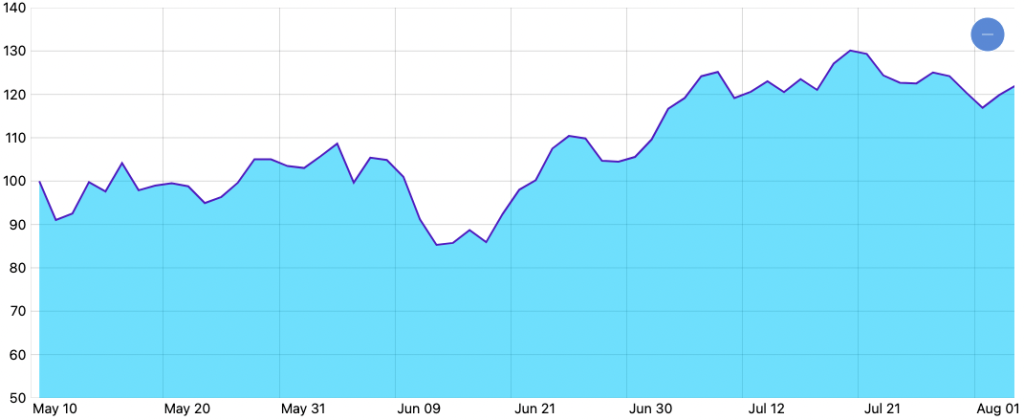 Beyond observing the blended performance of longevity's public sector (shown above), we also now can track each company conveniently on one webpage.
As shown in the picture below, we have a long list of index constituents – 26, for now, to be exact – each displaying its own daily price performance, market capitalization, trading volumes, and more.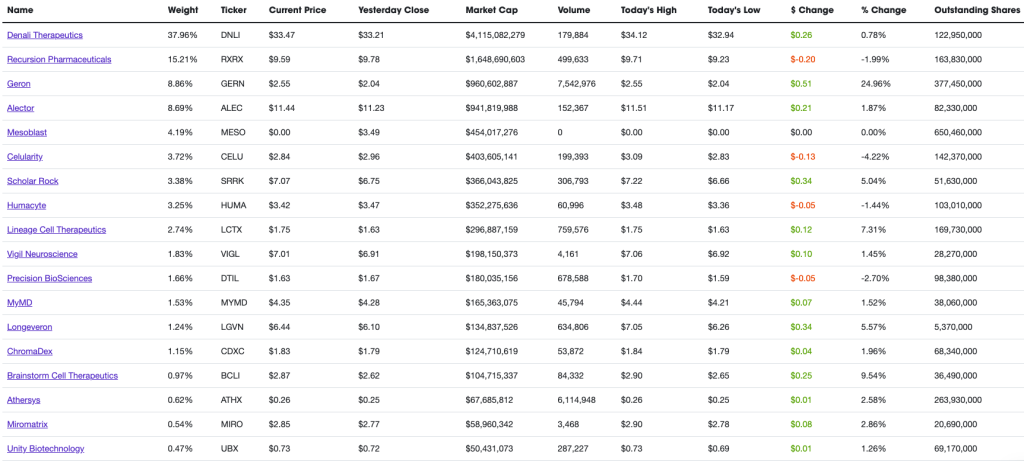 While the index and features provided are still very much a work in progress, with plenty of updates on the horizon, we're still left with enough data to start drawing some interesting comparisons and observations.
For example, the top performer so far is Recursion Pharmaceuticals (RXRX), which happens to be our second-largest stock by market capitalization.
As of August 3, 2022, RXRX is up 71.88%, followed by Denali Therapeutics (DNLI) and Alector (ALEC), with respective returns of 44.52% and 37.62%,
Digging deeper, as of August 3, 2022, the index itself is up 24.25% since its base date of May 10, 2022. The S&P 500, on the other hand, only gained 3.85% over the same period.
This indicates that the Spannr Longevity Index has significantly outperformed the overall markets over the past few months.
For a better comparison, however, one may want to look at other exchange-traded funds (ETFs) and indexes that are far more relatable to the longevity industry than the S&P 500. This would include the SPDR S&P Biotech ETF (XBI), the NASDAQ Biotechnology Index (NBI), and the ARK Genomic Revolution ETF (ARKG).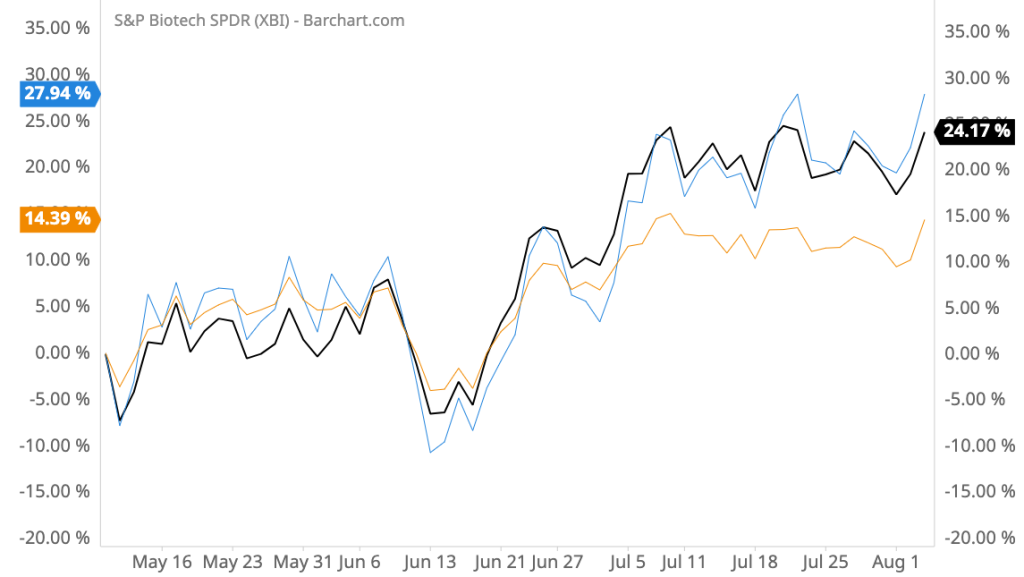 As shown in the graph above, each comparable index/ETF performed exceptionally well from May 10, 2022, to August 3, 2022, with XBI, NBI, and ARKG clocking in returns of 24.17%, 14.39%, and 27.9%, respectively.
Compare that with the Spannr Longevity Stock Index return of 24.25%, and one can conclude that longevity stocks are performing on par with the greater biotech sector.
But, as the industry continues to evolve and further establish itself apart from traditional medicine and biotech, it will be interesting to monitor just how long this correlation will exist.
Nevertheless, here at Spannr, we plan to routinely cover index insights going forward, in addition to any prominent business or pipeline updates from each of our constituents.
In the meantime, feel free to familiarize yourself with our new index, our new company directory, and our latest Company Report exploring the top public (and private) companies in the space. Explore, study, strategize, poke holes… just be sure to reach out to us with what you discover along the way!
What's Next?
Having launched Spannr in March of 2022, we are still in the very early stages of building out various tools and resources geared towards longevity and anti-aging enthusiasts, investors, and industry professionals. In other words, the Spannr Longevity Stock Index is just one piece of the puzzle.
As we continue to chip away at our roadmap, be on the lookout for more product announcements similar to this. Until then, please reach out by simply emailing us at admin[@]spannr.com if you have any questions or feedback.
---
About the Author
Sign Up For Our Newsletter
Weekly insights into the future of longevity