---
How Blue Light Accelerates Aging (And What You Can Do About It)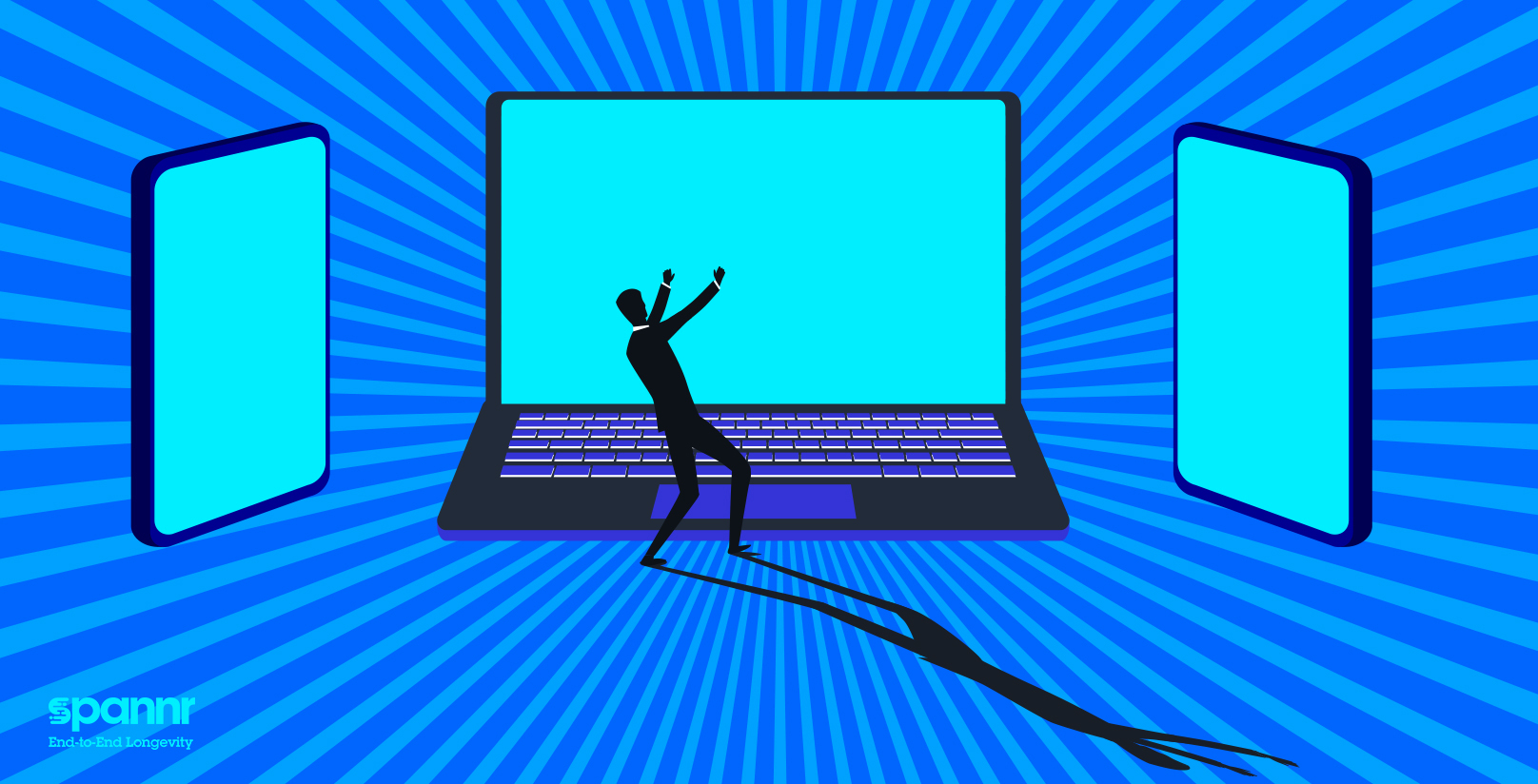 This may have been the most challenging article written at Spannr. And not for reasons you might think.
While doing research and writing about the effects of blue light on aging, it occurred to me that learning about blue light on a blue light emitting device seemed a bit counterintuitive, if not unhealthy.
There's no doubt blue light can accelerate our aging. Anxiety aside, we're here to share information about all things longevity-related with our Spannr audience, making this article a net positive.
Don't worry – I had my blue light glasses on throughout the making of this article, and you might want to grab yours, too (more on that later).
What is blue light?
We could get exceptionally scientific on you, but suffice it to say, blue light is a type of high-energy visible (HEV) light with short wavelengths. This means it produces a higher amount of energy than other light forms.
Many of us know blue light is emitted by our devices and certain lights – fluorescent lighting, LED TVs, computer monitors, smartphones, and tablets. However, the sun emits blue light as well.
Source: EyeSafe
Blue light has been a topic of increasing interest over the years as our collective screen time has gone up. Since 2013, our daily screen time has gone up by 50 minutes.
With the sun being a source of blue light, you would think this natural light is a good thing; however, blue light emitted from our devices is of primary concern for a few reasons.
Blue light emitted from devices is artificial, versus natural. Unlike with the sun, there's a "blue light spike" that occurs with devices, where there's a concentrated amount of blue light that penetrates our retinas. The sun, on the other hand, provides a complete light spectrum that includes blue light, all of which is beneficial for your circadian rhythm and hormones.
Additionally, the proximity of screens to our faces and the amount of time we spend in front of our screens also make devices and screen time a greater concern.
Blue light and longevity
Screen time has become an inevitable part of our daily life, unless we've opted to live our lives completely off grid, and unfortunately, constant exposure to blue light can detract from our longevity and health, making it a growing public concern.
The main things blue light can have a negative effect on are our eyes, skin, and sleep.
Eyes
Blue light contributes to digital eye strain, a term that encompasses a number of eye and vision issues caused by using devices. Symptoms include: eye discomfort, eye fatigue, dry eyes, red eyes, blurry vision, and headaches.
Our eyes cannot filter blue light as well as it can other forms of light, so more blue light can reach our retina. Over time, this can cause damage to our retinal cells and cause vision issues such as age-related macular degeneration (AMD).
Skin
Although blue light in small doses can actually be helpful in preventing skin diseases, longer exposure times can cause DNA damage, cell and tissue death, skin barrier damage, collagen breakdown, and photoaging. This aging can visibly show as wrinkles, fine lines, and hyperpigmentation.
Sleep
It's no secret that sleep is crucial to longevity.
Blue light can interfere with our circadian rhythm, which is essentially the internal clock that runs essential processes in our bodies. For most of human history, people's circadian rhythms were dictated by the rising and setting of the sun. However, with the increase of man-made lighting and blue light from devices, there has been an increase in circadian rhythm disorders. Primarily, blue light suppresses the amount of melatonin released in our bodies, a hormone essential for restful sleep.
Are there any benefits to blue light?
You might be wondering: is blue light all bad?
Not at all. Moderate amounts of blue light can promote alertness, improve your mood, and boost cognitive function. It really comes down to how much blue light exposure you get, for how long, and during what part of the day.
In fact, just like red light therapy, there's also blue light therapy, a type of treatment used to improve diseased or damaged skin. Here are a few skin issues blue light therapy at a dermatologist's office can help with:
Cancerous skin growths
Actinic keratoses (pre-cancerous skin growths)
Acne
Sun spots
Rosacea
How to minimize blue light's effects
Now that we've talked about the harmful effects of long exposures to blue light, let's talk about some ways you can minimize blue light and its effects.
Manage your screen time. Being mindful of how much time you're spending on your devices can be the first step in lowering screen time. You can use the screen time function on your devices to see exactly how much time you're spending on them. From that point, proactively minimize time on your devices by incorporating more intentional breaks throughout the day.


Follow the 20-20-20 rule. This can help you minimize eye strain. For every 20 minutes spent looking at a screen, look at something 20 feet away for 20 seconds.


Avoid screens two to three hours before falling asleep. By avoiding screens in the hours before you fall asleep, you can lessen how much blue light will disrupt your circadian rhythm. (Side note: If you're trying to get around this tip by using the Night Shift on your devices, studies show it may not be effective in filtering blue light.)


Expose yourself to bright light during the day. By exposing yourself to bright light in the daytime, you'll increase your alertness, improve your mood, and help to keep your circadian rhythm regular. This will help you sleep even better at night.


Take vitamins to improve eye health. To offset some of the eye strain and effects on your vision you may be experiencing, these vitamins and minerals are recommended by the American Academy of Ophthalmology: vitamin C, vitamin E, lutein, zeaxanthin, zinc, and copper. Additionally, vitamin A and B vitamins may help as well.


Incorporate products to specifically block blue light. To combat the prevalence of blue light, there are blue light products to help filter the effects of blue light on your eyes and skin. Here are a few:
In an age where we become more reliant on technology and devices by the day, it's nearly impossible to avoid blue light emitting devices, which have been shown to accelerate aging and adversely affect your longevity.
However, there are steps you can take to lessen the impact of blue light on your body. Incorporate the suggested tips in this article to offset your exposure to blue light, so you can preserve the health of your eyes, skin, and sleep in the long run.
---
About the Author
Sign Up For Our Newsletter
Weekly insights into the future of longevity