---
NeuroAge Therapeutics: A New Approach to the War on Neurological Disease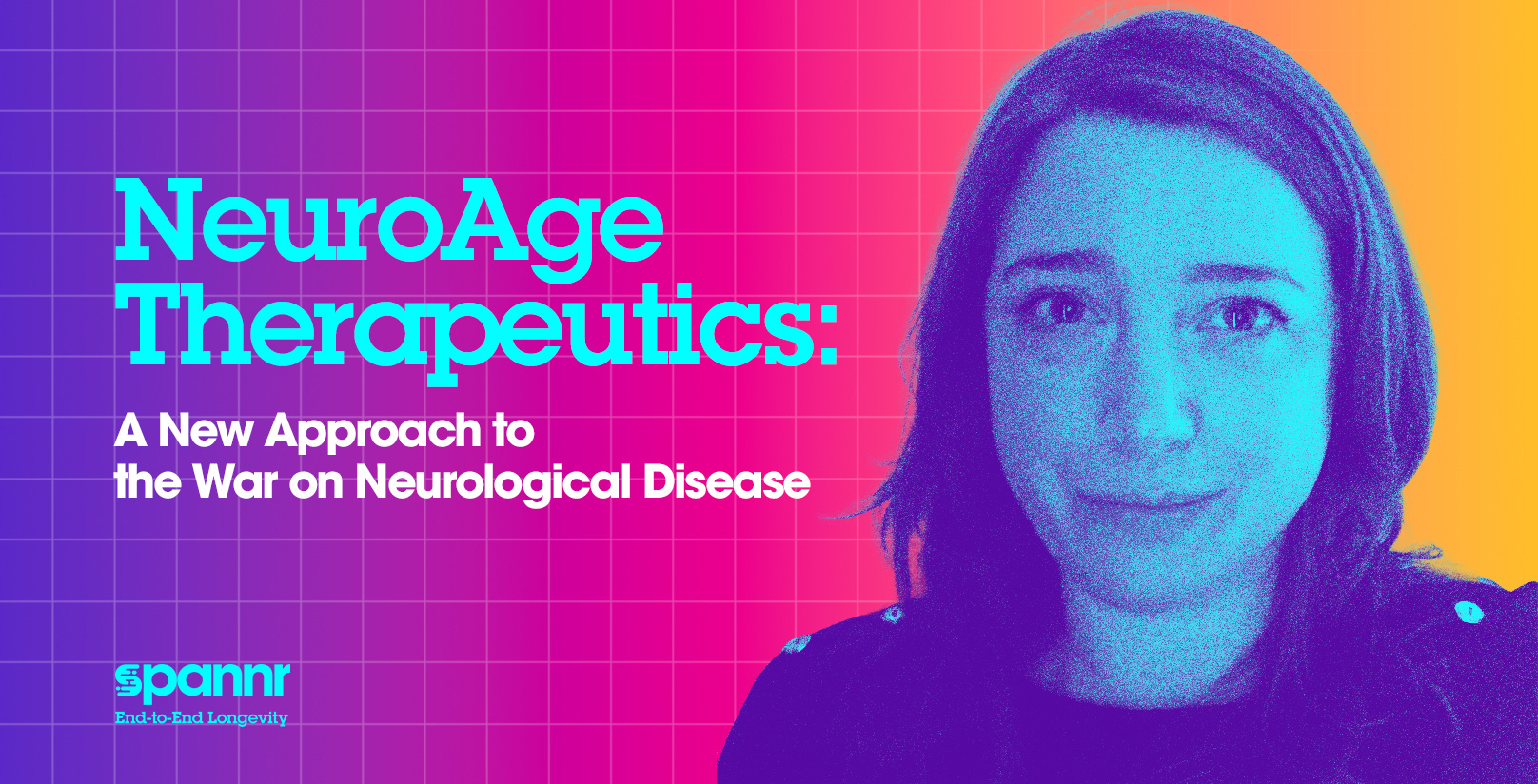 According to the World Health Organization, more than 55 million people are living with dementia worldwide, with more than 10 million new cases every year. Going further, this number is expected to triple by 2050. That is unless something is done to stop aging-related neurological disorders.

That's what Dr. Christin Glorioso has set out to do.

Dr. Glorioso, and her team at NeuroAge Therapeutics, are taking a revolutionary approach to treat neurological disorders – by creating the first aging clock that is specific to the brain.

We reached out to Dr. Glorioso to learn more about what her team is working on and how they plan to stop some of the most debilitating and unfortunate afflictions humans face.
Hello! Give us a little background on yourself and NeuroAge.
I'm Dr. Christin Glorioso, a physician-scientist and the CEO of NeuroAge Therapeutics.
NeuroAge is a longevity biotech startup that creates drugs to rejuvenate the brain and treat neurodegenerative disorders, including Alzheimer's disease.
At NeuroAge, we are pioneering a new way of finding drugs to treat these diseases: by reversing brain aging.
We examine data from human brains to find patterns in our biology that change as people age. This method has already led to the discovery of promising targets that may lead to better treatments for diseases that have proven very hard to prevent or reverse.
Our proprietary drug discovery platform is based on aging clocks created from a large dataset of human postmortem brain samples. Aging clocks measure someone's biological age, or, how old they appear to be, based on the progress of biological aging in their body. So when you see someone 50 years old but "looks 40", an aging clock might measure their biological age to be closer to 40. These clocks take samples of your cells from blood or spit and use genomics to determine your biological age.
There are a few different aging clocks on the market today that measure biological age in different ways, but NeuroAge is the first company to work on an aging clock that is specific for the brain.
Aside from its value in our research, this will soon allow us to administer a test to tell individuals their "brain age" and to better inform them of personal health decisions. For example, the test could tell someone whether interventions such as a healthy diet, exercise, or pharmaceuticals are helping to improve their brain health.
We will take our anti-brain aging drugs through clinical trials and FDA approval to eventually be sold to the public.
Our eventual goal is preventative care. We aim to track people's cognitive health and treat them before they start to lose sharpness or have a diagnosis such as Dementia or other diseases.
We also have a blood test for cognitive health called the NeuroAge Test. This will be a companion diagnostic to our pharmaceuticals but will be available much sooner.
We expect our work to change how people age and allow for healthier, more independent lives.
What's your background and how did you decide to focus on brain aging?
I am a physician-scientist and have been working on the tech behind NeuroAge for the last 18 years. But, I have been thinking about neurological disorders and better ways to treat them since I was a kid.
I watched as both my grandmother and great-grandmother suffered from Alzheimer's dementia and have other family members with neurological disorders.
Alzheimer's is a very common disease and a huge public health crisis. More than 55 million people are suffering from it worldwide, and it is the 5th leading cause of death in the United States. What we don't have are any drugs that significantly improve quality of life for people suffering from neurological disorders.
So far, pharmaceutical companies have targeted amyloid plaques and tau tangles in the brain of Alzheimer's patients. This approach has seen only small successes, and many drugs have severe side effects like brain bleeding.
As we have seen from the devastating effects of the COVID-19 pandemic on older people, age can be a huge risk factor for a number of diseases. Older age is the biggest risk factor for Alzheimer's, with risk increasing exponentially after age 70.
The idea behind NeuroAge is to reverse brain aging using drugs and therefore be able to treat Alzheimer's or any age-related neurological disorder that has aging as the common underlying factor. This is a proactive approach that would lead to catching these disorders early and before neurons have died instead of in the late stages when much of the damage has been done.
I started working on this as an MD/Ph.D. student in the lab of Etienne Sibille at the University of Pittsburgh School of Medicine. My Ph.D. is in neuroscience, and my thesis lab was the first lab to create what are now known as aging clocks in 2005.
During my Ph.D. thesis, I realized that we could combine the clocks with human genetics in order to see if people with variations in their genetic code were aging slower or faster. This ultimately is the technology that underlies the NeuroAge platform.
After completing my degrees, I made the unusual move to not pursue a medical residency but instead continue working on my thesis project as a postdoc at MIT in the lab of Lenny Guarente. I was convinced that aging clocks and genetics were the way forward to create new drugs for Alzheimer's and pursuing a postdoc was the fastest way to continue my research. I set up a large multi-institutional collaboration with labs at Harvard, the Broad Institute, Rush medical center, and Columbia University.
When I started my postdoc, I thought that I would become faculty at a University and also start a biotech company to treat neurological disorders. This is the traditional path forward that is laid out for us in school. But, I realized that this was going to be very slow to get drugs to people that needed them.
It takes a decade or more to climb the faculty ladder at a University and your time is split between teaching and academic responsibilities, leaving little time to pursue company creation.
During this time, I also created a non-profit while a postdoc at MIT and caught the entrepreneurial bug. I realized that there may be a more direct path to starting NeuroAge, which is to jump off the academic train and begin.
I watched longevity companies who were beginning to pursue similar things in the Bay Area, such as BioAge Labs, Fauna Bio, and Juvena Therapeutics and realized that we may be able to get moving more quickly.
In 2022 I took action to help build the future of human longevity.
I found an amazing cofounder with her own history of innovation in the brain aging space, Priyanka Joshi, and we created NeuroAge to find a solution to brain aging and its related disorders.
Priyanka completed her Ph.D. in Biophysics in Prof Sir Chris Dobson's lab at the University of Cambridge, where she created a library of drugs to target misfolded proteins in Alzheimer's and Parkinson's diseases. Her work led to a drug discovery program at the Centre for Misfolding Diseases for which she was featured in Forbes 30 under 30 and Vogue's 25 most influential women in Britain.
Priyanka had an early diagnosis of glaucoma, which is an age-related neurodegenerative disease that also has links to Alzheimer's, which inspired her to investigate brain metabolism and aging.
We were introduced to each other by a longevity-biotech CEO, citing our common goal of targeting aging to prevent and treat Alzheimer's disease. Our backgrounds, a common vision of creating a successful therapy in the clinic for Alzheimer's disease, and our complementary expertise in the aging and neurodegenerative space make us a uniquely powerful team.
Take us through the process of researching and developing your brain aging clocks and how you will use these in drug development.
Aging clocks are a very important step forward for longevity. They give us an overall readout of how fast a person is aging, as well as their life and healthspan trajectory, without having to wait to see when a person dies.
Using lifespan as a readout for longevity works for short-lived animals but is impractical in human beings. Therefore, we need to be able to tell how old people are biologically and whether interventions are moving that needle.
When you are 85 years old, you have about a 12% chance of having dementia. My previous work showed that if you are biologically younger by five years – either by having a healthy lifestyle or good genetics or both – then you are protected from dementia. This is even true for people with the biggest genetic risk factor for Alzheimer's, the APOE4 gene.
Having a reduction of five years puts individuals in the top 33% of successful agers, which is the equivalent of getting a passing "C" grade in brain aging. Many people can get there through healthy lifestyle interventions, which will be aided by having a way to track progress with aging clock diagnostics.
Designing drugs that can mimic successful brain aging will be important, especially for those with genetic risk factors, who are unable to exercise, or who have other lifestyle risk factors.
At NeuroAge, we identify people who are successful brain agers and then design drugs that can reproduce the cellular changes that those people have.
We do this by using human postmortem brain samples. When people die and donate their brains to science, we can use machine learning algorithms and genomics in those brains to determine their biological age and the pathways affected. We then design drugs to target those pathways and test the drugs in patient neurons that we create from patient skin cells.
This process is a milder form of cellular reprogramming, called partial reprogramming. In this case we are not returning neurons to embryonic states, but instead to healthy adult states. We are turning back the neuron clocks to the ideal state for sharpness, which occurs at 25-35 years old.
We have a mostly human system for initially testing our drugs, which is important because mice are bad models for neurodegenerative diseases. They don't get dementia, lose neurons, or have plaques and tangles the way that people do.
This has been a big hurdle for large pharmaceutical companies as relying heavily on mice to predict the safety and efficacy of drugs in people has been problematic since the organisms are so different.
We instead use neurons from people in culture and also are partnering to use brain organoids to test our drugs.
Once safety is established, we can conduct pre-human trials on more complex animals, like dogs, humanely. Their shorter lifespan and similar presentation of dementia symptoms make them ideal, in addition to all the pet owners who would like their dogs to live longer and healthier lives!
How is NeuroAge doing currently and what does the future look like?
We are very excited for 2023.
We plan to have a beta version of the NeuroAge Test available by mid to late 2023. Individuals can begin signing up for our NeuroAge Test waitlist at https://neuroagetx.com/.
We were finalists in the National Institute on Aging's (NIA) startup challenge and have won a year of lab space at MBC BioLabs sponsored by Abbvie. In March, we will begin testing some of our initial drugs in human neurons in the lab at MBC BioLabs in San Francisco. MBC BioLabs has great shared lab equipment space and programming for founders.
Pharmaceutical partnerships are also something that we are actively pursuing (in discussions with several potential partners) to co-develop some of our targets. We will procure methods patents on our NeuroAge platform, and pursue diagnostic patents as well as a 510K for our NeuroAge diagnostic. We will also have composition of matter patents on our drugs.
We've had a lot of interest from VCs and have been in what feels like non-stop meetings with potential investors for months.
We are building towards a future where our products will have a nearly universal potential audience, and we are excited to start releasing them.
I've also founded a new initiative for my nonprofit – Longevity SF – to unite the disparate groups of entrepreneurs and scientists working in the longevity space. We have since run many events, including an international conference at the Buck Institute for Aging Research (Longevity Summit), and became Longevity Global, expanding to include an NYC chapter and a United Arab Emirates chapter (with more chapters in the works).
Through launching NeuroAge, have you discovered anything that is particularly helpful or advantageous?
Being a part of the NIA startup challenge has emphasized how collaboration with government agencies can be very beneficial in terms of mentorship. Non-dilutive funding through the National Institute of Health's SBIR program can be a game changer.
Other pitch events have also proven that this format can be great exposure for businesses. We had many new meetings with investors and collaborators after pitching the Life Science Nation's RESI conference. Pitching at this conference led us to be named one of the top 10 companies to watch in 2023 by Life Science Nation, which in turn has resulted in more exposure and traction.
Getting out there and participating in pitch competitions and events is a great way to create positive feedback loops to grow your business.
Our work with my nonprofit initiative Longevity Global has created new levels of collaboration in the longevity community, which has also led to amazing connections. Networking with other founders and advisors can be a great resource. Community building and contributing to your space can be a positive way to grow, attract collaborators and hires, and give back.
A key piece of advice I would offer to other people working in this challenging startup climate is to cultivate the people in your life that believe in you as a person (rather than just your startup mission). Those are your most valuable resources in terms of talent and connections when you're building out a lean startup.
It sounds like NeuroAge is in a great place. Are there any potential roadblocks you foresee for the company or longevity biotech in general?
At NeuroAge, we are fortunate to have multiple potential sources of revenue, allowing us to be discerning in our venture-backed rounds.
In the shorter term, we will pursue our NeuroAge Test, which will create revenue that can be leveraged along with grant funding to help develop our long-term revenue from approved drugs.
We are also excited about strategic partnerships with larger pharmaceutical companies for co-developing drugs, which will diversify our therapeutic strategies and allow us to move more quickly.
Taking a step back to look at the larger picture, we need to bring public awareness to longevity and demonstrate that it is a realistic and positive goal for everyone in their daily lives. We need a longevity awakening and reconceptualization. This is related to funding challenges not just for startups but for academics as well, with the National Institute on Aging being woefully underfunded.
We are just on the precipice of longevity becoming a concept that everyone thinks and talks about like we might talk about diabetes or strength training. We need to push this forward and lead this awareness.
There is still a lot of stigmas, with many people believing that pursuing longevity has the goal of keeping people sicker for longer or is a selfish aspiration of the very rich. Neither of these narratives are the reality.
Increasing an individual's healthy years is a practical goal that nearly everyone wants and is a matter of equality that should be accessible to all. There are many inequities in healthspan, including access to healthcare, high-quality food, water, and air, trusted providers, and social and community safety nets. Improving equality in healthspan should be a mainstay of our goals in the longevity community.
Do you have any advice for anyone reading this who wants to get started in longevity?
There is a lot of misinformation out there, so my advice would be to be very diligent in who you source information from.
Unfortunately, many influencers, even some of those with expert credentials, are actually spreading some harmful information. So get connected with the legitimate scientific community. Join Longevity Global to become a part of our rapidly growing network of longevity professionals.
Also, be very careful about taking supplements. About 30,000 Americans annually go to the emergency room for supplement-related health problems. Supplements are not necessarily safe just because they are "natural". There can be long-term and short-term deleterious health consequences to taking them, their composition is not regulated (could be anything in them), and there are harmful drug-drug interactions with some of them that make other medications not work properly. We need to rectify what's happening in the supplement industry.
With that word of caution, I would say that we need qualified motivated people to join in on creating longevity companies. The future is all about personalized medicine and tracking of wellness, and that is really hopeful. It's a big space with plenty of room for many more people to become involved and transform "sick care" into "well care".
Successful aging is all about maximizing our years of healthy living. That is something that we all want.
What is your personal goal in longevity?
I want to be as mentally sharp when I'm 100 as I am today. I do not want to develop Alzheimer's or another age-related disease.
I saw my grandmother suffer with Alzheimer's, and I want to prevent other families from going through the same thing.
I want to still be building and creating, living happily and independently until my last days.
Our goal at NeuroAge is to be able to offer that future to everyone.
Where can we go to learn more?
Dr. Christin Glorioso
Neuroage therapeutics
Longevity Global
---
Sign Up For Our Newsletter
Weekly insights into the future of longevity